PowerApps preview for Windows 10 Mobile coming 'later this week'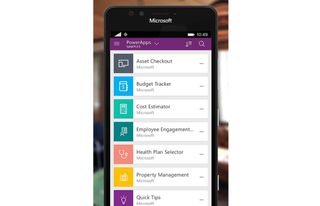 Microsoft has announced that a preview version of PowerApps, its solution for helping business customers without any coding experience to make apps, will hit Windows 10 Mobile "later this week." Microsoft made the announcement alongside the general release of PowerApps, meaning Windows 10 Mobile users will soon be able to check out apps created with PowerApps as well.
From Microsoft (opens in new tab):
This should come as welcome news to those who are using a Windows 10 Mobile device in a work environment that leverages PowerApps as part of an Office 365 or Dynamics 365 plan. Hopefully this news bodes well for a potential Windows 10 Mobile version of Microsoft Flow, which also saw a recent general availability release.
Thanks to Dan Roth for the tip!
Windows Central Newsletter
Get the best of Windows Central in your inbox, every day!
Dan Thorp-Lancaster is the former Editor-in-Chief of Windows Central. He began working with Windows Central, Android Central, and iMore as a news writer in 2014 and is obsessed with tech of all sorts. You can follow Dan on Twitter @DthorpL and Instagram @heyitsdtl.
Great news . Thanks Dev . Ur Great

No offline capability so useless unless your in a major city. Sigh.

So I havent used this before. Are we talking something that basically just amkes webwrappers again, or can you make something that is decent quality?

You can do a lot of basic stuff without coding, then if you want to add complex logic and format, you can add a ''layer'' of code on top of it. It doesn't completely remove code, but it remove mundane things like basic security, interface, database, etc..

From what I read the earlier these are proper apps that leverage other Office 365 properties (ie. Sharepoint, Dynamics, SQL Server, OneDrive, Excel, etc) and you must have an O365 business account. The apps are for business use, more internal apps that for the public in most cases so while they will be much more than web wrappers, they won't do much to change app availability with Windows (not that anyone expects that anymore).

It's primarily for businesses. PowerApps allow pseudo developers (I say pseudo developers because you don't need to know a programming language but knowing Excel-style formula construction is very helpful) to pull in content from various sources such as SharePoint, OneDrive for Business, etc., and allow basic interaction with it. These apps are then launched from inside the PowerApps app. So it doesn't generate .appx packages and they can't be published to the public app store. I'm not sure about the underlying technology, but the apps don't feel like webwrappers (I know. Not the best answer but it's all I have). They feel closer to what you can build in App Studio (https://appstudio.windows.com/en-us​) which does offer the ability to generate .appx packages and publish to the app store (at least last I checked. Those capabilities may have been deprecated). But you're also not going to be able to build games like Angry Birds with PowerApps. The important part of this is that it shows that Microsoft is continuing to support the concept of focusing Windows 10 Mobile on the business market. PowerApps is clearly a business tool. For Microsoft to fail to build a Windows 10 Mobile version of one of their own business tools would bring that commitment into question by press and users.

nice app, it would be very useful for small businesses.

Microsoft and their archaic notion of what a "business" is, limits the scope. One of the things I do is manage an apartment building. I could use this to create a front end for a tenant database. I'm just one guy and not enterprise, so MS doesn't care. I also work in films. I could keep track of peoples availability and create call sheets. Again, not the typical corporate structure, so not all of my users would have O365 & certainly not a "business" variety. If they are going to keep up this business chatter, they should also market to The Small Office/Home Office entrepreneur and creative types.

Agreed. It would be great if Office 365 personal subscriptions were included.

About time. I've been using PowerApps for a few months now and it's been great for internal data entry type things stored on SharePoint.

PowerApps client for Windows 10 mobile is great news! I used the app a number of months ago when it was temporarily available for Windows mobile and then they took it away.