Pre-order the Samsung Omnia II for $999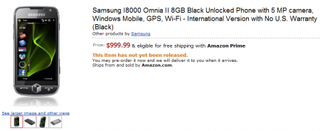 How badly do you want an unlocked, GSM Samsung Omnia II? Enough to drop $1,000 on it on Amazon (opens in new tab)? Granted, this is right up there with the tip-top of Windows Mobile hardware, but dayum.
Thanks, again, Jeremy!
Windows Central Newsletter
Get the best of Windows Central in your inbox, every day!
Phil is the father of two beautiful girls and is the Dad behind Modern Dad. Before that he spent seven years at the helm of Android Central. Before that he spent a decade in a newsroom of a two-time Pulitzer Prize-finalist newspaper. Before that — well, we don't talk much about those days. Subscribe to the Modern Dad newsletter!
People were howling the TP2 is $350 on a contract from the USA carriers. Can't wait to see how this one plays out. Granted, I'm aware of the fact it won't be $1000 with a contract but wow ... pricey

lol is all i can say about that

i want one but not that bad

What is the difference between this unit and the ones Expansys has for 629 USD? I have reservations against preordering on Amazon. If the price drops before the device ships you get nothing back. All the people that preordered OS X 10.6 above MSRP can tell you about that.

I remember fondly how I pocketed out $500 for a brand new unlocked Treo Pro... oh the economy was good in those days. But a $1000? No way man. I am waiting for AT&T to release good WM phones (Touch Pro 2 FTW!) to replace my old officially sanctioned Tilt. But I shall spend no more than $200 on it...

Is minimization really worth this premium? With netbooks proliferating at such a rate, this seems to be getting silly.

Netbook? This is a different class of device. For a quick web search or map query, I'm sure I could pop my phone out of my pocket and have the website or Google Maps app get the info I want before you've got your netbook out of your bag and open, never mind connected to a WLAN or WWAN. On the other hand, if I wanted to work, respond to a long email, surf where there's a table (eg coffee shop) or watch YouTube videos on a screen bigger than my palm, I'd pull out my netbook no questions asked.

Ludicrous. I'd take a netbook + Zune HD + a dumb phone for the same amount of money any day. If this is the pattern, pricing will kill WM before its aging OS will. Do they think people are that stupid?

I agree with the above posts. At that price, this device will be a dud in spite of the fact it is actually supposed to be a very good and capable unit. Look at the subsidized prices of BlackBerry, iPhone and most others, and it is easy to see why WinMo is at the bottom in terms of units sold. With all of the possitives, and the potential, of Windows Mobile it would be a shame to see them fall out of the market.

Are the subsidized prices really so different in general? I just got a T-mobile Touch Pro 2 for 149 USD. The phone above is available for 630 USD through expansys-usa.com. Amazon has a habit of overcharging for preorders and I think this is no different. It's amazon policy to not return the price difference when the actual item ships. I think this is just another example of that same tendency. We don't know what the subsidized price of this phone is.

I dont care how good a phone it is that way too much money when the economy is the outhouse!

http://www.popularelect.com/product_info.php?products_id=1379&osCsid=2c4... $589.99 at the above site.

http://www.timtechs.com/samsung_i8000_omnia_ii_unlocked_prd971.html I'll do one better $ 579.95 at the above site

Timtechs LLC www.Timtechs.com misrepresented product being sold. Sold cell phone in U.S. made for European market and frequencies. Phone will not work as advertised in U.S. I purchased a Samsung Omnia i900 cell phone from http://www.timtechs.com. This phone is advertised on one of their web site pages: http://www.timtechs.com/samsung_sgh_i900_omnia_unlocked_prd365.html. One of the claims made for the phone on TimTechs site is:
Quick Connect
Waiting for downloads is history with EDGE and 3G HSDPA connectivity. What Timtechs fails to advise or warn is that the 3G and HSDPA features of the phone will not work in the U.S. market, since the phone is made for the European market. My first indication of the above is that the phone was shipped to me from Hong Kong, not from Newark, DE 19711 United States, the address listed on their web site, and that the phone was not called Omnia, but Player Addict, and that the only manual shipped with the phone was in FRENCH. No English language manual was included. After numerous email exchanges with TimTechs I was told:
"Please be advised that as per our terms and conditions, we often supply phones of different versions and from different areas. This is due to the fact that our phones are imported. If it were to be an American model then this would have been stated in either the product title or the colour option selection. Therefore it is not the case that we have shipped the wrong phone. This would be where the UTMS band differences be..." In reading their "terms and conditions" I see no reference to what was mentioned. In any case, this information is well hidden on their web site and nowhere in the product information does it state that the phone may be made for a different market, or use different frequencies than those used in the U.S. When I talked about returning the phone, I was told that I would be charged 20% or more restocking fee, which in this case amounts to more than U.S. $80.00. Bottom line, I paid $400 for a phone that won't work as advertised in the U.S.

Be very very careful with Timtechs. Tbey sold me an Omnia I which was supposedly made for the US market, but it got to me in an envelope from Hong Kong and was made for the Asian and European market, came with only manual in French, and the 3G wouldn't work in U.S. They would not respond to complaints, but offered to let me return it for a 20% restocking fee. I did not, but the phone died some 6 months later and nobody here could repair it, and no guarantee. Timtechs said I had a "two week" guarantee. What a ripoff!!!

There is no way that I would ever pay that kind of money for a phone. Doesn't matter how good or bad the economy is.

This is for an UNLOCKED GMS device. Those are always way more expensive. It's NOT the same price as the same device on a network without contract. You guys are silly :)

I agree- the pricing is stupid but like someone else said it is for an unlocked gms unit and not tied to a carrier. The other laughable thing is that there is no U.S. warranty, I'd hate to have issues with it such as dropping on the floor and breaking the screen or it suddenly dies.

What a ripoff! A couple of my friends in Australia have bought from http://www.whymobile.com/productinfo.php?id=SAM-i8000 Landed it for about $715AU ($590US) thats with insured shipping. This $1000US price is just crazy.

Plenty of places sell this device, yes, unlocked for under $600. You just gotta search around a little. But some yutz will pay $1000 from Amazon no doubt.

I recently came across your blog and have been reading along. I thought I would leave my first comment. I don't know what to say except that I have enjoyed reading. Nice blog. I will keep visiting this blog very often. Betty http://cellularaccessoriess.com

I recently came across your blog and have been reading along. I thought I would leave my first comment. I don't know what to say except that I have enjoyed reading. Nice blog. I will keep visiting this blog very often. Betty http://cellularaccessoriess.com

i was going to do this..preorder, but i'm glad i waited b/c i saved myself over 300$. i waited and got my samsung omnia II from gsmallover.com for 639.77$. i love the phone and it was definitely worth the wait to save that $$.