Prepare to be entertained with the first wave of media apps for the Xbox One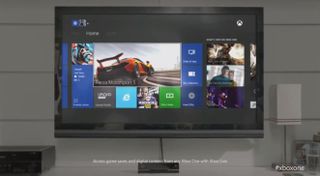 Microsoft is taking its Xbox One console down the home entertainment path, while continuing to cater for gamers around the world. The company has today announced a line-up of entertainment and TV apps Xbox One owners will be able to load and use on their console. Moving on from explaining just what features will be available (opens in new tab) in the experience, Microsoft is now touching on some of the content that will expand the capabilities of the console.
Marc Whitten, Xbox Chief Product Officer, had the following to comment on the Xbox One plan:
So, what are we looking at when it comes to apps and entertainment content rolling out on the Xbox One in the 13 launch countries? Check out the lists below to see what will be available in your market between November 22nd and spring 2014:
Australia
Crackle
Machinima
MUZU TV
Network Ten's tenplay
Quickflix
SBS On Demand
TED
Twitch
Austria
Eurosport
Machinima
MUZU TV
TED
Twitch
Brazil
Crackle
Machinima
Muu
Netflix
Saraiva Player
Sky Online
SporTV
TED
Telecine
Twitch
Vivo Play
Canada
CinemaNow
Crackle
Machinima
MUZU TV
Netflix
Rogers Anyplace TV
Sportsnet
TED
The NFL on Xbox One
Twitch
France
6Play
Canal+/CanalSat
France 2,3,4,5
La TV d'Orange
Machinima
MUZU TV
MyTF1
MYTF1VOD
SFR TV
TED
Twitch
Germany
Amazon\LOVEFiLM
Eurosport
Machinima
MUZU TV
TED
Twitch
Watchever
Zattoo
Ireland
Eurosport
Machinima
MUZU TV
Netflix
TED
Twitch
Italy
Eurosport
Machinima
MUZU TV
Premium Play
TED
Twitch
Mexico
Clarovideo
Crackle
Machinima
Netflix
TED
Televisa
The NFL on Xbox One
TV Azteca
Twitch
Veo
New Zealand
Machinima
MUZU TV
Quickflix
TED
Twitch
Spain
Eurosport
Gol Televisión
Machinima
MUZU TV
RTVE
TED
Twitch
Wuaki.tv
Zattoo
United Kingdom
4oD
Amazon\LOVEFiLM
blinkbox
Crackle
Demand 5
Eurosport
Machinima
MUZU TV
Netflix
NOW TV
TED
Twitch
Wuaki.tv
United States
Amazon Instant Video
Crackle
CWTV
ESPN
FOX NOW
FXNOW
HBO GO (coming soon)
Hulu Plus
Machinima
MUZU TV
Netflix
Redbox Instant by Verizon
Target Ticket
TED
The NFL on Xbox One
Twitch
Univision Deportes
Verizon FiOS TV
VUDU
Xbox 360 owners won't be left out; future content to be announced
It's noted that the above lists contain apps that are within the first wave of third-party apps coming to Xbox One. More content will be announced for both the Xbox One and Xbox 360 (you'll not be left in the dark, legacy owners!). In addition to the above, each and every market will be able to take full advantage of the following from Microsoft:
Xbox Fitness
Xbox Video
Xbox Music
Internet Explorer
Skype
SkyDrive
Upload
What are your thoughts on the entertainment side of the Xbox One?
Source: Xbox News (opens in new tab)
Get the Windows Central Newsletter
All the latest news, reviews, and guides for Windows and Xbox diehards.
Rich Edmonds was formerly a Senior Editor of PC hardware at Windows Central, covering everything related to PC components and NAS. He's been involved in technology for more than a decade and knows a thing or two about the magic inside a PC chassis. You can follow him on Twitter at @RichEdmonds.
Slow down. Can't keep up with all the news!

Well then this should blow your mind http://m.cnet.com/news/elop-could-sell-xbox-biz-focus-on-office-as-micro...

Buncha bafoons work at cnet. Don't believe what they say. First of all why are you even on cnet?? Everyone knows not to go there unless you are technologically challenged.

Uh.... Did you even read the article? Or go to the link they provided to the original story? Probably not, its easier to just see CNET and assume.

Yes you are right I did not read the article coz I refuse to go to cnet and give them page hits. I am boycotting CNET.

Yeah.. CNET hates Windows Phone.. Another reason to boycott CNET is, they hired Molly Rants..

Well, then that's your ignorance. I guess you won't care that Elop plans to kill Xbox and Bing if he's CEO, but it'll all be cool, because you didn't give CNET a page hit because you don't like someone they fired. That's cool.

Two words: "Dina Bass"... There's your "three people with knowledge of his thinking". Have you checked other articles in the past where "Dina Bass" says the information comes from people "with knowledge of someones thinking"?

WPCentral just ran an article about it, so apparently it was serious enough for them. I'm glad you're above WPCentral and don't read the news.

They run with most rumors and have a Rum-o-meter... If these authors had any integrity in the tech-world... Don't you think the Rum-o-meter would be higher than a 6?

That's not the point. They ran the story. I tipped them on it and they went to CNET, then went to Bloomberg to find the original article, but apparently not clicking on a CNET article ever is more important to you. I don't care if some people on CNET aren't very good writers, if they give me a link to the original article, who cares what their opinion is?

What? I went to the Bloomberg article and saw who had made the article and called on their bluff. Dina Bass is a writer for Bloomberg who often has "sources" that come with information that later has been very wrong... _Often_. And I read Bloomberg frequently.

People tend to forget that there are 5 people trying to land one of the most coveted positions on earth. Investors would love it if microsoft sold off xbox and bing. Hence why this information is being leaked to make them (Elop) look more appealing to microsoft investors. If the investors love you, YOU GET THE JOB. All of this is noise until the new CEO puts the idea on the boardroom table, which if you don't know already, has been on the table for a while now and xbox and bing are still here. This is over hyped.

Its about principle. Don't go sassy pants on me. I will and have read it here in WPCentral and I do care what happens to Windows and Microsoft in general beacuse I have too much vested in it. Just not clicking on CNET link does not mean I am ignorant.

So Xbox Fitness will be available from the start? If so, nice! I am looking forwad to that! Can't wait for November 22nd!!!

On their website it says "Holiday 2013" so within that "launch window" but I'm assuming not on the 22nd.

Oh maaaaaaaaan. :( OK, here's hoping they hurry up with that one.

Hopefully some of these apps will be ported over to windows 8/RT

Yeah & may be lots of apps from Win8 ported to XBox.!

Yes and this is what I saw why I choose the windows team Xbox PC and phone all as one in future great

It's going to be in 2 place. That's what sucks about this whole thing. It has awesome features but still.

Way to early to say who is going to win. Everybody said the PS3 was gonna own the 360 before the launch and it didn't turn out that way. Either way, both are gonna sell millions and millions of consoles so whoever "wins" only means something to fanboy fights.

Exactly. The PS3 and 360 were so similar, but this year they're taking different approaches. PS4 is all out gaming, while the One is an all out entertainment system.

Beyond ecstatic. If it wasn't for the beta of bf4 that got me hooked on the gameplay, I would have probably purchased the Xbox one without any launch games... Just for its potential and entertainment features alone!!

Looks good except the absence of an Xfinity app for me.

Anyone notice no Youtube? unbelievable

Did you notice it has explorer built in?

You do know that Google has no plans to ever support anything that is Microsoft....even though MS Windows is the sole reason Google was able to exist, and prosper to the point they are in today.....your best bet is to just use the browser - pin the link to your start screen, or whatever its called on XB1. You dont need a stupid app by google - Fu<k Google, i hope they get antitrust suit for not allowing access to their services. They had me, I was on Android for 6 years (since the start)...........now im sick of their $hit, and have moved on to WIndows 8.1, and when the Lumia 929 comes out later this month, i will be done with them for good.

Not o ly have Google been super shit at supporting consoles (remember YouTube XL for ps3?) but they're currently on q Microsoft hating crusade. Heaps of google sites don't work on ie10 mobile or ie11 metro, while they refuse to release apps. good luck on a YouTube app for Xbox one.

Solution: don't use google sites! :)

But the problem is that Vimeo isn't as good as YouTube. Do you know of any other websites that are as good as YouTube?

Exactly! It's Google's loss if they don't make an app for the XBox. They can't use the excuse of 'low market share either.

In desktop mode, open IE and put *.Google.com into the compatability settings. With that Google Plus works for me in the metro browser (I have a Surface Pro and use a galaxy s4).

PS4 doesn't have one either

Oh snap. I use YouTube every day (though, to be honest, I nowadays use it thru my ps3 because the interface is far superior to the 360 version). This is gonna suck for a while till they release it.

No BBC iPlayer or Sky TV in the uk.... WTF!!! But NOW TV is there where you can watch Sky Sport for £10 a day!!! Well done boys, well done!

Saw a CNET UK article earlier today saying that BBC iPlayer is being worked on. Won't be launch but it is coming.

From an article I read today, I don't believe Now TV will be available on launch, I think it'll be delayed.

No NHL Gamecenter LIVE
No HBOGo at launch WTF. Guess I can't unplug my 360 yet.

Ya, I was hoping Gamecenter live would bebon that list. Dammit.

The HBO go app is my go to app on the 360, I'll be waiting to unplug mine as well.

6play? Didn't realize Rudy Huyn made Xbox apps ;)

Im needing that Xbox Fitness ASAP, I'm getting phat!!

Nothing for Norway??? Hey, we're five million people. Atleast 10% potential customers!!

Ha ha ha! 5 million? My country is 50 million and we won't be getting 75% of those apps

5 million _rich_ people in norway though. :P

Yea, even the kids are rich.. :P
But seriously, Xbox one price is abt. 1/3 of the average monthly income.

Media is quite good at delivering apps to various platforms. Not worried actually. In time it will come. We will however have to wait for the launch till Q1 2014.

Yeah... Same situation in Sweden and we're 9-9,5 million (only 10 rich people though). ;)

Well, scandinavia just got the HBOnordic app for 360.. Thats something :)

While it's okay to cover some big announcements on Microsoft's part, are you seriously going to cover all news about Xbox one? I come here for windows phone.

Why won't they make some of these apps come to the Xbox 360? Skype on the 360 will be pretty cool :-)

Where the hell is xinfinity[comcast]!

they just re made their app for IOS and Android they don't care about Microsoft Products, even through I'm sure some of the apps were made on a windows device.

Please get HBO Go out before Game of Thrones!

Just download game of thrones on torrent sites

Will I still need a Xbox live gold account to view Netflix? If that's still the case, its ps4 for me.

Yes. See you later. Enjoy your new PS3,e xcept now with more textures. XB1 is truly next-gen.

Ps4 is next-Gen, too, and his concern is legit. Don't be weird.

Imho... There's ALOT more value in paying for Xbox Live than the PS can offer.

That is to a certain extent true, unless of course you're a GAMER, to whic Playstation's subscription TRUMPS that of the XBOX.

The main reason I sold my PS3 was because of the very spotty networking capabilities... It felt like I was using a free service... Hopefully the new payment option for the PS4 will make it more usable.

Not sure if this has been covered but what happens to our avatars from 360? Is there an avatar system and are they carried over to the One?

Not sure, good question. Though I personally kinda see avatars as a gimmicky moneygrab.

from what I understand they are doing away with the advatars which I really liked

Do your self a favor. switch to playstation

Anyone out there have any info on wether the TV function intergrates with DirecTV? Anyone?

My thought is:
Nothing for Belgium????
It is in the initial launch markets though....

About as I expected for launch and I assume some more are coming. My main wish list for Canada: NBA League Pass, TSN, CTV, and CityTV. IE should be able to do it in the meantime, but dedicated apps integrated to the One Guide are definitely ideal.

Rogers anyplace tv includes CityTV

Cool. Looked it up. We're not Rogers customers so won't get a lot of it but does look like we can get previously aired CityTV. Thanks!

Yeah fully stackedwith ads. Cant wait.

This list confirms just what I thought. Xb1 is just America and, if you are lucky, big country-centric. If you live in smaller country, you will just get nothing. No tv guide, no apps...
I am a Microsoft fan, but I think they just wanted to bite more than they could chew. Even Microsoft cannot propose TV guide for 160 countries + fragmentation within the countries. It will never work.
This is why PS4 will rule the world. Even if the experience is less, it will be similar everywhere. You will not get all that frustration that US and big countries are getting much more,while you still pay the full price....

I don't understand. Ps4 won't have a channel guide in your country, and neither will the xbo. What's the difference then?

Just connect your TV-box to your XBO and overlay a TV-guide from it.

The difference is 100 euros. Same experience without tv guide...

My United States list gets stoped in the middle of a word. Like the bottom half is cut off. Anyone else?

Same as 360 then? Wow..... Thanks..

Man I can't wait!! Xbox come home now!!

Question: do we know if the Xbox One version of Amazon will be able to rent movies or just play prime movies? My 360 has been crippled by not having this feature

The only app I am upset that I don't see is NHL gamescenter. In addition to Netflix, it is the only app I would use

Literally if ps4 had that app I would go there. Come on ms

how can we use tivo with the xbox one

On the mobile app the lists are cut off :(

Definitely won't be purchasing any time soon. That UK line up means I still cant have the xbox as my only box... Sucks ass

On the phone wp8 C app the words disappear after Canada. :/

WHat's funny is that Crackle is owned by Sony

Oh no sky go for uk, shakes fist damn you sky! But we get crackle yay! How about a wp app for the ps4 Sony? :p

OK, my list of MIA apps: Time Warner Cable and Media Center. I won't go back to having a crappy POS cable co provided tuner or DVR in my house. Fix this Microsoft. Or, if MS doesn't plan on changing this I'll just sell the 2 Day one editions I have pre-ordered on eBay and stick with the 360 setup we have. Maybe time to start looking at other solutions.

They need the AT&T uverse app which abscence is perplexing since it works so well with the xbox 360.