Prima Halo 5 Collector's Edition Strategy Guide: In-depth review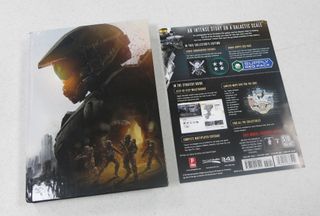 Halo 5: Guardians is probably the biggest Xbox One game of the year. Microsoft's Halo series has been beloved ever since the first game debuted on the original Xbox console way back in 2001. Along with each new game in the mainline series comes a variety of ancillary products for fans to consume, including books, comics, toys, controllers, and even movies and TV series. This one is no different – we've already reviewed the Halo 5 Limited Edition controllers, in fact.
Another supplement each big Halo game receives is a strategy guide from Prima Games. This time, two guides are available: a standard softcover edition and a hardcover Collector's Edition. Both versions include a free digital guide, but the hardcover guide packs some enticing bonuses as well. Read on for our full review of both guides and a look at the Collector's Edition physical and in-game bonuses!
Content analysis
Prima's standard Halo 5 guide clocks in at 400 pages, whereas the hardcover includes an extra 32 pages of bonus material. That's a lot of material to cover! So we'll run down each chapter with a page count and content summary, hopefully giving you a good idea of what to expect from the book itself.
Chapter 1: Introduction
A Brief History of the Human-Covenant War (4 pages): This section summarizes the stories of the mainline Halo games, giving readers a basic understanding of the events leading up to Halo 5. The Synopses include: Halo: Reach, Halo: Combat Evolved, Halo 2, Halo: ODST, Halo 3, Halo 4, and a single paragraph about Halo 5. Halo Wars is notably absent, perhaps due to space limitations.
Cast (13 pages): The Primary Cast section looks at both Fireteam Osiris and Blue Team (the two playable teams in Halo 5), with one paragraph dedicated to the team as a whole and a couple of paragraphs about each individual member. Supporting characters like Dr. Halsey and the Arbiter share three pages of space. Master Chief, Spartan Locke, and Buck get multiple pieces of concept art and other characters have one piece each.
Chapter 2: Spartan Training (7 pages)
Three sections: The HUD, Controls and Options, and Combat. The latter offers five pages worth of tips for beginners. Combat also explains Halo 5's new squad commands and mechanics.
Chapter 3: Intel (18 pages)
Weapons: Descriptions and stats (range, ammo, etc.) for every weapon in the game. Weapons are sorted by Human, Covenant, and Promethean.
Enemies: Descriptions and one image for each of the campaign enemies. The Covenant come in four varieties, whereas the Prometheans come in five. Warzone boss variants are not included.
Vehicles: Brief descriptions and one small image each for the campaign vehicles. The UNSC and Covenant each have five rides, whereas the Forerunners only get one: the new Phaeton flier.
Chapter 4: Campaign Walkthrough (177 pages)
The meat of the guide and probably the main reason to buy it, the Campaign Walkthrough provides the following info for each of Halo 5's 15 Missions:
Enemy and Special Weapons list (Special Weapons are unique variants that only appear once each in the campaign)
Maps indicating points of interest and the locations of weapons, vehicles, enemies (occasionally), ammo, Intel, and Skulls
The written walkthrough portions include recommended loadouts, Weapon Intel (different descriptions than in Chapter 3), Enemy Encounter descriptions, specific Legendary strategies, and more.
Of most interest will be the Achievement, Intel, and Skull tips. Achievement boxouts alert the reader to mission-specific Achievement opportunities. It would be nice if these boxouts started out with the Achievement description rather than jumping into instructions – I'd always prefer to have that overview of what I'm doing before going through the minutiae of it.
Intel (one of Halo 5's two types of collectibles) doesn't appear in boxouts with screenshots like the Achievement and Skull tips. Instead, it's just worked into the regular walkthrough text and called out with the words "Intel Acquired" in white text on a black background. As a result, locating Intel with the guide takes more time than Skulls. You can still consult the maps and Appendix section for additional help, though.
As for Skulls, they appear in a borderless box out with one or more paragraphs describing how to get them. These can include multiple screenshots, making them especially helpful.
Chapter 5: Multiplayer (22 pages)
What's New: One page summarizing how Halo 5's competitive multiplayer differs from previous games.
Getting Started: Descriptions of Halo 5's nine alternate control layouts, and tips for a variety of competitive techniques such as the Ground Pound and Thrust.
Progression and Customization: A quick overview of the Spartan Hub and Requisition system. Two tables include REQ Card Categories and REQ Pack Details. The pack costs listed in REQ Pack Details are incorrect. For instance, the guide says the 10K Gold Pack costs 18K REQ Points.
Tactical Primer: Former pro gamer 'Walshy" provides a few tips and an interview (2 pages), "ElamiteWarrior" provides 1 page of tips, and "Cpt Anarchy" offers 1.5 pages of advice. The remaining 5.5 pages discuss terminology and general multiplayer strategies.
Chapter 6: Armory (36 pages)
Weapons: Half or full pages dedicated to each weapon available in multiplayer. The alternate versions of weapons available in Warzone are listed beneath their primary versions, which is cool.
Vehicles: Multiplayer rides get about half a page each. Warzone alternates appear beneath their primary versions.
Armor Mods, Power-ups, and Boosts: Each of these topics gets a full page that lists all of their possible REQ cards.
Chapter 7: Warzone (50 pages)
Warzone Fundamentals (3.5 pages)
Warzone Assault (.5 pages)
Maps: All six Warzone and Warzone Assault maps have labeled maps and multiple pages of tips. The PvE maps have a table of boss appearances and stats, plus boxouts with strategies for each individual boss.
Chapter 8: Arena (34 pages)
Game Modes: 3 pages describe the four main Arena game types: Slayer, Capture the Flag, Strongholds, and Breakout.
Weapons and Power-ups (1 page)
Maps: All 15 Arena maps included in the base Halo 5 game get two pages each. These include a map with weapon spawn locations, "Starting Moves" tips for the match start, and Tactics for the remainder of the match.
Chapter 9: Appendix (38 pages)
Skulls: 1 page listing all 13 Skulls and each one's Mission, Location, and Effect. No screenshots limits the usefulness of the list, especially since it doesn't list the page numbers in the actual Walkthrough where we could find pictures and more information.
Mission Intel: 3 pages, listing all 15 Missions' worth of Intel items and their locations. The same criticisms with the Skulls list apply here – at least point us to the appropriate Campaign Walkthrough pages!
Achievements: 2 pages listing Halo 5's 65 Achievements and their descriptions without additional tips.
REQ cards: A whopping 24 pages listing every single REQ Card in the game. The Unlock Conditions tab is pretty useful for people who might be wondering how to get certain cards. For instance, the Prima emblem included with the Halo 5 Collector's Edition Guide is listed as a Marketing Emblem.
Ranks and Rewards: 6 pages listing the 152 Spartan Ranks, their XP requirements, and rewards; Medals; and Competitive Skill Rank (CSR) Tiers. Images for the Medals don't appear in the guide, unfortunately – just names and criteria.
Collector's Edition Guide only: Art and Developer Interviews (32 pages)
The final 32 pages of the Collector's Edition Guide feature large pieces of concept art on each page and one or more developer questions and answers.
Interviewees include: Josh Holmes (Studio Head), Frank O'Connor (Franchise Development Director), Brad Welch (Campaign Design Director), Chris Haluke (Campaign Designer), Lawrence Metten (Senior Multiplayer Designer), Quinn Delhoyo (Multiplayer Designer), Christopher Blohm (Lead Player Investment Design), and Chris King (Sandbox).
That's a lot of people, so most of them only get a few questions each. Also, I can paraphrase the questions as either "How awesome is Halo 5" or "What's your favorite thing about Halo 5?" We can't blame Prima too much for the blandness, as Microsoft would never sign off on actual challenging questions.
E-Guide
Both standard and print versions include a code for Prima's mobile-friendly E-Guide. The mobile guide is hosted entirely as a series of web pages, not a PDF document.
The E-Guide contains all of the same content as the standard edition guide, so no 'Art and Developer Interviews' section. Some of the larger concept art images that eat up space in the print guide are omitted in the E-Guide, which I consider a plus. The images in the E-Guide can be expanded to view in greater detail. The Guide can also be searched for specific keywords, which should help with finding things like Intel.
As a bonus, the E-Guide offers a Video section with 13 short videos showing how to get every skull in the game. The videos use a non-YouTube format, so they might not play on some mobile devices.
As of this writing, the E-Guide still lists incorrect REQ Pack pricing in Chapter 5. But as an electronic guide, that information could potentially be corrected in the future.
Prima also sells the Halo 5 E-Guide separately for $9.99.
Collector's Edition Bonuses
The Halo 5 Collector's Edition features an attractive hardcover binding with the "Master Chief vs. Spartan Locke" promotional artwork on the exterior. Portions of the exterior cover feature metallic printing. As mentioned before, the hardcover guide has an extra 32 pages, though I consider them to add relatively little value.
The hardcover guide also includes two physical bonuses and one digital bonus. First, you get two embroidered patches measuring approximately 3 inches each. One is the green Overkill Medal and the other is the Legendary difficulty emblem. I don't have any use for patches nowadays (though I did cover my first laptop bag with them), but some Halo fans might enjoy them.
The other bonus is a code for an exclusive REQ Pack! To get the Xbox code, you'll have to first create a Prima account and redeem the E-Guide code through Prima's website. You'll then receive a 25-digit code to redeem at Xbox.com.
The exclusive REQ Pack contains three items. Two are probably random, but the other is the Prima emblem. Equip the emblem to display it on your Halo 5 multiplayer profile. A pretty cool bonus!
Which guide to get?
Do you need a physical strategy guide in our futuristic Jetsons world? No, you don't need it. Most experienced players will be able to tough their way through the campaign on Legendary and use online guides for collectibles. But Prima's Halo 5 guide not only contains a wealth of information and images (plus the free E-Guide), it's also a fine Halo collectible.
The Halo 5 Standard Edition Guide retails for $19.99 and the Collector's Edition retails for $34.99. Amazon currently sells the hardcover at a significant discount, making it less than eight dollars more than the paperback. Given the sturdier nature and superior looks of the hardcover version, plus its bonuses of an 'Artwork and Interviews' section, patches, and especially the exclusive REQ Pack, I definitely recommend going for the Collector's Edition at the current selling price.
More Halo 5 coverage
Don't miss our other big Halo 5 stories!
Windows Central Newsletter
Get the best of Windows Central in in your inbox, every day!
Paul Acevedo is the Games Editor at Windows Central. A lifelong gamer, he has written about videogames for over 15 years and reviewed over 350 games for our site. Follow him on Twitter @PaulRAcevedo. Don't hate. Appreciate!
Good review. GameStop had a 50% off guides sale last year. I can't see myself spening $35 on this (I know how to play the game, and walkthroughs are free on the Internet), but if there is another 50% off where I can get this for $17.50, I'll probably get it just to have the nice hardcover and patches to display. I picked up Hyrule Warriors and Smash hardcovers last year, and they're pretty nice.

Thanks dude. I price matched Amazon at BestBuy, so it was only $25. It's definitely a good thing that someone continues to publish physical strategy guides.

The patches and the artwork would be the only reasons I'd buy it. Paper guides are getting obsolete nowadays

I like the look of books on my shelf-case scenario...it is mostly full of Halo gear, games, guides and grenades lol jk =D

I don't like using guides myself normally, but the extra stuff included makes me want to pick this one up. Great write-up.

Ive never been one for a guide. I just play away. Usually easy paul... ;) I'm not that good.

I got it for a good price. €29.99 - 10% cause I purchased the game. That's only €26.99. I must say this guide is really good and helpful. It's better than watching videos. It shows all secret weapons and secret passageways which is awesome. I enjoyed using the Loathsome Thing ( Didact's Shotgun ) I wouldn't have got it without the guide.

I like idea of physical guides, who don't want to go physical, and good review of content by reviewer.

Wow the guide looks nice! Been sometime I last touch a real guide book lol

Thanks for the review and info but I stopped using guides years ago

Thanks. Was curious what was in modern guides

Great writeup! I'm not usually one for these guides myself, but I might consider one if there's a sale. I think it would be really cool to have. I remember the one and only guide I've ever got was for KOTOR 2 and I spent so many hours just reading everything.
Windows Central Newsletter
Thank you for signing up to Windows Central. You will receive a verification email shortly.
There was a problem. Please refresh the page and try again.