Print your Instagram photos at Walgreens with Printicular for Windows Phone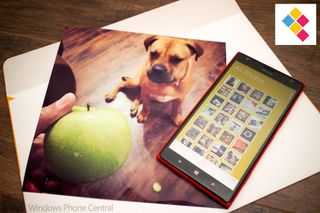 If there's a Walgreens store nearby, you should check out the new Printicular app for Windows Phone 8. It lets you print Instagram, Facebook and camera photos with same day pick up at a Walgreens location or express delivery worldwide. If you choose pickup, the photos are ready in about an hour. No cables, no syncing. Just order prints directly from your Windows Phone.
Head past the break to watch our hands on video and walkthrough.
When you open Printicular, it shows three sources where you can select photos to print. You can select photos from your camera, Facebook, or Instagram. You need to log in under the settings page to view photos from Facebook or Instagram. Unfortunately, the initial version is having trouble logging us in to Facebook. We hope that gets fixed in an update.
It takes a few seconds for the photos to load. When they're all listed, tapping on a photo adds it to the cart. When you're done selecting, clicking the checkout button displays your order info. From here, you can select the size and quantity. You can choose 4x4 ($0.39) or 8x8 ($3.99) for Instagram photos.
For a limited time, you can use the coupon code 'MEAM' to get 30% discount off your prints.
Before you can submit the order, Printicular asks which Walgreens you want to pick up the prints. It appears you can also pick up from Duane Reade stores. They only require your name, telephone number, and email address. No credit cards are required since payment is accepted at the store. Once you submit the order, you'll receive an email confirmation. It includes the order number, pickup location, and operating hours.
We have placed an order for one of our Instagram photos and it was ready in about one hour. We were happy with the 8x8 print and would probably order some more in the future.
Printicular is a free download from the Windows Phone Store. It's also available on Windows 8 (opens in new tab), Blackberry, iOS, and Android. Will you be using this photo printing service or do you use something else? Let us know in the comments!
Windows Central Newsletter
Get the best of Windows Central in in your inbox, every day!
Instagram had nothing to do with this app, it just pulls in your feed.

My mistake Daniel. Than thanks printicular. Nope I am not getting involved on another debate. ;-).

As far as printing goes, check out an app by Kodak called Pic Flick. Awesome for printing off your phone. http://www.windowsphone.com/s?appid=2d72c9e6-76ff-44ed-a2b0-72c4ce1992d2

Why would anyone print the crap that comes from instagram?

See, had you read the article, you'd also know you can print photos from your Lumia's photo library or Facebook. I think 1020 owners would be interested ;)

Think you can do this with the Walgreens app also.

Yes, the Walgreens app will let you do multiple things like refill prescriptions... Plus allows you to order prints from phone, SkyDrive, Facebook and instagram. :)

Came here to post this. I've used the Walgreens app for photo development. Works quite well.

Well SkyDrive feature doesn't work on Walgreens app, says "This function is unavailable" O_O

Works fine for me. Just went and tested and ordered a 4x6 just to see. To add: 4x6 is $.10 cheaper than the 4x4 price.

Ok I'll have to check my SkyDrive permissions for the wlagreens app

Ha! You got me - but you know deep down I'm right! ;)

He/she's got a point, dont you think? The quality of photos uploaded to Instagram sucks, and the size is limited to 612x612 pixel. Imagine how tiny the photos are when printed.

Yep.. The Walgreens app is all you need!

Well, maybe. I wouldn't use the Walgreens app for anything but photos, making this app more streamlined for that function.

Can you print just certain hastags?

Nice. Another cool feature for Windows Phone Owners.

Yay, I love printing 500px crappy photos into 1.67inch square photos at 300dpi!

It would be nice to also have the ability to print from Skydrive like on the Walgreen's app
Windows Central Newsletter
Thank you for signing up to Windows Central. You will receive a verification email shortly.
There was a problem. Please refresh the page and try again.