Procore app for Windows 10 helps construction crews manage drawings, papers and more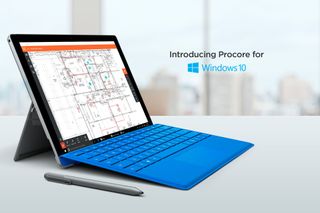 Procore, which has previously released mobile apps for Android and iOS for the construction industry, will launch its first Windows 10 PC and Mobile app today.
As the company's press release below notes, the vast majority of construction workers who log into Procore to access its system do so on Windows-based PC, so it makes sense to offer a Windows 10 app. While the press release does not specifically state that the new app works on Windows 10 Mobile phones, we did ask and were told that, since the Procore app was made on the UWP platform, it should also work on smartphone devices
However, the clear audience for this app is for PC users, and it shows how Windows 10 will continue to be a huge market for enterprise and business users.
Download Procore from the Windows Store
Press release:
Welcome Windows 10 to the Procore Family of Mobile Apps
The construction industry has increasingly become more mobile, with phones and tablets commonplace on most all jobsites today. Android, iOS, and Windows remain the biggest players when it comes to providing mobile operating systems, but the fact remains that the majority of construction professionals are working off of computers running Windows.
To put this into perspective, Procore has more than 1,300,000 users, and approximately 90% of them logged in to Procore on a Windows operating system device this year.
This is why we're excited to announce the availability of Procore for Windows 10 native app. If you're a Procore client and a Windows 10 user you can download the app from the Microsoft Store today.
We released our Windows 10 app with functionality that will provide Procore users with more efficiency when they're working in the field, which includes offline access to your current set of drawings. Additionally, drawing, photo, and specification management are the first of many Procore tools that will be available on the Windows 10 native app.
"The Procore Windows 10 app will simplify the way we work by allowing our teams to use one system, one way, on one device," said Matt Brock, Assistant Project Executive at CBG Building Company. "Jobsites often have unreliable Internet access, so knowing that the Windows app is already downloaded to our devices is reassuring."
Procore for Windows 10 app is launching with the following features:
Drawing management with offline access
Photo management
Specification management
Directory management
A native Windows 10 app provides our users with a cost saving approach to construction project management (less paper is always better), but it's also allows them to innovate on the jobsite since Windows 10 runs across any Windows device.
"We've gotten rid of all our paper drawings, saving us thousands in printing costs per project," said Thomas Gore, Senior Project Manager at Monteith Construction Corp. "In our construction trailers, we're installing touch screen plan tables and in the field we've created 'digital plan boxes' which are 50" TV's in a rugged cabinet. Both are run on Windows 10, using the Procore app for the entire project team to access the latest drawings and project information."
Given that Procore aims to provide the tools necessary to make our users more efficient, with better communication through access to info where and when they need it, we're excited to be offering this first version of our Windows 10 app to all our Windows users.
From here on out we'll be releasing new tools on the Windows app on a monthly cadence, with our goal of reaching feature parity with the Procore iOS and Android apps within the next 12 months.
Get the Windows Central Newsletter
All the latest news, reviews, and guides for Windows and Xbox diehards.