Procore app for Windows 10 helps construction crews manage drawings, papers and more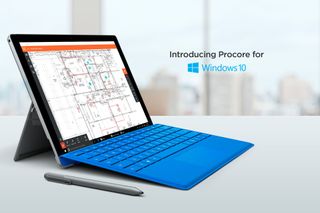 Procore, which has previously released mobile apps for Android and iOS for the construction industry, will launch its first Windows 10 PC and Mobile app today.
As the company's press release below notes, the vast majority of construction workers who log into Procore to access its system do so on Windows-based PC, so it makes sense to offer a Windows 10 app. While the press release does not specifically state that the new app works on Windows 10 Mobile phones, we did ask and were told that, since the Procore app was made on the UWP platform, it should also work on smartphone devices
However, the clear audience for this app is for PC users, and it shows how Windows 10 will continue to be a huge market for enterprise and business users.
Download Procore from the Windows Store (opens in new tab)
Press release:
Welcome Windows 10 to the Procore Family of Mobile Apps
The construction industry has increasingly become more mobile, with phones and tablets commonplace on most all jobsites today. Android, iOS, and Windows remain the biggest players when it comes to providing mobile operating systems, but the fact remains that the majority of construction professionals are working off of computers running Windows.
To put this into perspective, Procore has more than 1,300,000 users, and approximately 90% of them logged in to Procore on a Windows operating system device this year.
This is why we're excited to announce the availability of Procore for Windows 10 native app. If you're a Procore client and a Windows 10 user you can download the app from the Microsoft Store today.
We released our Windows 10 app with functionality that will provide Procore users with more efficiency when they're working in the field, which includes offline access to your current set of drawings. Additionally, drawing, photo, and specification management are the first of many Procore tools that will be available on the Windows 10 native app.
"The Procore Windows 10 app will simplify the way we work by allowing our teams to use one system, one way, on one device," said Matt Brock, Assistant Project Executive at CBG Building Company. "Jobsites often have unreliable Internet access, so knowing that the Windows app is already downloaded to our devices is reassuring."
Procore for Windows 10 app is launching with the following features:
Drawing management with offline access
Photo management
Specification management
Directory management
A native Windows 10 app provides our users with a cost saving approach to construction project management (less paper is always better), but it's also allows them to innovate on the jobsite since Windows 10 runs across any Windows device.
"We've gotten rid of all our paper drawings, saving us thousands in printing costs per project," said Thomas Gore, Senior Project Manager at Monteith Construction Corp. "In our construction trailers, we're installing touch screen plan tables and in the field we've created 'digital plan boxes' which are 50" TV's in a rugged cabinet. Both are run on Windows 10, using the Procore app for the entire project team to access the latest drawings and project information."
Given that Procore aims to provide the tools necessary to make our users more efficient, with better communication through access to info where and when they need it, we're excited to be offering this first version of our Windows 10 app to all our Windows users.
From here on out we'll be releasing new tools on the Windows app on a monthly cadence, with our goal of reaching feature parity with the Procore iOS and Android apps within the next 12 months.
Windows Central Newsletter
Get the best of Windows Central in in your inbox, every day!
I can see a market for a Surface Pro Tough. A tougher version of the Surface for on construction sites.

That happens to be Panasonic's niche.

One step in a thousand mile journey, fingers crossed for many more

Lite version compared to Android & iOS.

The iOS and Android Procore apps have been around for multiple years. They are fully featured and continue to be updated with multiple releases every month. The Procore Windows app will also be updated on a frequent interval, with the goal to reach feature parity with the other mobile platforms. Given the Windows 10 platform, there may even be features that are possible in the Windows app that won't be available on the other mobile platforms. Stay tuned.

It's amazing how Microsoft keep promoting how great and easy their UWP concept and yet they release versions for ios and android first.

I might download this just to promote it. Also seems like a really useful app for my Surface as well

I can see construction crews running around with Hololens (Hardhat edition, lol) with an advanced version of this app on it. Never have to stop and look at a print, and it could overlay where things need to go, in their field of view, once they have constructed their initial reference points. Someday...

https://www.youtube.com/watch?v=OQLPyozUpfY One day not too far away!

Nice start! I'm not in counstruction, but do enough of my own DIY to see how useful this could be. I would love it for my work, but I have enough trouble getting my company to let me go paperless, lol. I've used a tablet for 3 yrs here, and NOBODY else has picked up the idea and run with it. Hololens will never happen here, but I'm glad to see it being implemented other places.

I work in the construction industry as an estimator and project manager. I can see this app being very helpful. The construction industry is getting more and more techy.

Would you get full featured version or this limited one?

Where did he say he was getting it? Also, an app officially released and supported with future releases is better than none at all. So as I usually say, troll better.

Why would business settle for lesser tool even if the tool may get better after one year?

Because it's not just about the the app. There are hardware investment and ecosystem investment considerations. As someone who has been in the construction industry for over 20 years, now working in the IT part of it, I can say that since I already use Windows servers and Windows desktops, laptops, and Windows Phones (70+ of them), I'd be far more inclined to use an app that may need some updating, rather than spend tens of thousands swapping to iOS or Android hardware for my employees.

Since the 80's, I've watched so many small businesses upgrade to useless OS's because they're the "new thing" and now, because their kids have "hip" new phones and it ends up costing them a lot. Requesting a demo and see a lot of benefits to this for a lot of local businesses.

@vhyr as mentioned above, iOS and Android have been out for a few years. We have just started creating the Windows app a few months ago. We release updates frequently and eventually will get up to parity with iOS and Android. The Windows platform may also allow us to do things that can't be done on iOS and Android :)

This is great! I'm on a project now that uses ProCore!

Stupid company.
First release an app to iOS and android with no market share in construction and then work backwards back to Windows.

This is from their quoted release above: "To put this into perspective, Procore has more than 1,300,000 users, and approximately 90% of them logged in to Procore on a Windows operating system device this year." So obviously they have already had the program on Windows for quite a while. They likely added the iOS and Android apps after the fact, for basic viewing for professionals in the field that may not have their PC on them, and most likely did NOT have a Windows Phone, since the share is so low. But with the advent of Windows 10 and UWP, decided to release it to take advantage of having the same app on their PC and on a Surface or other W10 device in the field. Think before you call someone stupid. It's ironic that most people don't.
Windows Central Newsletter
Thank you for signing up to Windows Central. You will receive a verification email shortly.
There was a problem. Please refresh the page and try again.