Xbox Scarlett vs. PlayStation 5: Microsoft wants Scarlett to be 'the most powerful console'
The console war continues.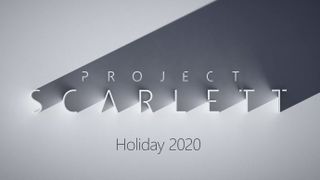 What you need to know
Microsoft recently revealed "Project Scarlett," it's next-generation console.
It's unclear how it compares to the PlayStation 5 at the moment.
The company wants it to be "where games play best" according to Xbox's Mike Ybarra.
Xbox's Jason Ronald said that it would offer "the best possible versions of... games."
Updated June 16, 2019: In a recent video interview between Xbox Game Studios head Matt Booty and Bloomberg, Booty said that he believes Xbox Scarlett "will absolutely be the most powerful, immersive console on the market."
"Project Scarlett" is Microsoft's upcoming console which is set to launch in Holiday 2020. During its E3 2019 Briefing, the company said that the device would be capable of 8K resolution and 120 frames per second (FPS). Unfortunately, other than that, not much information was revealed. While we'll probably have to wait until E3 2020 to get exact specifications, that hasn't stopped fans from wondering if it's going to be more powerful than the PlayStation 5 (PS5).
One of the main reasons why the Xbox One had a difficult time earlier this generation was because it was weaker than the PlayStation 4. Games ran at 900p compared to 1080p, and sometimes featured a 30 FPS cap. With the Xbox One X, Microsoft managed to turn the tables and even bested the PlayStation 4 Pro as it featured 6 teraflops of computing power. While we can't compare exactly GPU compute units at the moment, Microsoft does want us to know that Project Scarlett is "where games play best" compared to the PS5.
Our very own Jez Corden managed to interview Microsoft's Gaming Corporate Vice President Mike Ybarra and Partner Director of Program Management Jason Ronald to find out more about the company's vision for the future of gaming across Xbox, Project xCloud, and PC. The following excerpt discusses the conversation about Project Scarlett.
This is the first time since Sunday that an Xbox executive has said Project Scarlett will be the best place to play games. Beforehand, they were using phrases like "most immersive experience." Hopefully we'll learn more details about the upcoming console soon so that we can confirm this.
According to an analysis by Digital Foundry, it seems like hardware-accelerated ray tracing, which greatly improves lighting, will be the defining feature of the console. To do this, Microsoft probably needs a separate chip because AMD currently does not support this on PC. Even the PS5 reveal didn't say hardware-accelerated ray tracing was a capability of the system. We should know more about both devices in 2020.
Excellent and affordable Xbox accessories
Up your Xbox experience with one (or all) of these budget accessories, all of which are approved by the gamers of Windows Central.
PowerA Play & Charge Kit for Xbox One (opens in new tab) ($15 at Amazon)
This charging kit keeps your Xbox One wireless controllers juiced up, and it offers batteries for two controllers. At just $15, this is hands-down our favorite budget charging companion.
ElecGear 4 Port USB Xbox One S Hub (opens in new tab) ($19 at Amazon)
This brilliant little USB splitter hub attaches perfectly to the side of your Xbox One S console. It's ideal for use with chargers, controllers, headsets, and more.
Controller Gear stand (opens in new tab) ($13 at Amazon)
Proudly display your Xbox gamepads with this stylish and functional stand. The licensed design is minimalist and black, and it has a hidden storage compartment, making the price of $13 a real steal.
Asher Madan handles gaming news for Windows Central. Before joining Windows Central in 2017, Asher worked for a number of different gaming outlets. He has a background in medical science and is passionate about all forms of entertainment, cooking, and antiquing.
Currently from what we have been told the two systems are the same, until we get clock speeds and chipset features we just simply don't know.

Yes, but we also know Microsoft wants the best versions on their system.

Whoever announces specs first will have the slower system, unless neither company actually announce their specs until release date. Then it's whoever got lucky and outperformed the other.

Both will leak because developers will get kits very soon, possibly by the holidays.

What I think would be, and may be the case, great if specs are essentially the same and the ecosystem makes it the "best" place to play games. Even though their 1st party titles may lack, there is a strong presence for Xbox now with BC and Windows 10.

In this case I think Ybarra was talking about power and visuals.

Consumers, on the other hand, prefer whatever version it is that runs on the PlayStation. Because it's the console that will win, again, the next console war.
And why? Because Sony doesn't have idiots like Ybarra in charge of their division, and Sony knows that there are markets outside 'murica. So while Microsoft keeps talking big but neglecting the entire world outside their backyard, Sony will continue to happily delivery an equally great console that people will actually buy instead. And this is ignoring the PlayStation exclusives which are just better and will likely continue to be.
But hey. I'm sure Microsoft and its hardcore fans will be plenty happy with the 4086257th Halo game.

Which is why I'll own both consoles. Like any normal person should.

@Sin
Or play on PC/PS4 like another "normal" person. Priority should always be games.

The cost factor is a real barricade to me gaming on PC, I already need a high end portable device for work which I can't be installing games and launchers on, bogging it down, and I don't have the funds to drop on a PC that can give me the equivalent visuals that the One X provides (which I would be looking at spending over a thousand dollars here in order to achieve).

@Sin
No it's not over a thousand dollars...
But you know PC gaming isn't like console gaming in the sense that you don't have generations. You don't need to have the latest GPU to be able to play a game. Personally power isn't a priority I don't really need to have a PC that's equivalent to a Scorpio. For the new generation, I think all I would need to do is upgrade my GPU to have something equivalent to the upcoming consoles. And that wouldn't cost me over a thousand bucks. ofc there is saving from not needing to play online. Then there are the PC exclusives. Or genre that are better with a mouse + keyboard. I need to play them too. So either way I would have a PC.

I literally do not have a desktop gaming PC at all currently, so I need to buy the whole thing. The closest GPU I could get to the equivalent power of an Xbox One X is the GTX 1660 TI, which is anywhere from $429-$499 (I live in Australia, our markup on PC Peripherals is insane). I also need CPU, Motherboard, RAM, SDD (or HDD, but why would I?), Case, Power Supply, Disc Drive (cheap as chips), OS, and Keyboard (I have a mouse in a drawer somewhere). Honestly, if I had the money I would get a gaming PC, but I just simply can't afford it, and since the 2 in 1 I use for work is starting to show its age, then that's going to be my focus before buying a gaming computer anyway (and 2 in 1is are still ridiculously expensive).

He is right Sin, it is under 1000 dollars. Hell, I have gotten 2 gaming laptops for under 900 on ebay, but that maybe a bit different where you are. The only reason my current desktop cost me right about 1000 is because I bought all top of the line stuff at the time (minus the video card) and everything was inflated due to last year's bitcoin crap. Go to www.pcpartpicker.com and check it out. You can build out a whole system and it checks compatibility and costs. By the way, you don't need top of the line equipment in the system. 2 or 3 generations ago is good enough for standard gaming.

@Sin
I don't know the prices in Australia but I would say building a PC here from nothing isn't really that expensive. And with GPU launching the previous versions quickly becomes a lot cheaper. You wouldn't need a 1660 Ti, I think a 1070 will be more than enough and from the prices I've seen here it's a lot cheaper.
ofc that's the market over here and not in Australia that could be totally different. I've talked about the advantage of PC gaming, and another advantage is the used market. It's very common to see parts being sold by fellow PC gamers. It's also common to see used gaming PC being sold. That's how I bought my gaming PC. It had a good motherboard, power supply and CPU. Decent RAM. But a weaker GPU (in today's standard) and only 500GB HDD. Plus a screen. I paid very little for it.
I sold off the GPU and the screen. Added an SSD and bought a slightly better GPU for not too much more money. I've upgraded to windows 10 when it was free. I had my XB 360 controller or my steam controller. And there without spending too much I had a PC more powerful than the XB1 and PS4 at the time. And the important thing is that I had a PC capable of playing any games out there.
I have a base that can be upgraded in time. If I'm interested in a game that requires a better GPU I'll just need to upgrade that. Meaning selling my current GPU to help finance the new one. Again this is my experience as I live near a major European city. So maybe it's easier for me...

@Guest_aotf. If your priorities is games than which console you have should not matter. As by omission of any console you become a fan boy or fan girl not a gamer per say. Any normal person who likes playing games will have multiple consoles because you can't play every single game on a particular console. Therefore you've contradicted yourself 😋 and have shown yourself as fan of your preferences of gaming platforms lol.

@Tech
What are you talking about?
ofc what I buy is important because I spend money to buy it.
You do know that a PC can play almost all XB1 games? Why do I need a XB1 if I already have a PC?
For your information, I do have multiple Consoles. I have a PS4, WiiU, PS3, XB 360... And perhaps a Switch soon. I'm even ready to stream on Stadia for their exclusives (even though I'm against streaming as the only way to play games)
And my gaming PC is a Windows 10 PC, I've played games like Ori, QB, Recore without the need of a XB1. Anyway, the only person who seems like a fanboy here is you because you seem to get triggered that I'm not buying a XB1. lol

... And soon you will actually have the option of playing Halo so that eliminates that as well. I think what people fail to realize that even when you play on Windows 10, MS still wins in the end, especially if people start using PC GP.

Yup, and I don't care who gets my money. my priority is games. Those who make games will get my money.
I'll buy Ori's sequel and the AOE games day one.

@Sin Ogaris. Yup, don't forget Nintendo they are still in game. Although not at the level of hardware competition being pushed by Microsoft and Sony. Playing 8 player Smash Bros, is ridiculously fun. Neither Xbox or Playstation have any game that allows for 8 people to play together without split screen and connecting multiple consoles over lan via the internet.

Yeah, I keep forgetting about the Switch, I do really want to get one of those but I just haven't had the cash to splurge yet. Maybe at tax time, because I really want to play the new Pokémon games coming out.

I'm not so sure now. MS has made tangible strides to change it's first party lineup. The fruit of that labor is just starting. We got a glimpse of the very beginning at E3. MS' first party can equal Sony's. They have the potential now. We won't really see what all of these groups can do until Scarlett is out. All we know is that MS invested in quality developers and they indicate that they aren't stopping. I think gamers will like what they see. As far as ignoring the rest of the world, I honestly think that's another remnant of the debacle that was launch day for the Xbox one. I honestly think the team knows the rest of the world matters and Scarlett is their chance to show it from launch day. I think trying to say things will stay as they are is the riskiest bet actually. Have we learned nothing from every previous generation?

@Trooper
We are yet to actually see any difference (only 2 new games announced) but hopefully it changes soon.
So far MS bought a bunch of smaller studios. Coalition only does Gears, 343i only does Halo, Turn10 only does Forza.
My big hope is with the Initiative. I guess it was too soon for them to show anything this E3 but hopefully they'll show something for their new console.
My other hope is that the smaller studios are given total freedom and enough resource so that they can grow to become big studios. I think MS has around the same number of studios that they had when the XB1 era started. The big question is how they'll handle their studios. One can only hope that they'll do better than what they did in the past.

And MS will also profit from the number Playstation users that utilise Sony game services, as their now an Azure customer. E3 2020 is going to be very interesting. Sony held off announcing anything this year to focus on PS5, as they've got this generation in the bag. MS have a number of developers that didn't announce anything this year that are most likely doubling down on Scarlett projects. For the rest of this year MS will be focusing on pushing xCloud, Gamepas/Live services/bundles and cross platform partnerships. Nintendo are just on a hell of a roll at the moment, have a huge release schedule for this year and may consider a hardware revision by 2020. Its all good.

Both systems are going to be so powerful I'm thinking any marginal difference will not matter this gen. I just don't see either system being the bottleneck/determining factor in what a dev. wants to deliver.

There are rumors floating around that the Xbox Scarlett has a 12-core processor (Sony confirmed PS5 has an 8-core processor). I think we may be surprised as to how big the differences are.

Processor is well and truly the bottleneck this gen, the CPU's are pretty pathetic, hopefully the upcoming systems fix this.

Perhaps, the question is how will any difference in power translate into the gaming experience. E.g. Will the case be that 8 cores provide more than enough throughput that devs can't be bothered to develop their games/insert assets which improve the experience when played on a system with 12 cores... I'm thinking the main goal will be 4k 60 fps. this gen. I'm assuming both systems will achieve this without issue.

I think the writer of the article has put words in the mouths of the Microsoft executives and jumping to a conclusion not backed by the comments made. They didn't definitively claim or promise that "Project Scarlett is "where games play best" compared to the PS5" - they said they HOPE it will be and that it's important to them. I'm sure Sony HOPES PS5 will be also. Hopes and goals are one thing, the reality in the end is another. I think they'll be very close. I think it's why Microsoft is being so careful about making any definitive claims, in contrast to how they talked about Scorpio.

No surprise there. The author is Asher Madan...
I don't remember readers criticise article written by another WindowsCentral writer.

I am skeptical about the ability to deliver native 8K@120 fps in 2020. I mean native 8K with realtime rendering and everything. It's possible that it can output it to a monitor but I would be highly surprised if the games can be made in such a resolution at such a frame rate. It feels like a native 8K game with textures and everything at such a resolution would start closing in on 1 TB just for one title. It feels like even those next generation of consoles will have to use upscaling.

I think Xbox Scarlett will do 4K 120 FPS, and 8K 30 FPS. Maybe 8K 60 FPS for a game like Ori and the Blind Forest.

Xbox one didn't have a hard time because of the less powerful hardware. Nobody cares 100-150p less resolution which almost unnoticeable. One thing Microsoft still doesn't understand that xbox doesn't have enough quality exclusives as playstation has. A console is as good as its games. It's not about power. Microsoft keeps pushing the powerful hardware but it simply won't work this way. Especially american and a part of western customers can buy a console simply because of its raw power, but things are much more complicated in europe and asia. I always find xbox exclusives lack of style,class, attractiveness, and depth. I play gran turismo 6 more than forza 6 and 7, all sony esclusives feel more like a virtual challenge and somewhere you forget what's going on in real life while xbox games can't give this feeling to me. Graphics are awesome but other than that.. I find them easy, too straightforward,too American... I definitely believe that almost anybody agrees with me in eastern regions. Microsoft has to do something here cause sony is playing serious even in US.

The problem with a lot Sony exclusives is they don't have any multiplayer which means little to no replay value. What do you do after you pass the game(assuming you even get that far)? What reason is there for you to come back to playing the game weeks or even months after you purchase it especially with no multiplayer option? That's why people call them one and done exclusives or weekend rentals. They have very little replay value. (God of war, spiderman, etc) And it's a reason why a game pass like service on the PS wouldn't turn out well.

You keep saying that but do you know the PS4 has more exclusives that has multiplayer than the XB1? :) What do you do when you finish a game you ask? How about play another game ofc? Multiplayer games doesn't mean infinite amount of game time. Playing the same maps doing the same thing again and again doesn't mean that everyone will play it for months... A game like SoT have infinite number of randomly generated fetch quests. It needs thousands of hours to get all achievements. What's the use of playing thousands of hours if all you do is boring grinding? Personally I'll rather play fewer hours and enjoy a game then do mindless grinding work.

Still no Xbox in Croatia. Doesn't exist. No store. No digital store. No Xbox Live. No nothing. Most people here haven't never heard of Xbox. Playstation is the only name that most people know as a thing to play games on. It's not possible to educate people about a product that doesn't exist and I'm saying this as an ambassador.

Maybe they don't know Croatia exist.

And once again just like other generations, price and game library are going to be more important when it comes to sales and popularity. Power? Most of the general public doesn't really care too much about power. If power and performance is the priority for someone, that person would be gaming on PC. Most of the people here (like Asher Madan) who hype Scorpio, power and resolution now have been mostly gaming on the original weaker XB1 before Scorpio was a thing. I don't think I have ever seen someone who mostly played on PS4 when it was more powerful and then mostly played on Scorpio... Here we are talking about very similar initial specs. It is even more likely that it is going to be more difficult for the human eye an actual difference between version.
More than anything I think it's game library and console price that will again be the biggest deciding factor to most consumers...

I totally agree with you!!
Windows Central Newsletter