Discussing the future, the power of Project Scarlett, xCloud, and more with team Xbox
At E3 2019, we caught up with Microsoft Gaming team leads CVP Mike Ybarra and Partner Director of Program Management Jason Ronald to talk all things Xbox, PC gaming, and the future of Microsoft's efforts in the space.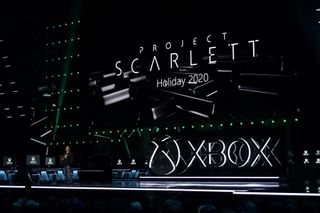 (Image credit: Windows Central)
Microsoft's E3 2019 efforts included a new Elite controller, a teaser for Halo Infinite, and various other things, but most notably, it was where the company first acknowledged Project Scarlett. Scarlett has long been known to us as the codename for the next-generation Xbox console family, and while it's still unclear if we're getting a double-console approach as earlier rumors suggested, we do know that Microsoft is already talking about 8K resolutions, 120 frames per second, and the near-total elimination of loading times.
We caught up with Microsoft Gaming CVP Mike Ybarra and Partner Director of Program Management Jason Ronald to find out more about Redmond's vision for the future of gaming across Xbox, Project xCloud, and Windows PC.
The power of Project Scarlett
Very little is known about Project Scarlett so far, save for the information offered during the show. Microsoft describes it as four times more powerful than the Xbox One X, with capabilities that include ray tracing for more dynamic lighting and reflections, and SSD storage to help eliminate loading times and texture streaming. I asked Ybarra and Ronald how important it is for the next Xbox, Scarlett, to be more powerful than the PlayStation 5, which is also reportedly monstrous in its capabilities.
Ronald talked about how Scarlett has been built to eliminate bottlenecks as much as possible, in terms of visuals and frame rates, noting that they hope Scarlett can produce the best possible versions of their games. "As we look across the entire design of the system, everything from the SOC (system on chip), to the memory that we have to the SSD that we've put in there. It's really about eliminating all those bottlenecks, so those game developers can really deliver on their visions, to try and enable developers to make the best possible versions of their games." To round off, Ybarra noted that being able to say "Where games play best" is something very important to the team.
With SSD and ray tracing tech still comparatively expensive, I couldn't help but wonder just how expensive next-gen consoles might end up. While Microsoft is far from ready to talk price, Ronald did talk about pushing boundaries on what console gaming might look like.
"We understand what reasonable price points are for a console and kind of what customers expect about that. At the same time to you, we are innovating we are pushing the boundaries of some of this. We're not sharing any details on price, or, you know, more detailed specs at this point. But I will say that we're very confident in what we're building, something that will set a new bar for expectations of console gaming."
The current rumor is that Scarlett, in fact, incorporates two SKUs, codenamed Anaconda and Lockhart with Anaconda sitting on the high-end premium shelf, and Lockhart being a bit more affordable in exchange for less power. The way Scarlett has been presented so far very much sounds as though there may only be one console on the horizon, however, but there's no way to know for sure. If Scarlett is a bit beyond the budget of a regular console gamer, I wondered how fast game devs might abandon the Xbox One platform. "Ultimately, we let game developers make those choices," Ronald said. "We announced Halo Infinite will ship with Project Scarlett but they've also announced that Halo Infinite will also ship on Xbox One and on PC, that's a decision that they've made. But clearly, we want to make sure that, you know, Scarlett is the best place to play." I asked if meeting players where they are also might include virtual reality, but Ronald reiterated Microsoft's current stance on VR, that PC is the best place for it, for now.
What does the future of Xbox look like?
Like VR, though, the industry is in constant flux. Ray tracing technology has been quite a force in the gaming industry on the visual side, and things like Project xCloud game streaming with competitors like Google getting into the space could bring about some real disruption.
Sony's Jim Ryan recently said in an interview that he wasn't sure if the PlayStation 5 would be the last traditional PlayStation console, in reference to the proliferation of cloud technology.
I wondered if Microsoft had a similar thought process on the medium, considering they're effectively at the forefront with Project xCloud (which by the way, is real, and works extremely well). For traditional console fans, know that Ybarra doesn't think Scarlett will be the last Xbox.
"I believe there will always be a need for local hardware," Ybarra said, referring to home consoles. "There'll be a need for cloud computing too. We need to give gamers the choice to play local, to play via the cloud, to mix it. I'm going to do everything. It's about giving them the freedom, and the choice to game the way they want. If that means local hardware, right? We're there." Ronald impressed that the whole point of streaming is to appeal to gamers who might not want a console at all, not to simply replace consoles. "At the same time, we're trying to appeal to two billion gamers across the world. And everybody plays different kinds of games, some people prefer console, some people prefer PC, there will be customers that will not want to have either device and xCloud streaming is a great solution for them."
Microsoft gives PC gaming another go
I asked Ybarra and Ronald how the team is approaching its PC apps, namely across Windows 10 Game Bar and the new Windows 10 Xbox App, they noted that they're taking a modular approach, prioritizing based on user feedback. Specifically, I wondered where Xbox Clubs, Microsoft's Discord-like community tools on Xbox One, might fit into the new PC applications. "We wanted to take a very mindful approach, focusing on high-quality expectations that often come with PC gaming. Clubs and clans, those kind of features, are things that the team is constantly looking at." Ybarra said.
Microsoft built an entire new back-end messaging system to accommodate messaging speeds that have historically eluded Xbox gamers, in a world where Discord has become the defacto way to communicate among gamers on PC. This strips out some of the Skype infrastructures, allowing the Xbox team to be more agile on adding new features, such as in-line GIF support.
The new Xbox app for Windows 10 typifies Microsoft's consumer-centric feedback-driven approach, designed to address the central criticism of its gaming efforts in recent years: the dreaded Microsoft Store on Windows 10. Using the new app, Xbox finally has a place separate from the gambling mobile games that haven't been updated since the Windows 8 era, to try and build its PC gaming audience, both gamers, and developers for that matter.
To that end, Microsoft has enabled Win32 support for the Store, allowing developers to very rapidly move their games from Steam or GOG to a storefront that comes quite literally built into Windows 10. Roughly half of the games available in the new Xbox Game Pass for PC are Win32 right now, noted Ybarra, but it's up to developers whether or not they want to include the Xbox APIs for achievements and so on.
A chance to relaunch Xbox
In closing, Mike Ybarra said that Microsoft's gamer focus is the company's North Star guiding them forward, and we've certainly started to see the fruits of that pivot take hold in recent years. A dedicated gaming store on PC that allows Win32 titles is something I wouldn't have expected under the old UWP-oriented Windows regime. Nor would I have expected Microsoft to double down its resources on making backward compatibility for Xbox 360 and OG Xbox titles a reality on Xbox One, which has wildly different architecture. I would never have expected such a huge investment in first-party content either, back when Xbox fell under the Windows and Devices group, in what often felt a mere footnote in the company's wider portfolio. In 2019, Xbox is a guiding force for the entire company's consumer operation, shaping the feedback-oriented approach that has taken hold on both Windows and even Office.
Project xCloud bundled with Project Scarlett and a renewed approach to PC gaming could be the springboard Microsoft needs to propel the platform to that mystical two billion gamers number we keep hearing about. Whether or not Microsoft will achieve its aims of appealing beyond the confines of its relatively modest Xbox One platform remains very much to be seen, but it won't be from lack of trying. I for one, am excited to find out if they can pull it off.
Thanks a ton to Jason Ronald and Mike Ybarra for taking the time to see us.
Jez Corden is the Managing Editor for Windows Central, focusing primarily on all things Xbox and gaming. Jez is known for breaking exclusive news and analysis as relates to the Microsoft ecosystem while being powered by caffeine. Follow on Twitter @JezCorden and listen to his Xbox Two podcast, all about, you guessed it, Xbox!
Finally got round to watching the Xbox E3 2019 stream last night. Loving what I'm seeing being done by the Xbox team especially Xbox game pass ultimate; which is the true Netflix of games as it enables you to be able play both PC and Console games with one subscription. Stadia is at best a meek offering that reeks of a money grab. My only question at this point is will we be able to upgrade the ssd without having to open up the console as 8k games will be ridiculously large lol. That ability is the only leg up playstation has as it's pretty straight forward to switch out and upgrade the hdd / ssd going back to the PS2.

The problem with replacing the HDD in the past is that previous generations didn't fully support SSD's, so you could never take full advantage of their speed. I just hope they fully, one hundred percent support SSD's.

True but neither did Playstation:
-the PS2 only supported IDE /EIDE.
-the ps3 was limited to the available sata controllers at the time sata150?
-the ps4 is the first gen to support sata 3. But Sata 3 is not comparable to an m.2 ssd plugged directly into a pci-express lane. I think we need to be quite specific when we talk about SSDs as to the average laymen all SSDs are the same lol. I think we might end up with a Sata 3 ssd in the low end diskless sku to lower cost. Personally I wish we get m.2 Ssds in the premium tier as it will allow them to save space and allow users much more expandability because by the time we get 8k games we are definitely going to have several terabyte m.2 Ssds.

For them to use the SSD as virtual RAM that equates to DDR6 wouldn't it have to be a M.2 slot or internal to the board to be fast enough on transfer speeds?

So, basically, the only piece they care about for the consumer side is Xbox. Everything else is for enterprise. Got it.

ScubaDog, I'm optimistic (but admittedly a little skeptical too) that with the Xbox business unit being profitable, that MS will look to expand and reintegrate that success with Surface, mobile, etc. This plus Xcloud plus WCOS plus Surface success all seem to point toward a consumer focus that's consistent with the new MS strategy. I think a big part of the problem that hurt us as Windows Phone fans was that Windows Phone didn't fit Nadella's strategy, so he was happy to give it the boot. It looks like (hopefully) they're doing it differently this time with integration and strategic fit across more of the business built in before they release the products this time.

Where you expecting non Xbox news at an Xbox conference?

I guess he expects Xbox news at a Surface event?

xbox and PC gaming, yes (and also mobile gaming, and smart TV gaming with xcloud). And duh, games are as big as movies. Literally the total profits are about the same. MSFT will outstrip apple permanently if they can become the disney & netflix of gaming. They should absolutely focus on this. Right now, between xbox and PC their platforms make the majority of sit down gaming. If they can extend that, grab VR as well, they'll be the envy of every other tech company (hell every other company) for decades to come, and 1 trillion market cap/no. 1 valuation company will be just the start. This is a giant cash cow, that MSFT is already dominant in. They should go for the kill in every way imaginable. If they dominate games, broadly, like google has search, everything else will look like chump change. With xcloud, they can take mobile gaming and extend gaming to tvs. If they win this one domain as completely as possible, microsoft will be king. Why would they prioritize any other consumer product?

The hardware level Ray Tracing intrigues me. I actually think MS have made an extra chip aside from the APU that handles Ray Tracing solely. Because we know it's Navi based GPU. And at E3 AMD showed that Navi isn't Ray Tracing compatible. They showed there Ray Tracing vision for the next few years. So MS are definately keeping it a secret how Scarlett is doing it at the hardware level. More to come from the specs in the future.
Windows Central Newsletter
Thank you for signing up to Windows Central. You will receive a verification email shortly.
There was a problem. Please refresh the page and try again.