I tried Project xCloud at Xbox's E3 2019 show. It is real. It is insane.
At E3 2019, I went hands-on with Project xCloud, Microsoft's upcoming game streaming service. And I feel like I've glimpsed the future.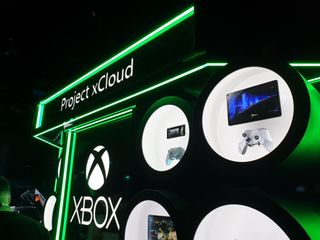 Microsoft's E3 2019 kicked off this year with the reveal of the next Xbox Project Scarlett, a glimpse at Halo Infinite, and the reveal of a new game mode for Gears 5, among lots of other things. As a Windows Phone fan, I have fond memories of an article we wrote all the way back in 2014, about a Halo 4 game demo, running on a Lumia via the cloud. At E3, I got to experience the near-final product of that long, long journey that is Project xCloud.
It is real. It is insane. If Microsoft nails it, it could be huge.
Hands on with Halo 5, four hundred miles away
At E3 2019, Microsoft had a demonstration booth set up where you could go hands-on with a small range of Xbox games, including Resident Evil 7, Halo 5, Gears of War, and Forza Horizon 4, among others. I decided to give Halo 5 a try, since it was, in my mind, the game that would most expose the latency on xCloud.
Talking to Kareem Choudary, CVP for Gaming Cloud at Microsoft, he noted that the demo stations were running through the Microsoft Theatre's WiFi to the nearest Azure data center, some four hundred miles away. No local-server tricks were going on here. This was a real product, running in real time. Although, of course, we have no idea how powerful the networking setup they were using in the Theatre is. The real magic is in the knowledge that the game I was playing was running on an xCloud blade server some four hundred miles away, in their West US data center. Whether or not that experience will translate to domestic home Xbox consoles using traditional home internet, I have absolutely no idea, besides blind hope. But what I experienced at E3 2019 made me incredibly excited about the mere possibility of having this, at home, on my own devices.
I played a 10-minute segment of one of Halo 5's early levels, up to the point you battle two Hunters for the first time. The lag was noticeable, but totally and completely playable, and more than adequate for an offline shooter. There were occasional instances of artifacting here and there, and you probably won't want to get competitive on it, but the audio delivery, the responsiveness of the controls, and the visuals were all incredibly impressive, vastly exceeding what I would ever have expected.
I thoroughly expected xCloud to be decent enough to play turn-based games like Darkest Dungeon or XCOM, or strategy titles like Surviving Mars where the action is easily paused for decision making. To be able to play an action-packed shooter like Halo 5, via the cloud, with adequate responsiveness is an impressive feat.
Now, as I noted, you could certainly tell you were playing over an internet connection. It seems Microsoft has yet to figure out how to circumvent the laws of physics to that end. But if I were to compare the latency, it was far less aggressive than simply turning off "Game Mode" on my QLED TV. Aiming and trigger pulls were right where you'd need them to be, responsive, and precise. I had wondered if the more difficult fight against the Hunters in that early Halo 5 segment would have been tough to get through on xCloud, but nope, getting around the back and popping precise shots into the orange wormy weak points was a breeze. Quite truly, I was left stunned.
While I had faith Microsoft wouldn't pursue this stuff unless it was a genuine possibility, actually getting my hands on it and experiencing xCloud for myself has made me a true believer.
A peripheral problem to solve
What was quite apparent from my hands-on with xCloud was just how relatively early it still is, and how far from being a packageable product is potentially is. There wasn't an interface that I could find in the demo units (probably locked out). There's very little information on final branding, final pricing, the differences between Project xCloud and the personal Xbox game streaming Microsoft announced at E3 2019. If Google Stadia is Microsoft's primary competitor here, Stadia does seem to have more of the finer product details locked down.
The biggest issue for me, by far though, was the very flimsy accessories on offer to connect Xbox controllers up to the demo phones. Microsoft is a billion dollar company, trillion dollars depending on stock fluctuations, and it is slightly concerning that the best they could conjure up for docking a smartphone with an Xbox controller is what amounted to a cheap frame someone ran off a hobby 3D printer. If there was ever a case for a real Xbox handheld device, xCloud is it.
Even in the Project xCloud booth, which showcased games running on various types of devices, showed the disconnect between the controller and the phones and tablets running xCloud. The lack of decent accessories may become xCloud's biggest pitfall here, particularly if Microsoft relies on shoddy third-party accessories as it did at its demo booth. Microsoft has the talent and industrial design knowledge in house to rectify this problem, and rectify it fast. So, here's hoping they do.
I want this, and I want it now
Project xCloud will begin rolling out for testers later this year, as Microsoft ramps up the service to every Azure data center across the globe. There are plenty of unanswered questions: pricing, data use, game library size, interface, accessories, and so on. However, the core meat of the product seems to be the real deal. If Microsoft hammers down the finer points xCloud needs to support it, they could be at the forefront of a huge gaming paradigm shift. It almost seems like a bit of a Holy Grail: your games on any device, anywhere, any time. As long as you have decent unmetered internet, that is.
Xbox
(opens in new tab)
Main
Xbox accessories you'll love
Every one of these quality accessories is guaranteed to enhance your Xbox experience.
PowerA Enhanced Wired Controller for Xbox One (opens in new tab) ($20 at Amazon)
PowerA's take on the Xbox One controller is an attractive pickup for budget-conscious gamers that nails all the basics.
Talon PDP Xbox media remote (opens in new tab) ($20 at Amazon)
The Talon PDP Xbox media remote is great for watching shows on your console.
Xbox One S vertical stand (opens in new tab) ($10 at Amazon)
Stand your console upright with this accessory.
Jez Corden is the Managing Editor for Windows Central, focusing primarily on all things Xbox and gaming. Jez is known for breaking exclusive news and analysis as relates to the Microsoft ecosystem while being powered by caffeine. Follow on Twitter @JezCorden and listen to his Xbox Two podcast, all about, you guessed it, Xbox!
I have huge concerns about the combine delays (input-lag + network response + bandwidth) not everybody will live just measly 400 miles away from a MS datacenter.
This may only be really viable once StarLink, By SpaceX, is fully build out.

Yeah maybe, point is they'll have the foundation as global speeds catch up. Microsoft wants to blanket the globe in Data Centres too, more are coming.

I like your optimism. You've just read a review that this tech meets and surpasses expectations and say...I worry I wont be able to use it till a totally untested hypothetical product is launched. I tease of course latency issues are a real concern but there is more than one review stating so far this delivers and I think consumers have learned to temper their expectations of online performance.

Jez, was that phone connected via Bluetooth on the controller? I find that BT adds to the lag, especially on lower end hardware. I'm not sure how this is on phones, but I imagine it is some.

This. When playing through Steam Link the same happens. It's more noticeable that there's lag when you use a wireless controller. Nothing that couldn't be solved by using some kind of short cable to connect the phone to the controller.

BT can poll at 1000Hz which is 1ms of latency. The problem is that it crumbles too easily when something obstructs it. Wireless should be better for this and of course, cable is best.

Then what causes the lag and complete dropouts with a clear line of sight? Just the crappy anttenas in the devices?

Interference from other wireless signals, most likely.

I've tried gripping my controller tight or letting it pass through my thigh with the way I'm sitting on my chair at the PC and even though I'm right next to it, those actions still add latency, sometimes gripping it firmly adds insane latency up to a point where the latency rises indefinitely which can be summed up as no response. I've observed this with a DualShock 4 and DS4Windows on PC while using the popular ASUS-BT400 dongle and being a monkey taking weird positions while watching the latency measurement in the app. Oddly enough the PS4 has absolutely no issues with anything and can even work across rooms. I am not sure if Microsoft's Wireless Adapter and their Xbox One controller bundle have strong connection between eachother. I'll have to buy one eventually and see for myself.

I have had the same issues with a new Xbox one controller ( clear line of sight, no other devices except for wifi). I bought a Xbox wireless adapter for my PC and had zero issues, I will never use BT if I have an option.

looks awesome im definitely intrested in this. im not sure how much I will use it but it could verry well be something that I will use in time.

They should give people the choice to buy games for xCloud, which would also work for your Xbox console or PC, like Stadia does, instead of only relying on a subscription (where Stadia goes wrong is that it requires both buying games and a subscription).

Any game you own digitally can be played on Xcloud. It's any game you have gamepass or otherwise.

What if you don't own a console, like me. It would be good if this was like a virtual console.