Your Xbox will soon be a free personal Project xCloud server
You'll be able to pay for cloud streaming, but it looks like you won't have to.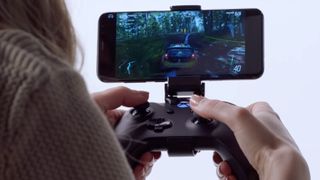 (Image credit: Microsoft)
What you need to know
Microsoft revealed more details about its Project xCloud streaming service at E3 2019.
Players will be able to use their own consoles as a personal Project xCloud server for free, or pay for the service to stream from Microsoft's datacenters.
A public preview of Project xCloud is planned to launch in October.
By now you've probably heard of Microsoft's plans to put the Xbox in the cloud and let you play these games wherever you want. Project xCloud is a subscription service we don't have a ton of details on just yet regarding pricing and games and how much bandwidth will be required, but it turns out for a lot of people those details aren't going to matter much. During the E3 2019 Xbox presentation, Phil Spencer teased a new feature coming to xCloud called Console Streaming. As the name suggests, it's going to let you turn your Xbox into a Project xCloud server. But best of all, it's going to be free as long as you own the console.
There's a fair bit involved in streaming a game from your console to another device, but ask any PlayStation 4 fan and they'll tell you when it works it's awesome. What Xbox is offering with Project xCloud is something more than what Sony currently offers. Where the PS4 can only really stream on a local wireless network (and not in a 100% stable manner, at that) this offering is headed to the cloud. That means you can be traveling with nothing but your phone, and still be able to play Xbox games. Not just any Xbox games, but your games with your saves loaded on your your Xbox. For people with a large collection of games, this is a pretty big deal.
The list of things we don't know about this feature yet is pretty significant. It's not yet clear which Xbox One consoles are supported, what resolution the games will be streamed, or what your home internet connection quality will need to be for all of this to work effectively. But I suspect for a lot of people this is going to be a very cool feature to add, especially when you don't have to pay anything extra to enjoy it.
Main
Excellent and affordable Xbox accessories
Up your Xbox experience with one (or all) of these budget accessories, all of which are approved by the gamers of Windows Central.
PowerA Play & Charge Kit for Xbox One ($15 at Amazon)
This charging kit keeps your Xbox One wireless controllers juiced up, and it offers batteries for two controllers. At just $15, this is hands-down our favorite budget charging companion.
ElecGear 4 Port USB Xbox One S Hub ($19 at Amazon)
This brilliant little USB splitter hub attaches perfectly to the side of your Xbox One S console. It's ideal for use with chargers, controllers, headsets, and more.
Controller Gear stand ($13 at Amazon)
Proudly display your Xbox gamepads with this stylish and functional stand. The licensed design is minimalist and black, and it has a hidden storage compartment, making the price of $13 a real steal.
Get the Windows Central Newsletter
All the latest news, reviews, and guides for Windows and Xbox diehards.
Russell is a tech nerd who chases the best of everything, from phones to game consoles to laptops and everything glowing or beeping. He's the Managing Editor of gaming content for Mobile Nations and can be found contributing to all of the Mobile Nations sites. Reach out on Twitter!