Project Spartan browser images emerge from leaked Windows 10 build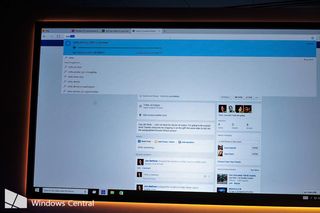 We've seen plenty of images leak out this past week of Windows 10 for phones, but the same source has also now released a host of images of Microsoft's all new Project Spartan web browser. Reportedly taken from build 10009 of the Windows 10 Technical Preview, they give us our first proper look outside of a Microsoft event at Spartan.
Spartan had initially been confirmed as coming to future builds having not made the cut for the January release, so if this is anything to go by we should be seeing it relatively soon. We've already seen some of what's to come in Spartan such as the new rendering engine, annotations, reading list and Cortana, and it's one of the most anticipated new apps to come in Windows 10.
Check out a couple more of the images below, but be sure to hit up the source link for the full run down. The Windows Central community had previously decided that Spartan was a great name for the new browser and that Microsoft should keep it, but seeing this, how's the excitement levels to get your hands on it?
Source: ITHome
Thanks to everybody who tipped us!
Richard Devine is an Editor at Windows Central. A former Project Manager and long-term tech addict, he joined Mobile Nations in 2011 and has been found on Android Central and iMore as well as Windows Central. Currently you'll find him covering all manner of PC hardware and gaming, and you can follow him on Twitter and Instagram.
Wasn't extension support something that had been rumored to be included in that new MS browser a while back? I'm kinda sad it wasn't mentionned at all.

Yeah, my feeling exactly.

Was that article written by Microsoft on a Microsoft website? No. Patience folks!

+925
That is exactly what i wanted to say, this is still in early stages and adding extension support isn't an easy job and will require time.

It is either most likely there just not leaked / shown or will be added in a later build. We are seeing builds which we would not normally see as they are essentially alpha builds. The consumer preview I would class as a beta-nearing-rtm.

It's confirmed to be coming to Project Spartan in a later update.

As a future addition, yes. Do your homework..

Extensions are confirmed by Microsoft and reported by WC ages ago.

Yep, been confirmed for ages. What is still rumour is that they will be the same/similar as Chrome extensions. https://mobile.twitter.com/IEDevChat/status/560183640294830080

Maybe because it hasn't even released? It doesn't even have a number, for the moment it is a codename, so what do you expect from it? there are many features that Microsoft is going to include for Windows 10 RTM. maybe that's what you have to learn to understand? Windows 10 is in preview end.

Maybe we can get it in the next build. :D

did anyone notice the recycle bin?

Yes. But it's old news, we knew that yesterday already.

Christ it's an icon, not a new car. It'll sit on your desktop covered up by programs 90% of the time. Does it matter? Everyone gets so hung up on the minutiae.

Often the icons get changed a few times anyway. We've had a good two or three different editions for other icons so far. They put it out there to get feedback on it.

it can be changed easily anyways.

+929 It's ugly, i don't care if i can change it ( not a challenge ) but it should be better. I usually keep the defaul set of icon but that one i'll change it as soon as i see it, is that windows 95? NO, so use something else, please.

It was drawn by Belfiore's son.

Spartan Shall Conquer All!

Sh*t! China again!? I hate it. Leaks are always from China!!

Is that a widget on the desktop?

Why the hate? Let's love them, for they leak us everything! XD

Also the recycle bin icon is different ;)

But at least it has been leaked. We can see what it looks like before next build. ;)

They,re called gadgets and have been around sincevista i think.

So what? Nothing you need to read to understand the screen dump

Chinese are #1 hackers Posted via the Windows Central App for Android

Lol I was just saying that too!

Never trust the chinaman. Never.

Really! Why leaks have to be in Chinese. Hnhhh

Lol damn you are right!I can't get anything of what is written in the menus of the leaked screenshots! I hate that!

Kid, stop posting this kind of inmature comment

Again a circle as icon... Again a Halo character... After Cortana now is Spartan...

It's just a world-icon to reference to "world wide web". Nothing final. Neither will Spartan as a name.

Integrating the universe of Halo deeper into the company is the smartest thing ever.

The codename for Windows 10 was also "Threshold, " which is a planet from Halo.

The word Spartan also means "not cluttered".

I actually think Project Spartan sounds even better than just Spartan. hmm...

Microsoft Spartan sounds awesome

Project? THIS IS SPARTAN!!!

They should really use Spartan for its final name. It already has its impact with the name alone.

IS THERE ANY IMAGES WHICH SHOW HOW SPARTAN BROWSER ON WINDOWS 10 PHONE????

Yes, there is, but only one. Here's the image: http://i.imgur.com/z2dtRfB.png It's available in this website: http://windows.microsoft.com/en-us/windows-10/about

Also: http://www.ehow.com/how_8572902_fix-caps-lock-computer.html

Not yet. If it were, they would have mentioned it

That calendar widget looks cool.

They called gadgets. Widgets reminds me of lagdroid

Win Vista Widgets >>>>>>>>>>>>>>>>>>>>>>>>>>>>> all

Devoured by Spartan, idk?

It will still be there...just not on phones

It looks like nice and clean. Since they have incorporated reading lists, I wonder what else they have added :). Can't wait!

IE has always been the fastest browser on the market at launch. *Always*.

Atlast Spartan! :) #RIP IE

Looks less mouse friendly :/
Hopefully Microsoft will be considering

how so? it looks to me like you can point and click on anything you like and i'm sure the scroll wheel works fine.

Are you kidding me? To me it looks less touch friendly, if anything.

I hope they maintain the convenient keyboard shortcuts of IE.

I hope they add a load of mouse gestures, like what opera used to have

The new recycle bin icon is goddamn ugly :/

who cares? do you sit around looking at icons all day long or do you actually use a computer for its intended purpose, which is to use the installed apps. i hardly ever see the desktop in the course of the day fecause i actually work and don't stare at rows of icons and wallpapers.

U can change it to whatever u want.

I want my recycle bin to have Bling!

Looks pretty slick. Aside from the looks, though, the question of how exactly the new extension framework will be implemented in the new browser will most certainly frame the way this product is viewed as a whole in the eyes of the tech media and the power users. Hope they pull this off..

The new icons on the desktop are hideous. Please no.

Title bar? Such a waste of space.

True. Till now theyve always showed it without. I hope it will at least be optional.

Is there a conspiracy that is actually Microsoft doing this to us? Just saying.

This is fake is not even close to protect Spartan

And how the hell do you know? Because it doesn't look how you want it to look means its fake?

Then show us the real thing.

And even some of those images leaked earlier showing WP 10 are completely fake

You, sir, are completely fake

Hope Reading List support returns in Spartan, and touch swipes. Missing that

Why all Chinese people are getting all details first

i want Microsoft to buy book my show an app for booking movies. if they buy it heee the options to win more customers for windows 10.
integration of bms app with calendar, Cortana, email, and the wallet Microsoft has.

looks like @windowscentral is lagging behind in leaking images. getting stuffs from other websites. lol

That's usually because WCentral is hesitant to post fake stuff. I'm doubting the credibility of this.

They are pirated things. Counterfeit stuff..

Hate the Chrome like design

More like Maxthon, Metro inspired square design.

Is it just me or does anyone else dislike the images leaked in Chinese??

I'm with you. It makes me feel like they're less reliable, especially because these Chinese sites have less than stellar track records. I want to know how they even got the build. If I were MS I'd block china from getting it, seeing how they're a hotbed for selling knockoff software.

I see no hamburgers, I've no problem with that.

I don't know this looks fake...it looks nothing like what they presented on stage...the one on stage was much more sleek and polished looking...this is bulky, cluttered and ugly...whats with the gadgets and launcher stage at the bottom...something just doesn't seem right about this leak

So someone has repeatedly bashed Windows 10 on the head with an ugly stick. These images make me want to rollback.

Last image shows in the text WP10 and Win10. WP10 = Windows Phone 10? Doesn't sound right with other leaks of Windows 10 OS

I think that Chinese website have a source having leaked windows 10 preview on various devices and they are using them for their site traffic by revealing thing about windows 10 in various stages on some time interval.

Why does noone notice the app dock floating over the taskbar??? After using windows and macintosh machines each day, i can say that it can be usefull. Id say - have all the features others offer, and have your own - add more. Same as with windows phone. everyone is whining about windows apps being ported to IOS and Android devices, but whatever. we offer them them ported, but we will allways keep our stability and speed, at low specs. others cant offer that.

What are you talking about? Looks like 3rd party software that is about as useful as the *gasp* taskbar right below it.

Still no aero theme and the tabs should be in the title bar

The taskbar is still very much Aero though.

Let me get this straight, you want Aero back? Why?

Windows 10 would look sleeker with transparent windows

Company itself show images, just naming them a leak.. WTF....

I'm super excited for Spartan

I'll be happy as long as Spartan for phone has the address bar at the bottom.

I think the new icons look pretty nice since they tie in with the Modern UI's flat simplistic look. I want to know what's up with that horrendous looking quick launcher bar that sits atop the taskbar though. I really don't see the need for one if the taskbar does the same exact thing. That's like putting a new taskbar on top of the existing taskbar, and it looks confusing and cluttered as all hell. I sure hope that that is just third party software that the user has installed.

I like that transparent calendar lol

I m sure that tomorrow IThome site will leak another screen shots of upcoming windows 10.

I'll say it if no one else will. Other than the "flat" design. The top bar is just as cluttered as IE 11, which I like and use as my main browser.

Windows Phone 10 coming up on 9th Feb at 9AM PST.. Ref: http://www.nokiapoweruser.com/

I sure miss swiping in the browser to go back and forward, hope spartan fixes that.

Same here but we will have time for tons of feedback. Very nifty feature indeed

Desktop gadgets? And is that a new Recycle bin icon I see?

One ugly recycle bin icon. MS can do better

From the amount of W10 leaks coming from China don't be surprised if they will release final version of W10 before MS does :)

You are right.china is expert in making fack products I.e.iphone,software's etc.

This guys should just bring windows phone 10.

Am I going to be able to download windows 10 if I have a copy of windows ?

It looks horrible compared to IE

I don't like this GUI. At all!

My question is: How does Spartan work with touch only? Does it have a modern IE version of its interface or just really big touch targets?

in order to beat Chrome and Firefox, this thing needs to have addons addons addons addons and it needs to be crazy fast. it need to support the latest technologies and it needs to be able to automatically upgrade and sync with the phone/tablet version

what's a good ad blocker for IE11?

New tab is still awful, why can't we have a similar way to chose site as opera or safari, seriously Microsoft

Hope there will be a posibility to put tabs next to adres/searchbar and put favourite bar under it.
I mean- only two bars on top. I hate look of IE11 where are 3 bars, where one is just stupid- holding only 3 buttons min max close. And there is no posibility to change that! You can press F11 for full screen which looks perfect with two bars (butons hide on the right) but bottom taskbar dissapear! :/ Some body know how to change that in windows 8.1?

+1 Posted my Comment before I realized you had the same issue.

Lot of bloat at the top of the window that I wish they'd figure out a better design for. I know it's kind of taboo, but they should look at Safari on OS X. That brower is very minimalistic up top with the way it organizes things. I wish they'd do that with Spartan. Their browsers take up a lot of space. That's like 18-20% of the verticle space on a 768p screen, of which there are tons out there on Notebooks. There are alternative browsers, though. I know I often use one on my Windows 8.1 Notebook becuase I got tired of toggling Full Screen Mode in IE11 to reclaim screen space. Other browsers yield back some of that space without you having to hide everything, which makes navigating between taps tiresome (especially if you use a Notebook with a Touchpad).
Windows Central Newsletter
Get the best of Windows Central in in your inbox, every day!
Thank you for signing up to Windows Central. You will receive a verification email shortly.
There was a problem. Please refresh the page and try again.