Project Spartan – Phone design is not final, IE 11 lives on, and more bits about the new browser revealed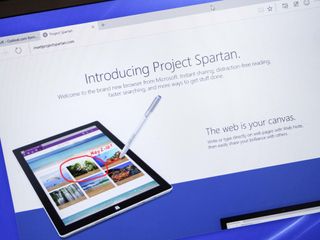 Today, the Internet Explorer Developer Team (IE Dev) took to Twitter for their monthly Tweet chat. The focus today is the next-gen Project Spartan Browser coming to Windows 10 (and currently in the preview).
Many users asked a lot of good questions, which we have grouped here. Some are related to Windows Phone, other about the legacy Internet Explorer 11, a few are about functions, and there are even some developer-related ones as well.
The good news is things like the address bar at the top for Windows Phone is not necessarily final yet. The team is listening for feedback, so make sure you use User Voice to suggest ideas or vote for ones you like. You can find the Project Spartan UserVoice page right here.
Additionally, Flash will not be in the mobile version of Spartan due to Adobe no longer supporting mobile Flash. Internet Explorer 11 will be found under Windows Accessories in Windows 10 and Spartan will have pinnable Live Tiles.
Read on for more!
Windows Phone
Q: Why would you put the address bar at the top on mobile? Terrible UX says my Lumia
A: The designs for the phone aren't final yet, but know that we see EVERY bit of feedback on this very hot topic. (Link)
Q: Will the Spartan browser will have Flash player for windows phone also?
A: No Flash on Windows Phone - Adobe is no longer developing Flash for mobile (Link)
Q: Will there be any kind of developer's tool on the mobile version?
A: Yes, in the works. Model will be similar to this one. (Link)
Q: Will Spartan enable us to download data on background in windows phone?
A: Not currently planned but we hear the feedback! We watch UserVoice closely, that's the best place to request (Link)
General Questions about Spartan
Q: Will we be able to pin sites to our taskbar like we could w/ IE?
A: You will be able to pin sites as Tiles in Windows Start (Link)
Q: Will #Spartan eventually be available for other operative systems such as iOS, Android...?
A: We don't have anything planned at the moment - we're completely focused on building a great browser for Windows 10. (Link)
Q: Will Spartan get a store like Chrome Store?!
A: Stay tuned for more details on extensions plans... (Link)
Q: Will you add a home button to Project Spartan?
A: A focus for the new UI is simplicity + reducing unnecessary controls. That said, feedback wanted! (Link)
Q: There will be only one version of Spartan or two browsers for desktop/touch just like on Windows 8.1?
A: Spartan will use Continuum to provide a tailored experience across mouse/touch and desktop/tablet/phone on Windows 10. (Link)
Q: Do you plan to implement bookmarks syncing in #ProjectSpartan like Chrome also with the web access?
A: Your favorites will stay in sync across all your Windows 10 devices. (Link)
Q: Will there be a way to force particular links to open in Spartan/IE or is that going to be up to the user?
A: Links will open in whatever your default browser is. (Link)
Q: Spartan will able to save the notes which I write directly to one drive?
A: That would be pretty natural wouldn't it? ;) Right now we're working on it. Keep upvoting requests on uservoice! (Link)
Q: Will Spartan support website livetiles like IE currently does?
A: Yup, live tiles will be supported (Link)
Q: Will Spartan support RSS by RTW/RTM?
A: We don't currently plan to render RSS feeds in Spartan but it's a great suggestion for UserVoice! (Link)
Q: Any chance of Ctrl-Q quick tabs coming back, or similar thumbnail view of all open tabs? Hugely useful
A: No plans for Quick Tabs exactly (as IE8), but some similar concepts being considered. One shown during 1/21 Spartan video (Link)
Q: Will Spartan have support for multiple windows with the possibility to move tabs between windows, just like Chrome/IE can?
A: Yes! Spartan supports multiple windows today (Go to the ... menu and select "New window") We're working on making it possible to move tabs between windows. Meanwhile!! in Spartan you can right-click on any tab and select "Move to new window" (Link)
Q: Will you consider making the final name of #ProjectSpartan Microsoft Spartan?
A: Oh, *many* names are being considered... ;-) (Link)
Q: Something I love in Chrome but F12 tools doesn't seem to do: Ctrl + R to refresh the tab. Minimizes win switching.
A: O nice, we've added that shortcut recently and hopefully it'll be in a flight soon! (Link)
Q: I can't get any files on localhost to open in #ProjectSpartan. Is this a known bug?
A: It's a security feature! To enable localhost, add the Sp App Container SID to your localhost interface, but lowers security (Link)
Q: Will #ProjectSpartan support Silverlight in the near future? Needed for a company web app.
A: Stay tuned, finalizing plans. But IE will be definitely be available as fallback. (Link)
Q: Is there a particular reason for which Spartan's user Agent says "mozilla, gecko, chrome, safari" and every other browser?
A: There's some good history here… History repeats itself. All browsers lie to make sites work. (Link)
Q: Spartan for Xbox One? (Asked by our very own Jez Corden)
A: We're working on getting the Xbox One running Win10 first (early demo was done at Mobile World Congress) (Link)
Q: Where did the billion of settings in old IE go in Spartan? Feels like the settings menu is very empty.
A: We thought 1 billion might be too many. Let us know which settings you want to see back! (Link)
Q: Can you add the ability of pinning tabs (like Chrome)?
A: It's definitely something we've talked about. :) Keep upvoting your favorite tab features on uservoice! (Link)
Q: Will Spartan or IE 11 be the default in Windows 10?
A: Spartan will be the default (Link)
Q: Will Spartan be available for Windows 7?
A: No current plans for Spartan on Win7. Win7 users will be able to upgrade to Win10 for free as you probably know :) (Link)
Q: When will we get Private Browsing mode? Asking for a friend.
A: Tell your friend we're working on it! (Link)
Q: Why are you making Spartan an app instead of a programme when like this it's slower and has issues constantly?
A: There are advantages to being an app (e.g. security, HW accel). It will continue to get better. (Link)
Q: Is the test version will import bookmarks from other browsers and only in the final version?
A: Project Spartan currently imports favorites from IE automatically. We're working on importing from other browsers. (Link)
A: Yes, fullscreen video will be working in a future update. (Link)
Q: How much of a performance impact has the chrome (Spartan vs IE vs Metro) over the web engine?
A: Not much direct impact on engine, but Spartan will be faster for other reasons (EdgeHTML, chakra improvements etc). (Link)
Q: Will we soon be able to share bugs/feedback on Spartan w/o our PII going over in plaintext? (this is what the smiley does)
A: We're aware of this regression and have a fix in the works for an upcoming update. (Link)
Q: are you going to switch your name and this hash tag once you decide on the official name for Project Spartan?
A: YES! (Link)
IE 11 and how it will work
Q: Will we be able to pin IE to the taskbar and to start (I don't hate Spartan but in case I need to access legacy sites)
A: Yes, IE works like any other Win32 app
Q: How long until you nuke IE for good (no longer ship & support it in any Windows version)?
A: We don't know; we expect a transition time as customers migrate off IE-specific tech but don't know how long it will take. (Link)
Q: How are you planning to deal with IE11 in Windows 10? Will it be 'hidden', turned off? How will it work?
A: IE won't be pinned to the taskbar or to Start. You'll be able to find it in Windows Accessories. (Link)
Developer bits
Q: Will Spartan support ShowModalDialog() or will it be dropped like Chrome and Firefox have
A: No final decision but right now it is not supported and we'll see how that goes. (Link)
Q: Any further word on when you plan to delight the eager masses with a great extensibility model?
A: We don't have anything to announce just yet but we're working on it. We will have more to say here soon - stay tuned! (Link)
Q: Spartan gives a low score on http://html5test.com. Do you plan to Get on par with Chrome, Firefox and Safari?
A: We are working on adding support for more standards, you can check our plans in http://bit.ly/1ELoTmp (Link)
Q: Any plans to share about WebGL2?
A: Thanks for the feedback - we'll add WebGL 2 (Under Consideration) to https://developer.microsoft.com/en-us/microsoft-edge/platform/status/ (Link)
Q: Will Win10 WebView and HTML+JS apps be EdgeHTML based?
A: Yes they will! (Link)
Q: Will Spartan support debugging minified+mangled JS files with source maps? (var name changed from myvar to a, for example)
A: It's something we're working on, slowly :(, with the sourcemap folk, we had a prototype based on Gist (Link)
Q: How many lines of legacy code have been deleted with Spartan? Do you track complexity with tools like SonarQube, etc?
A: A very large amount - follow @JustRogDigiTec for real-time updates! (Link)
Q: I'd #AskIE about WebDriver for Spartan, but that would be #trolling, and there wouldn't be a satisfactory answer anyway.
A: Does 'satisfactory' require a date? We don't have a date yet. But it's very important that WD work with Spartan. We should get a lot of clarity over the next 2 weeks. (Link)
Daniel Rubino is the Executive Editor of Windows Central, head reviewer, podcast co-host, and analyst. He has been covering Microsoft here since 2007, back when this site was called WMExperts (and later Windows Phone Central). His interests include Windows, Microsoft Surface, laptops, next-gen computing, and arguing with people on the internet.
Obviously u didn't read the article

Didn't the auto-delete work this time..?

I was going to comment leave me with IE if they are going to keep the address bar on top. But then I read the article and learned that decision hasn't been decided yet. :)

Dude! I swear!! I was just hoping that a comment is made regarding the presence of IE... If we can still use it on phone even if Spartan comes. I would hate Spartan if the address bar will be on the top. If that happens, yes, no matter how good Spartan is, I'll stick to IE.

Oh just shut uuup. My god.

You should practice what you preach.

Yeh no kidding! "Were working on getting Xbox One to run Win10 first". Im so excited!!

Oh I was late to ask them about file dragging support on future releases.

If you check out the link that was posted when someone asked about HTLM5 scores, or this one, near the middle is "Drag and Drop Directories," which is under consideration at the moment. Good like to check out though.

Q: Will there be a Media Center version of Spartan, so I can browse the web on my TV on a new Windows Media Center 10? - answer: We currently have no plans for a chrome version.

So not even in W10 I would be able to watch videos that are not on youtube.. Oh well.. If Adobe Flash does not support mobiles anymore, how Android iOS can do that then?

They can't? Android hasn't been able to for a few versions now and never on iOS.

Yes I asked my friend who uses Android and he said that HTML5 replaced flash so the question is, will W10 support html5?

It has the whole time, as windows 8.0 and windows phone 8 before it. The problem is not getting force fed a badly designed old ie targeted page part of why spartan lies in its user agent string Posted via the Windows Central App for Android

then how come i cant watch some videos or websites? Will spartan fix this?

Spartan it is. Love the name.

But, hate the address bar at the top...
.......
NOBODY LIKES THE ADDRESS BAR AT THE TOP❗
......
Please put it back at the bottom..... Please.

Well, I didn't like it at top with my 920, and now with the 1520 it definitely would be annoying... I could deal, though.. Just a preference.

I like it on top. Posted via Windows Phone Central App

Really❓❓❓❓❓❓
Well, to each his own.

I like it on top too ... well give a damn setting top or bottom ... let individual user make his/her choice

⬆⬆⬆⬆⬆⬆⬆⬆⬆⬆⬆⬆his⬆⬆⬆⬆⬆⬆⬆⬆⬆⬆⬆⬆
What you just said needs to go on a banner at MS headquarters... Just add a damn option... What is so hard❓
.......
Just long press the damn bar, and slide it up, or down... Simple and intuitive.... They should hire people like us.

That would be the perfect solution. It should be optional in the top or on the button and it should hide away when you start scrolling

You mean there should be an option for it to hide away❓❓❓
.......
All this should be optional.

From reading comments here, looks like majority of WP user like the Android and IOS approach to simplicity by incorporating the menu settings to the top left corner,

Apparently you *haven't* been reading too many comments

And the majority I read are all hungry for the hamburger.

No, the majority prefers the opposite approach where there's no hamburger, and all your settings are conveniently placed near the bottom right so you can easily access them with one hand without dropping the phone, you know, the UX that's currently seen in WP, but being killed off in the next version.

I don't see MS giving in and I don't see WP alive much longer...

It ain't going nowhere anytime soon...

We'll see what the next flagship says...

MS should at least give us option. Address bar on top or at bottom. Everyone's happy

Yes.. Yes, yes, yes...
.......
Long press the address bar, just like a tile, and drag it up, and down, just like a tile.... Easy, super functional, and kinda cool❗

You know how many times someone will ask about how to do that in the forums? xD Just make a setting "Address bar Location" and have the options "Top" and "Bottom" near the top of the settings page.

Funny you say that because I thought about that, and they should actually implement both ways... A setting that will jump it up, and down, and a drag option... There's no reason why both wouldn't be easily implemented.
........
Options...
A good example of this is how you can swipe to the left to get to the app menu, or use the little arrow at the bottom of the start screen.... People will figure things out better with multiple options..

Out of curiosity, do you use Flipboard, or are in the "No flip No download" camp?

Great to know about all this. That they are really listening rather than throwing something unknown on our faces, all of a sudden.

Is there a link to a Spartan-dedicated UserVoice?

they should better have extension store like chrome ... or hell with spartan

Apart from adblockers I hate extensions. But I know it's important to many people...

Wish they would answer regarding the circle profile pictures in contacts and burger buttons everywhere

Yes, because IE team develops the entire Windows 10.

Who knows the lines are getting blurrier

LOL, some if these "Insiders" are way too focused on minor details instead of features and UX functionality. A circle is not going to make or break Windows 10.

Get over it. Circle faces and burgers are here to stay

Because not having them made WP popular. Oh, wait!
Posted from my 1520.

"because not having them made wp popular" that it has 3% marketshare after all this years./s look mate, pivots are kids toys when it comes to complexity and what lets developers create(and is just one reason from few others). that being said, look how we have a store it a lot of weak apps or non at all. now, i dont say the hamburger is perfect, it has its flaws too(which many of them can be corrected using some specific techniques, if ms ui and ux teams would have used their god damn brains entirely), but for what the world has now, and for what wp needs now, hamburger is the best alternative. period. just think about it.

Says the man with the circular user icon....

I like the circle profile pictures. It's a welcome differentiation between people and app tiles

Must add ability to change the place of address bar to bottom or top anytime

I know, right! I love the address bar to be at the bottom, right where it is right now in IE. Would hate Spartan if it has the address bar on the top.

I liked the options in IE now there's like none... Posted via the Windows Central App for Android

Ha! The private browsing question cracked me up, lol.

His "friend" asked. Thats probably his right hand.

KThey didn't answer to mine T.T I wanted to know if it's planned to solve the (non) full screen videos issue on Spartan... :/

They answered that like 5 times, TBH, lol. Short answer: yes, fix is coming real soon for full-screen video issue.

personally rather enjoy it on my desktop. I use a 16:10 display, so 16:9 video fits nicely in full-screen while still being able to see the start bar (showing progress on background tasks), and the title bar of the page.

They answered they said they are working on it. Uts also mentioned in the article smh

Reading the ****ing article is hard...

Background download on WP isn't even planned? Shouldn't that be one of the basic features?

This is downright deplorable. Also the fact that in WP8.1 audio no longer plays in the background in IE. This better not be the case in Project Spartan.

Just as in WP8, W10 is going to be a 1.0 product with lots of missing features "coming soon". Like that worked the last time.....

Yeah, and they will restart everything in W11.

I've been waiting for a way to disable the backspace as a back button in IE since 2009. Chrome can disable it, Firefox can disable it, etc. Hope Spartan can disable it directly or with a plugin, or I'll continue to use the competition for that reason alone.

Another XBOX music kind of a blunder? No please, Microsoft. Don't.


They mentioned voting on uservoice, complaining here isn't going to help

They obviously acknowledged it, now its up to them to add a simple feature that my old shitty Android could do years ago

The point is that people have been complaining for five plus years about something extremely easy to fix, and have been ignored. Hopefully that will change, but we'll believe it when we see it. Until then, not sure if user voice isn't just marketing.

So everyone here complaining should go vote for it in UserVoice. It hardly has any votes: https://windows.uservoice.com/forums/285214-project-spartan/suggestions/7437322-add-background-downloads

I think we all voted already, they know its an issue but have had no plans over the years to fix it

Yeah, I was shocked at that answer. Not even planned...

Yea something like that is just plain sad. You shouldn't have yo watch a file download. Either put them in the nofitifcation center or within an integrated "Downlaods" menu within Spartan.

Agreed. I love IE 11 on my PC, but it sucks on WP--it takes forever to load a page, so I often multi-task to somethign else, come back to IE and it starts all over again! How hard is it to let it load stuff in the background if I want it to do that?

Still "thinking" about supporting background download?are you serious?That's like a basic necessity these days.

On phone. Is that important?

Downloading a file and having to stay on that page until its done downloading is rather silly don't you think?

Yes it is! That's a stupid question to ask. Just saying.

Yes.. that's very important.

Is IE development frozen? What's its status moving forward?

outside of security patches IE is essentially done. It will remain for a good long time for legacy use in businesses, but the default browser will be Spartan going forward.

No downloads in the background? Seriously?

Wait, why take out the settings? Sure, all of them may not be necessary on average, but options are good. I say the settings should stay, and probably making that feedback. On an unrelated note, I'm also giving feedback on whether they can implement deep editing of the UI like Windows 7 and prior, the one where you can edit everything from font type to colour and so on.

This news about background downloading not being planned on windows 10 for phones is rather pathetic. You would think that they'd want to make the mobile browser the best that they can, not to say they're not, and add this missing feature that we've longed forever for as one of their top features or somewhere down the line. But to say that it wasn't even planned ? Seriously Microsoft ? No wonder why were behind in so much features. Wow.

It's quite ridiculous. Simply stupid really. The question is why not??

because it currently isn't supported and nobody has really complained about it. I mean, when is the last time you used your phone browser to download files? Most files are simply not allowed to begin with, program files will not work on a phone, most work files would simply be synced to your device via OneDrive or passed on to you via text or email messaging, and video files that you download are typically played in-browser.
Not saying that it would not be a nice feature to have... but most people just don't use their phone that way.

So we have to complain about it in order to get it?

Windows 10 for Xbox One?! That sounds pretty good!

Been confirmed for quite a while :)

And no downloading in the background?! Come on Microsoft. Pull your act together and keep background downloading.

"KEEP"? what are you babbling about, windows phone has never had background downloading for ie

We could have something like this to ask about Windows 10 for phones...

The team were very evasive when it came to answering questions about touch experience, how it would behave in tablet mode. What they need to have is for Spartan to transform into Modern IE in tablet mode :) Also not very forthcoming on Tracking Proection Lists. Head over to https://windows.uservoice.com/forums/285214-project-spartan and let them know your views.

No home button? Wow. Perhaps they didn't learn their lesson when they eliminated the start menu.

Please, I don't get it. Why would you want a Home button? I've seen this request and it doesn't make sense to me. Explain.

So that you can easily get to the home page. Why wouldn't you want a home button???

You can't just tap on add new tab button?

I like my home page to go to what I want as my home page. New tab is usually what they assume I want to see or what they want me to see. Sometimes I go with that, sometimes I click on my trusty home button that has everything I want and use just like I've done for the past 15plus years. Trust me, it will rile millions of people against them if they take it away from people, just like taking people's start menu away riled millions against them. Bad move to take it away.

Well, you can set to the new tab button open your home.

Home page is retarded. And its FOR retards. Never onced used it. Too lazy to type the freaking web address or something? Hell, it comes up after you type like 3 letters anyway. Such a stupid request.

Too lazy to type?
Really ? You sound really stupid calling people who use it lazy and calling it retarded. Its just the same way as we have a home button on our phones in a way..for faster access to a standard page which varies for people.
Why type when I can just click a button and voila. I go to the exact page I want whereas I would have to type letters to go to it ? Use your head people instead of instantly bashing things. Its a standard across EVERY browser. It's be stupid not to include it. Whether that homepage is google.com or msn.com or yahoo.com. People use it. You may not but that's irrelevant.
Its about ease and comfort. Simple. I'm pretty sure you use shortcuts to other areas in your life. Same here.

Many people disliked the start menu also. Then again, many other people started a small rebellion when they took it away. I could probably do without it, just like I went without a start menu on 8. However, others will complain mercilessly. That's all I'm saying. It takes up very little space on a desktop app.

I can't believe people are this stupid to not understand the home button importance... Posted via Windows Phone Central App

OK. Playing with Windows 10 on my desktop at home with Project Spartin. I load Pandora and start rocking out while I work. Minimize the window and ...... Pandora stops playing. Maximize the window, and it starts playing. Huh. I have 12 CPU cores, 8GB of ram, two monitors, and I cant multi-task streaming music like I was able to in IE5. Great step forward Microsoft! You just went backwards about 15 YEARS!!!

Report on uservoice, the product is not finished yet. The new Microsoft leans heavily on feedback to drive priorities

Spartan is a modern app, which is why I hate it so much.

From what they are saying, development on IE stopped, and everything is now focused on Spartin. So its NOT just modern apps, but desktop. The biggest problem with Windows 8 is trying to force desktops into a Portable UI. Windows 10 is supposed to fix this oversight.

It's not implemented yet. Just it. That is NOT suppose to be your daily system. It's NOT suppose to be multitask right now.

ITS A TECH PREVIEW DUMBASS

PM on the Spartan team here - background audio is an important scenario and we're working on it for closer to release. We hear you!

Is this for real? Unbelievable

I was super excited for Spartan, less excited after toying with it, it seems to me that even the shipped version will need months and months of dev work well after release. Basic things like PDF support...

Weird that you can see the future that are several months away.

"You can find the Project Spartan UserVoice page right here." 1) I just placed 3 votes for the address box at the bottom. 2) 3 for keeping Spartan as the name. 3) 3 for extensions 4) 1 for Google extensions 5) 1 for open sourcing the engine 6) 1 for saving file directly to OneDrive 7) 1 for Spartan store 8) 1 for "Save as PDF" 9) 1 for "Paste and Go" <pounds fist on desk> Today... I am a citizen... who has made a difference!

Make the address bar at the bottom and everyone's happy!

Make it an option, so the user can choose what he or she wants!

agreed options are better, but i would like it to default to the bottom.

No options here, it is going to the bottom!

Remember homer built the car in his long lost brothers factory, hope it doesn't turn out the same lol

"asking for a friend."... *chuckles*

Why do IOS and Android users care about Spartan being on them, aren't they happy with chrome and safari?

Let them get a Windows phone and help build the ecosystem like we are doing. If they are here rather than there, those apps they want will be here too.. No need to bow to them because they want to be somewhere else.

Its like this my young lad, if this is where the people are, and this is the phone people are buying, they (snapchat) will be where the people are. They could not afford not to be. Does that help?

You still don't get it. One day you will. Maybe.

Well if Windows 10 on all platforms do as Microsoft say's they will be just fine, and they have been selling alot of Lumias. They just need more OEM to put Windows on the same highend Android is on. HTC did very well with the M8 with the limited amount they put out, and Sony would have done even better but they all into Android even if it bleeds them broke!

Dude why are you trolling my comments with lies, they sold over 60 million lumias and not only in India. They are pushing over 12% of phone share in Europe. Stop making up shit cause you're just talking out your ass.

If your comment was meant for me Garry, my comment wasn't directed to you.

So your mission here with your fake handle wpkevin is to not only save us from Microsoft but pretend to be Moses and guide Windows Phone users to IOS or android because you pray to the snapchat gods. lol. Its still trolling.

I doubt that. If you use iOS, once you use a Mac with your iPhone you can't go back. Trust me. I got an iPhone, and then ran out and got an iMac the next month to pair with it. Nothing comes close to that level of continuity, and it's hard to "prefer" windows after you use that (and stop paying for Office, etc.). You can just boot camp or VM windows on a Mac for the apps you need - if any - anyways. I was hardcore for Windows Phone back in the day. We all thought Microsoft would have gotten to where Apple is now with the integration of their platforms a couple of years ago (with WP8), but they couldn't do it. Some of us got tired of waiting. Windows and OS X are largely similar, really. There really isn't anything to "prefer" unless you have specific app needs and they aren't available on OS X. A lot of the work flow is quite similar and I didn't even have a learning curve going to Yosemite other than finding out the keyboard shortcut to lock my screen. Where Apple has clearly seperated itself is with its clearly superior manner of integrating its platforms (Continuity, Handoff, Instant Hotspot, etc.) and developing Desktop and Mobile Applications in a more sane manner (like iWork, iMovie, GarageBand for iOS and OS X... none of this "Metro" mess on the desktop).

Too bad it is an app ... Not going to fly in the enterprise, and certainly will not be used by me :(
Its like Microsoft is half ***ing their software.. Kudos to the lower level developers, but the app model is very unattractive.
P.S: This article is making me consider switching to Apple based solutions. Would rather go "an hero" than having to experience the hell that this is going to cause to my office >.>
P.S.S: Confirmed. German pilot crashed plane because his notebook was running W10 TP

Let me assist you. Click the Windows Central banner drop down, click IMore. Done!

What are you waiting for, follow your fellow sheep

And you guys can enjoy your $70 phone. Really, just a ghastly representation of the Windows community, you two are.

I don't like the answers. Most of the features are either not supported or vague "we are hearing the feedbacks". IE dev team like always a fail. MS needs to overhaul development of Spartan if they plan to succeed in this new era of mobility and cloud.

Relax buddy cause you're not getting it, they have months left and the reason for the Windows Insider is to have feedback to add and change stuff, but you are like one of those old women at the supermarket complaining about the milk being moved one shelf up. It's right there infront of you but somehow you have to bitch and moan about it.

Ohh so now you know more, like I said it's they have months and that's the reason why Microsoft has the Windows Insider cause they are actually listening to people. What is with people like you, you see they are making changes right in front of you but you still have to make stuff up.

I want EI to be gone forever.

I would still choose is over this half baked Spartan, a few improvements to IE can make it the best

great...but I think it's better to have address bar on bottom, and also Spartan should have support background downloading.

Flash is dead but sites that use Flash is not dead

That was a lot of questions to filter through but a lot of good information there. I for one is hoping Spartan will be able to import bookmarks from Firefox. I'd like to keep within the ecosystem when possible.

I hope they get this new browser right but please don't take 3 years to give us the new software update.....windows 10

Please get the flash player for live streaming ,and dont remove the address bar from bottom to top .that would be ridiculous to hv a address bar inaccessible on top of the screen ..

Makes sense to still ship IE on PCs, I hope it completely disappears on phone.

Why, I always explore the internet with IE

Your internet experience must suck.

Is project spartan for phone supports live streaming( live matches,movies etc)?? Is it support to play flash videos

It's like people don't even read the fucking article. Spartan is not going to support flash because Adobe declared Mobile Flash dead long ago.

I read the article..i wanna ask you a question.what about those sites which require fucking flash

ITT: Reading is really, really, hard.

I'm so curious how Spartan will work with continuum :):):)

How can I block add in spartan browser?

Project Spartan for phones support addons guys OR NOT? This is the problem. Without support addons, sorry but NO.

Yea first thing I'll do is switch default browsers to IE. Metro Apps just don't perform well enough to be worth using on a daily basis. They all seem molasses compared to desktop apps that do 10x more than they do.
Windows Central Newsletter
Get the best of Windows Central in in your inbox, every day!
Thank you for signing up to Windows Central. You will receive a verification email shortly.
There was a problem. Please refresh the page and try again.