ProShot and Camera360 Windows Phone 8 apps updated, bug fixes and minor tweaks for all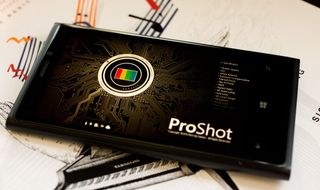 Two popular photography apps for your Windows Phone 8 devices has been updated. ProShot and Camera360 both have received updates that mainly address fixes and tweaks to their user interfaces.
ProShot jumps to version 2.8 and adds a new focus dial with fixes for the burst mode and UI tweaks. The focus dial sits to the side of the viewfinder and is a nice addition and should be more convenient for those who prefer to manually focus on things.
Proshot's new Focus Wheel
Camera360 makes the move to version 1.1 and adds a new Lomo and HDR filter to the Scenery Mode. The app's full screen photo view now supports images up to 12MP.
Camera360 adds Lomo and HDR filters to the Scenery Mode
If you haven't tried either ProShot or Camera360, both are fantastic alternatives to the native Windows Phone camera app. They approach things in a slightly different approach and give you a little more creative control over your camera.
There is a trial version available for ProShot with the full version running $1.99 that you can find here in the (opens in new tab) Windows Phone Store. Camera360 is a free app and you can find Camera360 here in the (opens in new tab) Windows Phone Store.
Thanks, everyone, for the tips!
George is the Reviews Editor at Windows Central, concentrating on Windows 10 PC and Mobile apps. He's been a supporter of the platform since the days of Windows CE and uses his current Windows 10 Mobile phone daily to keep up with life and enjoy a game during down time.
Some of the most needed apps for wp7 too!

I am seeing all this "what about wp7" comments. Lets face it, if you are a developer would you write a program where few people will d/l the app vs when all new devices being sold are wp8?? Developers do have choice to make a wp7 app but why would they? Let me ask you "Would you?"

Yeah and I'm seeing all these replies "what about windows xp and 95" which sincerely are not fucking funny. It's true that all the newer devices are being sold with wp8 OS, but not all of us can upgrade to these devices considering their price. It's our right to require apps to be created for our platform, considering the specs of our devices. For ex. mine has better specs than an iPhone 4 ,still it can be compared to an iPhone 3G because of it's system. And NO I wouldn't go through all the shit creating my app using shitty silverlight and c# , still a team could manage to do that.

It's our right to require apps to be created for our platform

you have the right to ask, thats about it and don't bet on getting many answers....any win ph 7 device at this point should be pretty close to the upgrade window

Your grievances are understandable but lets not demean the word "right" here its simply not appropriate. This is especially so since the life cycle period for WP7 was pretty clear. Would you drive on a road that says "under construction" if you didn't want to harm your paint or suspension? We must live with our choices - WP7 was a great start, but iteration on mobile OSs is much faster than PCs and WP7 is legacy. Its not bad or good, its just what it is.

Some of the most needed apps for Windows mobile and Windows xp.
/s

Time to upgrade, $99 Nokia gophone out soon. No contract, no excuse.

Then you will get the "this app needs to run on 512 Mb" excuses lol

My device has 512 mb ram :]. And if I could get them at the price of 99$ for 1 ,I would get everybody in my family lumias, but unfortunately I'm not from the USA .

Please, I´m facing the "no update notifications on the Store" since a week ago! Someone found a way to get the notifications back again?? I´m hating this!

This happened to me too not long ago. First remove the tile from the start screen, then do a soft reset (Hold vol down and power until it vibrates) then re pin the icon to the start screen and give it about 24 hours as it only checks for updates once a day

I have to leave the 3G/4G connection turned on?? And the Wifi??

ProShot doesn't work on Samsung devices apparently!

I am sorry, it's Samsung's fault here. Their firmware doesn't support manual focus, exposure time, and a few other things are buggy. This is something that only Samsung can address.

Let me see Camera360 if it still make mine heating much.

CleverCamera is a nice free alternative to these guys. It gives you control of focus, flash, iso, whitebalance, etc. Very easy to use, and free!

It does not have any fancy filters, but ehh, it does all the camera parts.\

*edit*
Well, it is not free apparently. I must have gotten it free sometime during some wierd promo or whatever.

LOVE the new focus slider on the side. AWESOME addition!! Thanks RiseUp!

Anyone knows if in future update we will be able to launch proshot or camera360 with the shutter button like Nokia smart cam? Would be great!

I've got GDR2 and I cannot do it with camera360...

Looks cool but I will wait until Nokia releases pro camera for the 920.

Agreed... I feel bad for these apps. They had a nice niche, but it's going to dry up quick with the awesome interface and tutorials in the Nokia one.

Nokia's app is nice, but here are a few things ProShot has that Nokia's app is missing: 1) MF assist
2) EXIF viewer
3) customizable and pinnable camera modes
4) burst
5) timer
6) timelapse
7) histogram
8) highlight clip indicator
9) real-time contrast / saturation adjustment with much more to come..
I still think there is a good value proposition in ProShot ;)

It loks like a good app but remember Nokia's app will be version 1.0 and it will be updated with more features and refinements. If I didn't have a Lumia 920 I would get one of these apps.

Convinced lol, Only thing I don't like about Camera 360 is the menu , I find myself lost in it . I got lost at least three times. I never wanted to open it again lol. The only thing I like about it, It's made by chinese by the looks of it .
This is my problem, that menu spins, and those lil icons, I dont understand which setting is what. I just choose random settings and see how they look. I'm hoping ProCam has a slick menu display so I don't end up getting lost.
But yeh, I don't wanna open that cam360 anymore. Ill check out this Procam. I gotta give credit to Nokia as well. They make the best apps! It's all I use is apps from Nokia Collection. Seems like any other app is sketched out and i don't like how it works. I'll be patient with windows 8 apps. I was patient enough to wait for the release of Windows 8 for mobile. I can wait for their apps too. :D.
This goes for anyone who read this, be patient, Time will come, DO NOT SWITCH TO APPLE OR ANDROID.

That's a great list and there are some admittedly cool features there. I don't think any of them are deal breakers for me personally though.


YEAHHHH Camera360 is awesome!!!

Except for the fact that it doesn't take high red photos. The filters can be applied to preexisting high red photos but any pic taken with the app comes out much smaller than the default camera.

Love the new focus slider for ProShot. I hope future updates change up the interface for other features too, the menu system isn't the best. You might want to update your title image, the splash screen was changed.

Has anyone found a way to keep these (or any) camera apps from storing location data? I've got location turned off in my system settings, and the stock camera doesn't store location, but both ProShot and Camera 360 still store it.

Considering pro camera only available for 92x and above, it's good to see pro shot keeps improving. At least people with lower tier Lumia and other brands get to taste manual setting for the camera.
Too bad Camera 360 still makes my 920 got really warm, but then aside from hdr I'm not using it so much though I hope they will improve it next time.

How to take wide screen shot from camera 360?

What is the difference between Camera360 and Camera360 by Nokia? and why doesn't the Nokia one have an update?

This apps are both great. But what about full resolution photos?

AFAIK Camer360 only takes photos at 1024x768px (at least on my 521) when the default, smart shot, and ProShot save at full resolution. ProShot will save at 1936x2592px or 2592x1456px depending on orientation and settings.

Hmm, I don't use Camera360, but ProShot does the full 3264x2558 on my Lumia 928.

Oh, my mistake. Proshot did takes full res photos. Unfotunately it crashes a lot on Lumia 720 (black screen on live view, or hangs after long exposure or simply shuts off by itself).


Does anyone have problems with taking pictures with proshot?
I like the apps and settings. But the controll is laggy. After taking a picure the controlls are frozen. If i tab something it might take a photo again.

The UI isn't usable while the image is being saved (due to a bug in Microsoft's API, images can only be saved on the UI thread, so nothing can happen until after the image has been saved. I believe / hope that GDR2 will fix this)

Waiting fro Lumia 920 GDR2 and Pro Camera...
Windows Central Newsletter
Get the best of Windows Central in in your inbox, every day!
Thank you for signing up to Windows Central. You will receive a verification email shortly.
There was a problem. Please refresh the page and try again.