ProShot and SophieLens HD get minor updates but promise bigger ones in early 2015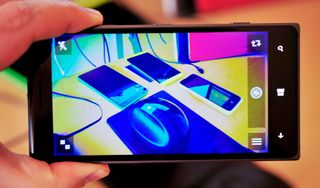 Two of our favorite photo apps picked up updates today but perhaps the bigger news is what they have planned for 2015. ProShot and SophieLens HD should be staples in your photo arsenal as both apps offer unique takes on mobile imaging.
Let's see what's new.
ProShot v5.5.1
UI / UX tweaks
v6.0 coming early 2015, completely rewritten for WP 8.1
Overall, not an extensive update but that teaser about version 6.0 has us curious. Certainly recoding the app for 8.1 will bring performance improvements, and for Windows Phone camera apps, that is always a plus.
SophieLens HD v 2.1.3.680
We've removed the unpopular feature of adding in stories after you've captured an image. Instead, now you'll have the option of saving the image directly or to retaking it. A better UX is on the way.
App icons are also now transparent, we know many of you have been writing to us about this. So... there you go :)
Much will be done in the coming months to improve on SophieLens, new filters, new UI, etc. We hope you'll be patient with us as we are a very small team of developers.
The update for SophieLens HD, which contains some fancy filters and an excellent UI, is a little more robust with the removal of stories after image capture and the transparent icons.
Like ProShot above SophieLens HD will also get some more advanced work. Since it is already an 8.1-only app, it has a slight advantage over ProShot.
We haven't talked about either of these apps for a while, but if you have not tried them before, you really should. ProShot gives some amazing manual controls for your camera, and SophieLens HD has some of the best camera filters in town. In the meantime, we'll keep an eye out for future updates from both developers.
Thanks, everyone, for the tips!
Daniel Rubino is the Editor-in-chief of Windows Central, head reviewer, podcast co-host, and analyst. He has been here covering Microsoft since 2007 when this site was called WMExperts (and later Windows Phone Central). His interests include Windows, Microsoft Surface, laptops, next-gen computing, and for some reason, watches. Before all this tech stuff, he worked on a Ph.D. in linguistics and ran the projectors at movie theaters, which has done absolutely nothing for his career.
I told them about these updates hours ago. I want a cookie.

*om nom nom*
I've got some crumbs left if you want them?

What exactly are you noming on❓

Might re-download pro shot, I've got way too many photo apps on my phone

No joke, right? Just because I have the SD card room, it's like, I gotta have them.

Wtf? Pro shot is 2.49$ now? Im lucky i buy them only 0.99$... Posted via the Windows Phone Central App for Android

I got pro shot for free pnah!

Same thanks to MyAppFree a couple months back xD

And worth every penny too. Relax.

I bought it for 99 cents too. Its worth it.

I wonder if ProShot could push longer exposure time with some software trick hah.. Anyways awesome camera app :)

It would be great... Is that possible?

Depending on which phone you have you can extend it from 1/2 second (my One) to like 5 seconds (can't remember but my 920 was really high), but since these phones don't have manual shutters it doesn't work well because too much light comes in.

No Windows Phone has ever been able to shoot longer than 4 seconds.

Unfortunately the shutter speed is limited by the hardware, not software. I was working on an idea / hack that could extend the shutter speed, but I'm not sure if it'll work. It's something I want to revisit after I finish v6.0 :)

Is it possible to do simulated long exposure i.e. take multiple pictures and average them together? Always wanted a feature like that since 4 secs isn't always long enough.

There are challenges, the biggest one being shutter lag. On Windows Phone, the 'recovery' time of the hardware is equal to the shutter speed. So, if you take a 1sec exposure, the hardware will take the exposure, then wait an additional second before allowing a pic to be taken again. This will create a large (and likely undesirable) gap in light trails. The key is finding a way around that.

True, for light trails the gaps are undesirable, but I was thinking more about running water like waterfalls where gaps wouldn't matter. Averaging multiple photos together would make the water silky smooth. BTW, love the app. Purchased it when it was first released.

Thank you for being there since the beginning! ProShot come a long way, hasn't it? :) I can't say if the gaps wouldn't be gone in a waterfall pic, but I have some ideas worth exploring, and that is what I'll do when the update is done. The overhault to the code will make adding features a lot easier!

If the updates are good, I'll buy the program. I strictly use my phone for shooting RAW the quality is on par from what I've seen with some of the digital cameras out there, nice to have such power in a phone, truly is.

Slightly off topic but, still about a photo app... Where's the promised fantasia update?!

I love me some SophieLens HD. Thank you for the update!!!

那等年初再来下proshot,总感觉图像管理有问题,某些时候删除的图像会在重启后再现…

I switch between proshot and lumia camera when taking photos. On a recent trip I thought it'd be fun to try to use proshot exclusively and it worked well once I got the hang of it. Main problem I had was trying to find the magic combo of using iso and shutter speed to get the best pics. Pics were taken during both day and night so I was always adjusting.

Hopefully, their definition of "more advanced work" on SophieLens HD means they'll be solving the persistent, known problem of "thanks for your continued support, please connect to the W.P. store to download/purchase filters" which appears when I want to take a photo. Even after downloading filters multiple times.... Unfortunately, it often happens in a no-service area making it a useless photo capturing app until I return home to use the app as an image editor...

Waiting for new updates!!

Neat! Sophie lens story feature made no sense! And wad highly limited.

Regarding to SophieLens, everytime I use it offline would require me to repurchase it. In addition it crash a lot when I use it to add filters to exiting photos

Thank you Daniel! Hi everyone, I'm the developer of ProShot :) I just wanted to chime in and give a few more details on what's coming next. First and foremost, ProShot will be completely rewritten for WP 8.1. Starting fresh will allow me to make an app that's faster, cleaner, more efficient, and easier to maintain. It will have brand new features for photographers of all skill levels, as well as its current feature set refined and improved for easier access. On the UI side, the right menu will receive a complete overhaul, with everything else being cleaned up and tweaked for a more consistent experience. There is more to talk about, but I will save it for a later date when development is further along. I am really, really looking forward to seeing just how far I can take the new 8.1 APIs. Thank you so much to everyone for your support, happy holidays, and see you in the new year!

Thanks for actively supporting WP :) such apps make my Android friends jealous :D
Windows Central Newsletter
Thank you for signing up to Windows Central. You will receive a verification email shortly.
There was a problem. Please refresh the page and try again.