Powerful camera app ProShot picks ups noteworthy update for Windows Phone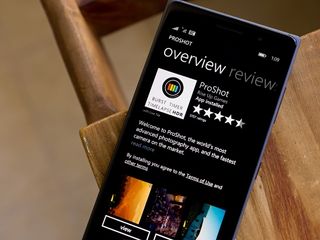 One of our favorite third-party camera apps for Windows Phone, ProShot, has picked up its first big update in 2015.
Last updated in December, ProShot today hits version 5.6 and with it a few new fixes, improvements, and features.
ProShot 5.6
UI refresh - many, many tweaks, fixes, optimizations, and improvements
Added aspect ratio shortcuts to the main viewfinder
Improved startup speed (~0.3-0.5 sec), general performance improvements, #seemsfaster
Improved HDR
Drive mode is now reset to 'Normal' on app launch
Several bug fixes to aspect ratio, resolution, and point AF
Indeed, between all the speed and UI improvements, ProShot certainly deserves your attention (especially if you are not on Lumia Camera 5.0). From the built-in HDR, unique filters, ability to shoot in full 19MP (for the Lumia 930, Lumia 1520) and more, ProShot is the top of the line replacement camera app for Windows Phone.
Moreover, cheers to the #seemsfaster nod.
What about version 6.0, which was to be a complete rewrite for Windows Phone 8.1? Rise Up Games notes that version 6.0 "was delayed due to Windows 10 announcements. We will resume work on it shortly". So no worries there, just a bit longer. Such a rewrite will make ProShot even zippier with more benefits than the current 8.0 version. We look forward to trying it out!
Have questions? Jump into our dedicated ProShot forums to discuss this app, share images, and even interact with the developer!
Download ProShot for Windows Phone ($2.99, free trial)
Thanks, Arpit M., for the tip!
Daniel Rubino is the Editor-in-chief of Windows Central, head reviewer, podcast co-host, and analyst. He has been here covering Microsoft since 2007 when this site was called WMExperts (and later Windows Phone Central). His interests include Windows, Microsoft Surface, laptops, next-gen computing, and for some reason, watches. Before all this tech stuff, he worked on a Ph.D. in linguistics and ran the projectors at movie theaters, which has done absolutely nothing for his career.
Lucky me that I got this app for free..btw this app is worth buying

I downloaded this yesterday to take some pics at the beach, and it was free :)

I actually bought it to support the developer

Lol it's nice to see they're in touch with their userbase.

Or second that #seemsfaster

There is a tweak in the XDA forums that would trick the phone into making ProShot the default camera app. Haven't tried it, but if anybody wants to, ill post the link later, or ya lazy pukes can "Bing" it

I think that thread was deleted, likely because they are using a cracked version of the app. Although I appreciate the effort (and desire), not a very cool thing for the developer.

**off topic** .. Are there any apps that can help me import IPL fixtures to my phone calendar.?

Download starsports.com app, you can add any match's reminder to calendar using it, even if you want to add all of them there'll be 50-60 matches at most.

http://www.espncricinfo.com/indian-premier-league-2015/content/series/79... login to outlook.com-->calender-->import wpcentral should have done an article on it.

Yea I was about to rescind my comment after I actually read the thread more thoroughly the second time lol

I actually reached out to the OP of that thread asking them how they did it. While I'm not happy that my app is being pirated, I really want to launch ProShot from the camera button, so in this case it's a wash haha. I'm still waiting to hear back from him / her. If there's anything I can do on my end, I'd be glad to try and 'sneak' it past MS certification process.

I really appreciate your work and love app on my phone. But can you please tell me why manual mode isn't available on my Ativ S even with latest FW update? Is it hardware limitations, can it be functioning?

Unfortunately the camera hardware in Samsung phones do not support manual shutter speed :(

Be careful, the op may withhold the trick for a ransom

Why do filters not work when using ffc?

Which phone? Works fine on my 1020. Although I did just now find a tiny bug w/FFC and the camera button *slaps forehead*

Would be better to download the xap, and find out for yourself

Oh, thanks for answer. One more thing, resolution in 16:9 mode I get from your app is 2MP max. It's same in stock app. But in one app caled "OneShot" I'm actually able to take 16:9 shots in 6MPx resolution. Could be that expected sometime in future?

90% yes. ProShot currently just asks the camera hardware for the native resolution modes it supports, then organizes them and displays them in the UI. Way back in the early days of development this was the easiest way to go, beceause of some complications with Silverlight. When ProShot is rewritten, all of that old code will go away and the resolution options will become more uniform across devices.

Lol, guess me and Dusan had the same questions, so this time Dusan asked and we both got the answers. ProShot is my go camera when i want to make beautiful landscape shots. For fast shots i use either default camera or Camera360 Sight (for example when i want to shot a picture of my super fast and unpredictable 3 years old nephew, LOL). Can't wait for the 6.0 version which if i remember you said it will be complitely rewriten. You wrote a state of the art app, i can only imagine what the next itteration of ProShot will be. You rock dude. :)

Thank you very much. You rock! :-)

Although I've got the app and it's excellent, the thing that stops me using it regularly is MS's choice not to allow it to be launched by the shutter button. I wouldn't be surprised if it's still the case in W10 :( My three votes are already on the UserVoice request.

Read armyvet66629's comment

MS should stop limiting us :@

Same here. It's a good app, but just not that useful for quick shots out of the pocket.

Why it shows 8MP in my 830 ? The camera is of 10MP. Anybody?

Switch to 4:3 aspect ratio?

I really hate when I have to use 4:3 to get the full resolution from my 720. Is this the same case in Android phones (switch aspect ratio)?

it depends on the ratio of your sensor. if your sensor is 4:3 then you only full resolution with 4:3 photos

Do you know wich Lumia has a sensor with ratio of 16:9? Edit: Why before Amber I was able to have 6.7MPx from L720 with 16:9 ratio? :(

I believe the 1020 is the only phone on the market with a circular sensor, meaning it can 'truly' switch between 16:9 and 4:3 aspect ratio, instead of just going for a crop from a 4:3 sensor.
Of course, this also means it can never use all 41mp, but uses 36 or 34mp depending on which aspect ratio is being used.

Use 4:3 aspect ratio to get the 10mps

The 41MP of the 1020 is actually 34/38 MP depending on the ratio, and it shows this even in Lumia Camera settings

Just wish I could set ProShot as default, since Microsoft left my photo-oriented 1020 out of the Lumia Camera loop

I used it one time after the update. Took a couple of pics - then it froze and crashed. I am now getting the error: "There are no more endpoints available from the endpoint mapper. (Exception from HRESULT:0x800706D9).: App would only work again after a phone reboot. Samsung ATIV S

All of the WP Samsung phones have been really fussy. If the issue persists, try a clean install of ProShot using the following steps: 1) Uninstall ProShot
2) Restart your phone (this is important)
3) Re-install ProShot


I have Samsung ATIV S i8750 (official 8.1.1, no PfD). ProShot never crashed on my phone, not even once and i am using it daily since I got the app several months ago (can't remember since what version i got it, but it was 2014 i think around October). With all updates i got since i got it, never crashed on my phone, not even once. It works perfectly :)

Speaking of lumia camera its now published under the Microsoft Corporation label

Great how this opens faster than Microsoft camera :(

My top 5 favorite app, even when I had a Lumia. It'd be nice if Rise Up could tap into the duo cam on my One but I still get amazing shots.

From my understanding of the API, there is a section for "special hardware calls" for things like the DUO cam. Only problem is it's basically an empty, undocumented stub, so the only way I could tap into it would be if HTC told me the exact fuctions to use (assuming they're even publicly accessible). In other words, I've given it some thought haha.

One of the best camera app in the morning store..

To everyone who wants ProShot (or any Lens) to launch from the camera button, please help by voting for it here: https://windowsphone.uservoice.com/forums/101801-feature-suggestions/sug... 18K votes and going strong!

Will do this instantly.... btw. Great App.... Nice to see a Developer respond to/on his/her topic.... Keep that great work up.... i salute you :)

Added 2 more votes for it. Thanks for the link... and thanks for the program. Love Pro Shot.

Is anyone using ProShot with Lumia 930? especially the timelapse? Does it get dangerously hot? I had to replace my phone due to burnt lcd (see http://forums.windowscentral.com/nokia-lumia-930/334589-why-does-my-noki... and related post in the comments) and I am really skeptical in pushing the 930 to the limits. I tried this app once and it's amazing, but now I am scared of overheating my 930 again :(

When the 930 first came out I remember hearing lots of users talking about heating issues, even during normal usage. I've done everything I can to ensure that timelapse consumes as little enery as possible. My recommendations for the 930 would be to shoot timelapse at a lower resolution (3 or 4MP). That way the phone doesn't need too much power to capture and save the images (compared to 20MP). Lastly, by any chance are you using the Level function? Due to architectural limitations, the Level function (which requires active accelerometer usage) will cause phones to get warm after prolonged use. This is one of many things I hope to improve in v6.0.

Thank you for the reply, developer. I haven't used the level function, but I'll definitely try time lapse with lower resolution. Your app is awesome.

I use both
L930 and proshot The L930 gets hot anyway when you use the phone for a longtime playing games or web surfing.
Tho I know first hand that if you use ProShot on it for a longtime it gets hot too. It's not the apps, prolly hardware ish

I updated the app, then I tried to take some HDR shots and when they were processed they were all black.

Which phone and what were your HDR / camera settings? Were the pictures completely black or just really dark? Contact me support@riseupgames.com I'd be glad to help!

P.S. Thank you for the article Daniel! I love that there's a dedicated page on Windows Central for "seems faster" hahaha. Cheers

Hey RiseUp! Again and as always a big thanx for ProShot. I consider ProShot and your work at the core of my Microsoft mobile experience.

I am so glad to hear that. And thank you for all of your contributions on the forums, they are immensely appreciated!

After last update of Lumia Camera 5.xxx on my 1520 there is no HDR in rich capture. May be worth trying this one as replacement!!!

Now my 1020 is a 4mp camera! Nice update. What the heck?

Tap IMG in the right menu, --> size. The resolutions change based on aspect ratio chosen. Note that everything 5MP and higher are super-sampled from the original 34/38MP image, so you'll always have sharp pics :)

Awesome app. I'm going to start using it more often on my new Denimless Lumia 830. Thanks @RiseUpGames!

Thanks guys!! Works awesome on my Lumia 1020. Love the ratio on screen , cool feature. The 34mp 16x9 is sick! I'm not to worried about the whole no launch key, I have it as a transparent tile and I can access it just as fast as hitting the button, thanks for updating for all of us left stranded by the denim update, photos look better then the 5.0 Lumia anyways!!

I'm using Proshot on my Ativ S, and the app seems to have an internal fix for my flash bug, I still have the issue with the native camera app

A very small request but... is there any chance of giving us the option to use either a transparent tile OR a coloured tile of our choice? I have my start screen customised with a mix of both, but the ProShot one stands out because it doesn't match the rest of the layout :)

@deathmetal not sure what is you have but I have 8.1 cyan and when I pin it to start screen it automatically makes it transparent

I am on Denim, and yes it is transparent - however I would like the option for it to not be transparent :)

It's something I can look into, I've made a note in my to-do list. The big rewrite is my top priority for now, however

Of course, that is more important. Thanks for noting it :)

is it worth to buy proshot on lumia 630ds that doesn't have flash.do i get some great shots with help of proshot.

If I download from this app from wp central link it is paid but when I download from store it is free. Can u explain this ?

This is d beast!
I use this when I go on trips
Such battery tho due to processing

It keeps loading with black screen on my 1520 denim after update... May be I should try to reinstall it...

Odd update issues like this sometimes happen, haven't been able to figure out why. The solution is to do a clean install by first uninstalling ProShot, restarting your phone, then re-installing

@riseupgames, yes please, sneak it past ms.

Only app which opens faster than any of wp system apps.dev-thanks for your work.

Hemmetin hyvä. I love that in my Lumia 1020!

please proshot include camera recording,,, would be awesome if you can use 1/50 shutter 23.97 FPS and adjustable focus. *cinematic drolling*

Mr.Dev, is it possible to introduce manual controls (e.g. focusin, shutter speed, ISO) for video recording? I cannot stress how insanely awesome that would be. Or are there hardware limitations that would prevent it? Best camera app on any app store BTW, hands down. 100/10.
Windows Central Newsletter
Thank you for signing up to Windows Central. You will receive a verification email shortly.
There was a problem. Please refresh the page and try again.