Purple Cherry X Review: a new GameBoy Advance emulator for Windows Phone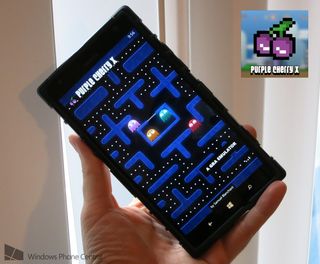 The Windows Phone gaming emulation scene is dominated by a few prolific developers: Duc Le (who took over for M.k), Andre Botelho, and Samuel Blanchard. Samuel created two emulators in the early days of Windows Phone (Purple Cherry and Blue Tomato) before largely disappearing from the scene for a couple of years.
Loyal Windows Phone readers learned what Samuel had been up to when we interviewed him last year. While busy with other commitments, he continued to plug away on a new GameBoy Advance emulator for Windows Phone 8. Today that emulator finally showed up on the Store as Purple Cherry X. Although Purple Cherry X lags behind competing emulator VBA8 in a few key areas, it also brings an entirely new perspective and features of its own. Read on for our full review.
Main Menu
The first thing you'll notice about Purple Cherry X is its striking visual design. At the top of the main menu, you'll see an arrangement of screenshots from the three most recently played games. Links to Import games, the app's Store, and Settings sit below the recent games. Swipe to the right for the full games list.
Instead of a solid color for the background, the menu system uses colorful imagery from Yoshi's Island (a Super NES and GameBoy Advance game). The background actually has multiple layers to it, which truly goes above and beyond what we expect from a mobile app's menus. And animated stars appear whenever you make a selection.
The VBA8 family of emulators has just received a lovely visual overhaul, but Purple Cherry X still outshines them (to say nothing of the ugly UIs in the EmiPSX emulator family). Maybe not the portrait mode graphics though. The original GameBoy-inspired "frame" looks unpolished and doesn't mesh well with a GameBoy Advance emulator. Then again, nobody plays emulators in portrait orientation anyway.
Game menu
Emulators typically come with a public domain game which users can play without having to import additional files. Purple Cherry X includes two such games: Anguna: Warriors of Virtue (a top-down action-RPG) and Maya (a match-3 puzzle game). Surprisingly good for free games, especially Anguna. Both titles can even be restored from one of the menus if deleted.
The game menu doesn't waste space with a giant title like some other emulators. But it does have letters that you can press to bring up the alphabet menu and jump to ROMs starting with specific letters. These take up a lot of space and it'd be nice if we could toggle them.
My only other complaint is that games are represented by a generic GameBoy Advance icon rather than individual screenshots. You can view a screenshot within each game's submenu, but not from the game selection screen itself. Hopefully the developer will add screenshot browsing in a future update.
Importing games
Purple Cherry X offers three main methods of importing ROMs (games). Games must use either .GBA or .ZIP file extensions.
Quick Download: To unlock this unique feature, users must make an In-App Purchase of 99 cents (or $1.49 if you want to get rid of ads too). Having done so, you can search for ROMs directly within the app. Users can then download ROMs directly from the search results. It's very convenient, but totally not legal.
OneDrive: Formerly known as SkyDrive, this is the most common method of installing ROMs in Windows Phone emulators. At press time, Purple Cherry X's OneDrive integration is half broken. It only sees .ZIP files and not .GBA files. The developer has already fixed the issue and submitted a new build, so this won't be a problem for long.
File Extension: Import games via email attachment or web browser.
Settings
Purple Cherry X is light on settings at launch, but I wouldn't be surprised if they get fleshed out more in the future. The standard performance options like toggling sound or enabling frame skip are all present. You can lock the screen into Portrait or Landscape mode, and even enable an accelerated Turbo mode when the Camera button is pressed.
Controls are where the emulator really falls short at present. The controls menu is referred to as "Paddle," an incorrect term resulting from language issues. The one single control option is to adjust on-screen control opacity for landscape mode. The app really needs the option to reposition buttons, as well as toggle the "C" button with something more useful…
Controls
When in landscape mode, you'll find the L and R buttons positioned at the middle edges of the screen – kind of unusual, but certainly more accessible on large screens like the Lumia 1520's than putting them at the top. At the top right corner of the screen are the Select and Start buttons. Not a terrible position, but slightly hard to reach on the 1520.
The primary action buttons B and A at the bottom-right corner. Just above them is the C button, which I initially expected to function like pressing both B and A at the same time. After a little research, I realized that C is the button to toggle backlight on the GameBoy Advance SP... A completely useless function to emulate as far as I know, though maybe some odd game used it over the years. But replacing C with a button for both A and B, or even a button to toggle autofire (another missing option) would be much better. Update: Samuel tells us that C does perform A + B. Not sure why it didn't seem to do so when I tested it.
Purple Cherry X does not support MOGA controllers at present. Luckily, Samuel does plan to add them in the near future. Pairing the MOGA controller with a compatible emulator turns a Windows Phone into a true portable console, so the MOGA support will definitely be appreciated.
Extra features
Besides the lovely menus, Purple Cherry X offers some cool features that some other emulators lack. Each game gets its own dedicated menu from which players can manage save states (user-created save files) and even adjust settings specifically for that game (instead of universally).
Down at the bottom, the game menu tracks time played and how many times you've played that game. Players can save the auto-created screenshot of the game and share it via email and social networks. You can also pin the game to the Home screen, in which case a cropped version of the screenshot acts as its live tile.
Overall Impression
Purple Cherry X is a great way to play classic GameBoy Advance games like Zelda: the Minnish Cap and the Pokémon series. The games run pretty much perfectly on a Lumia 1520, and the on-screen controls function great as well.
There are still some rough spots like the absence of screenshots during game browsing and the emulator's overall lack of control options. The language needs some proofreading as well. But all of these things will probably improve over time. As long as Samuel keeps improving the UI and adds MOGA controller support, Purple Cherry X will provide VBA8 with some serious competition.
Purple Cherry X – Windows Phone 8 – 5 MB – Free – Store Link
Windows Central Newsletter
Get the best of Windows Central in in your inbox, every day!
Paul Acevedo is the Games Editor at Windows Central. A lifelong gamer, he has written about videogames for over 15 years and reviewed over 350 games for our site. Follow him on Twitter @PaulRAcevedo. Don't hate. Appreciate!
Similar to these emulators, but do the n64 emulators have the ability to play Super Smash Bros? And where can I find the file?

I'd love if this was on W8.
But this has me thinking of another gripe with WP8, I want to have folders. Why doesn't this go into the games hub!?!?! Grrrrrr.

Temporary solution, http://www.windowsphone.com/en-us/store/app/app-folder/7d2e7de3-95e7-414...

When you submit something in the gamehub, it faces more scrutiny. I got my app rejected once in the windows 8/RT store because the guy thought my app was a game and should include game rating certificates for markets which require them. After I explained to him that my app was not a game and was not published in the Games section, it passed certification.

I wonder how much risk I face when adding the search and download feature to VBA8. It's not hard and make my app more attractive; I just don't know if I should do it.

Not sure... It's very convenient, but certainly opens the emulator up to being removed for legal reasons.

I would not do it. This is something that will probably get this app pulled from the store.

Your app is brilliant. I actually love and use it A LOT - please don't do anything which would cause it to be removed from the store :-)

Plz don't add it,I don't want your emulator to be removed. :(

I'll buy this if they improve the HUD and if it runs better on my ICON because VBA8 is great and all but it heats up my device QUICKLY and it DRAINS the battery.

Two apps are based on the same VisualBoy Advance code. They should have pretty much the same performance...

My L1520 is indeed getting pretty hot on its top-leftish side when playing for quite some time, but I didn't really noticed any out-of-the-ordinary battery drainage... Then again, the L1520 has a monster for a battery, so... :)

Seems like this is keeping the flavour of purple cherry which i still use everyday. Probably the best designed app on my phone alongside poki and 6tag.

Used it and made the in app purchase too! Runs a little slow but i love it!

Is there a way to change that illidanx?

Not likely, VisualBoy Advance does not use DynaRec technique which can improve the efficiency of an emulator up to 10 times. MyBoy! on Android uses this and run very fast even on weak devices. MS does not even allow this technique in windows phone app because the same technique is used by viruses to hide themselves.

windows 8.1/ RT 8.1 does not have it, I doubt windows phone 8.1 will have it.

Is there any way you can update the windows apps to match the wp8 apps? I want to play in portrait mode on my dvp8 :)

There is, I just don't have time to support the window 8/RT apps yet :(

Maybe only when (and if) WP8.1 would be hacked...

Or jailbroken. iOS does not allow DynaRec but jailbroken devices can use DynaRec.

Yeah that's basically what I meant. Interop unlocked or even better - fully unlocked.

What about a Nintendo DS emulator? :-D I'd totally pay money for that :) (oops, that was supposed to be a new comment, not a reply to yours illidanx - sorry)

All existing DS emulators use DynaRec. Without DynaRec, the emulator would be very slow and unavailable. PS1 is like the hardware limit for emulator without DynaRec.

yes, sadly it does. N64 hardware is more powerful than PS1.

Well I can understand MS's concerns regarding DRC - they have a case, you must admit. But maybe if they (MS) would employ a better procedure of validating code submitted to the store, with deeper inspection and debugging - it'd eventually be possible... Maybe MS would introduce some sort of a version to HyperV into WP's SDK, so applications which are using DRC could use HyperV as a safe and acceptable "sandbox"? ;)

Hi Paul. Thanks a lot for the article. The C button is a A+B buttons and not a backlight button but the effect depends of the game :) you will be able to change the fonction of the c button in a future release (key or auto-fire). There is no ads on the app just the in-app for the importation tool.

I love the original purple cherry, especially since it works in portrait mode. It makes my phone look like an actual gameboy, especially when I had the bluish 8x. Release it for the windows store as well? Id love to play portrait mode on my dvp8!

Hello,I wanted to ask that since i already play games from my phone storage in the vba8 emulator,why won't this emulator read files from my internal storage??why do i need to import from one drive or email??plz fix this.
Btw,my vba8 emulator uses 451mb space so if i have to import the games again,it will take about 1GB space.(because i want to play on the vba8,and my brother wants to play on the purple cherry,so i want to keep both emulators.

Storage doesn't work that way on WP. There's not a centralized ROMs folder that any app can draw from.

Paul, you write great reviews! Thanks again. Purple cherry os awesome.

Glad you liked it, man. :)

would rather see neo-geo or MAME emu

Does anyone know when the Game Genies and Game Sharks stopped existing? I was wondering if one day this app would support those kind of codes like Purple Cherry for the GBC did (love that app by the way, purchased it last year and it was my first ever purchased app, and worth every penny!)

VBA8 already has it if you cannot wait.

I wish someone would make a TurboGrafx-16/PC-Engine emulator. I love all those shmups.

Seriously enough with gameboy emulators what about nds emulators

Seriously enough with gameboy emulators what about nds emulators

Its disappointing to download and pay for the pacman game only to have it not work. I love supporting developers but paying for games that don't work is maddening.

I'm sure he is going to fix it soon. He just forgot to change the settings for those classic games to make them work.

Could you please make a link feature?
I know that there are many gamers who use THIS emulator for playing Pokemon games. It is not possible to complete game completely if you can't link to other gameboy and trade pokemons (because some pokemons evolve to their final form while trading them). And I know that those people who want to trade their pokemon, are ready to pay for this kind of feature if they can't make it free. Link could be formed between two phones, your phone and your computer, or maybe you could start two games at the same time on one phone and do trades between them.

Do you have to use a MOGA controller or could you just use a generic bluetooth cheap-o?
Windows Central Newsletter
Thank you for signing up to Windows Central. You will receive a verification email shortly.
There was a problem. Please refresh the page and try again.