Track your favorite TV shows with PushTV for Windows Phone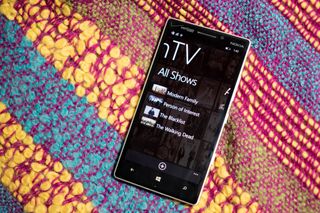 If you watch a lot of TV shows, it can be overwhelming to track which episodes you've seen and what days they air on TV. PushTV app on Windows Phone can help you with that. It tracks your favorite shows and notifies you when there are available episodes for you to watch. Check out our hands-on video to see it in action.
Features:
Shows all your favorite shows and what episodes you've watched.
Shows you which of your shows contain unseen episodes.
Mark episodes as Seen/Unseen
Lockscreen: Get a notification on upcoming and unseen episodes via your lockscreen.
Live Tile Support
Toast Notification Support
TV Show data taken from TMDB
OneDrive Backup
You'll need to add your favorite shows when you first open the app. Tap the plus sign at the bottom and type the name of the show. Search results start to populate the list as you type. Tap the title to add the show to your list.
PushTV has three sections you can quickly access by swiping left or right on the screen. The first section displays all your shows, while the other sections show what are airing today and a list of unseen episodes. When you tap a TV show, a list of episodes is shown on the screen. You can quickly let the app know which episodes you've seen by swiping right on the episode title. If you tell the app you've seen the 18th episode of The Blacklist, it automatically marks all the previous episodes as seen as well.
Our favorite features for PushTV are its notifications and the ability to change the lockscreen. The lockscreen remind us if there episodes showing today.
PushTV is a free download from the Windows Phone Store. There are no ads or in-app purchases either. Give it a try and let us know which shows you'll be tracking. The Walking Dead, Modern Family, The Blacklist, and Person of Interest are currently on our list.
Download PushTV for Windows Phone (Free)
Windows Central Newsletter
Get the best of Windows Central in in your inbox, every day!
TV Blaze is my go to app for this kind of thing :)

Do both have tv guide features? I'm using buddy tv guide.

Tried TV Blaze and it doesn't work. I get an error message when trying to add \ click on a show. Push tv is missing one of the shows I watch. Guess I'm sticking with buddy TV guide for now.

Tho app has got nothing on TV Blaze or TV Show.
The layout is awkward to say the lest. Needs a good app designer.

I bought TVShow and haven't been stationed. Rudy Huyn for the win!

TV Show is hella buggy. But the alternatives just don't gel with me. I wish Rudy would update it every now and then.

Agreed. I tried giving PushTV a shot just now. One show (Sonic Boom, recent show but not brand new) doesn't appear in search, and Clarence comes up but crashes the app when I try to enter it. I also can't find a way to set whole seasons or shows as seen, and I'm not going through all 188 eps of Adventure Time one by one. So, yeah... will follow its progress, but right now I'm sticking with TV Show and hoping Rudy updates it.

Figured out how to clear multiple episodes haha

Rudy Huyn made a nice app similar to this, called TVShow.

Updated last in February 2014. TV Blaze is getting constant updates and improving, much better choice.

Interesting, will check out TV Blaze now. Thanks!


Well Rudy has ignored many twitter requests to update it, or even acknowledge it's existence. Is he going to update it ever again? I no longer care. I installed this. Problem solved.

Yes and there are numerous bugs. Will check this out.

Just because it's from Rudy doesn't mean it should be the go to app, TV Blaze is a thousand times better.

Nobody said "it should be the go to app" except you. I simply mentioned it's a similar app. I've had no issues with TVShow, so I'm not sure what would make an app of the sort any better - care to spare some details on what exactly makes TV Blaze so much better?

Trakt.tv integration. Due to Trakt changing their API's, all apps had to be updated and/or repaired. TV Blaze is the only one as of 2015-03-25 that supports Trakt. (Also Movie Blaze)

Yes, I use Rudy's app a lot. Never has any issues, and tracks like 20 shows for me.

I got TVShow (lite) primarily because it was from Rudy Huyn. Yeah looks like it hasn't been updated since 2/14, but it seems to work just fine for me, haven't had any issues with it. I'm gonna wait til Windows10 before I decide to upgrade and give Rudy my $1.49

Although it hasn't seen an update in a long time, Rudys (Free) TV Show app has been pretty solid for me. I will check this out to see how it compares though.

I use tvshow by rudy Check out "TVShow" for Windows Phone http://www.windowsphone.com/s?appid=f593e6f6-cd49-e011-854c-00237de2db9e

Yeah, I use TV show, its great, but the news section blows. Needs an update. I'll try this one

I really like TVShow by Rudy but it could use an update to speed it up and if it was a universal app it would be great!

TVTime is another choice. Much nicer design, but missing a few features.

Looks cool, gonna give it a shot & see how it stacks up against TVShow.
I watch the NCIS triplets & the Blacklist ;)

TV blaze for me because of trakt support and design but will still check it out.

Oh Trakt.tv...has the mess that has been its recent revamp become less messy?

Not sure what mess, I never noticed any.

I don't like big head titles anymore. And panorama apps is even more less appealing these days. I still use TV Show by Rudy, but I miss an update for a long time. The app needs a layout update.

Really love TV Show but going to check this app out.

I added 2 shows on this app and they're fine. But adding more shows and exiting the app, they don't save. Sooo, needs updated lol.

Do any of these TV apps work in Canada? I installed this one, but when I click on ' Add Show' ask I have is a blank screen.

Gave it a quick try ... For a first release its pretty good ... But a bit light on the features side.
I added NCIS Los Angeles & I couldn't find a way to mark entire seasons as Seen & had to do it manually.
Also, the pictures used in the tiles are low res & a bit pixilated. Anyway, good effort by the developer... The app got lots of potentials, I'll keep an eye on it

Yes, need to mark shows off as seen more easily.

Doesn;t seem to have all the features of TV show just yet but it looks nice. To mark all shows as seen, just go to the last episode and swipe left or right.

I use an app called Next episode. http://www.windowsphone.com/en-us/store/app/next-episode/c1680fa9-e93c-4... It's free and is, in my opinion, the most complete.

I'll stick with Team Rudy. This is a blatant ripoff.

TV apps need Trakt integration. It's a must. Because like he said in the article, managing these much shows is a difficult task and adding each one of them is kind of a dragging process..

You should have a look at TvTracker then :) It's an app me and a friend have made, that has Trakt integration and it's a universal app. We're actively working on it, fixing any bugs that appear and adding new features based on user feedback so it's worth checking out

Can't sign in on my Trakt.tv with TvTracker. I get a message with the oauth-code and when I press back TvTracker wants me still to sign in to Trakt.tv.

Hmm interesting, i remember this issue coming up once or twice when debugging but we thought it had been fixed as it hadn't shown up for ages. We'll look into it though! :) From what i remember this only happens on the Phone version, you could try running it on a Windows 8 PC and sign in there. As long as you use the same Microsoft account on the PC as the phone then the auth code should sync across. This is just a temporary workaround which 'should' work until we can fix it properly

The most important aspect of apps like this is that we can trust the app to keep track and sync with Trakt, consistently. TVShow didn't do this well for me, TVBlaze does it much much better, but not perfect. I can't take time with another app unless it is priven better!

Nothing beats TVShow by Rudy.

Not bad for a free app. I paid for Series Fan and it works great! I used TV Blaze but show dates are always wrong no matter how I configured the time zone.

Needs trakt account integration.

Who watches English shows? Here in India many people do watch their serials, if you provide that, then for sure your app is no 1 .

Seriously dude? I'm an Indian too and I hate those Indian serials . They are just plain hilarious . I have a huge collection on English serials that I watch regularly. They are way better than most Indian movies :D

Well I love those serials, it has some thing to express , show love and in these English shows all are same with just little bit different in their speaking.

"these English shows all are same with just little bit different in their speaking" well that explains a lot on the quality what you watch. (and how you take them into your head). American Horror Story, Arrow, Cosmos, Da Vinci's Demons, Game of Thrones, Hannibal, Planet Earth, Prison Break, Sherlock, South Park, Spartacus, The Big Bang Theory, The Flash, The Walking Dead, Top Gear, True Detective, Vikings. Just a short list on what i have been following all these years (includes shows that have ended also). I didn't see anything common in between them. To be fair the so called TV shows are at par with movie production quality. (Epic Budget). Sadly those channels aren't available in India and yes i do download and watch them regularly (cant afford to miss an episode). I am an Indian too and I hate Indian serials to the core (tonnes of makeup, funny bgm, cliche dialogues, fake acting, .... so on goes the list). The "many people" who you claim to watch their serials are mostly housewives, admit it. This app takes it source from IMDB so if your so called "Indian serial" is listed on IMDB you CAN TRACK it. Indian serial cannot be compared with English TV series end of story.

The more you watch of these the more you'll hate Indian TV. Its disgusting really. Watch a variety of shows you'll know what I mean. If anything its Indian TV that's monotonous. Up Your Game.

Well said guys. If only all those Indian shows had an inkling of quality in them we would have been watching them only instead of the English shows. But the kind of work they put in serials like arrow,flash ,supernatural, the agents of SHIELD and lot more like that and the production values, it's astounding. Like I said they are way better than many bollywood and tollywood movies

Why is it so important to bash something as a way of declaring what you like? Besides, your "bashing" here, just makes you look silly. Who watches English shows? Seriously?? ha ha

I used to use Rudy's TVShow. It's great for normal tv tracking. Though it says trakt integration on paper it doesn't work really. I switched to TV blaze after the latest update and its the only app in the store right now with trakt 2.0 integration. I also use movie blaze for u know why. Even though PushTV has a good UI it's just another TVshow with no trakt integration. If that comes in I might use it. But not at the moment

Where u watch it , propably internet? Right.

Probably downloads via torrents.

Series fan is what I use, and what I love about it is the torrent search feature then uploading them to OneDrive folder which I made it available offline on my PC, then everything happens just automatically.

Rudy's app was in my wishlist but can't purchase as WP store doesnt accept my debit card. (I'll have to live with that) What i was looking forward to was a perfect ad free Trakt integrated tv show tracking app complete with toast notifications and calendar integration. I am using TV blaze as of now (ads though ) :)

this app jus crashed my phone.... n now it wont turn on...

I use rudy's app.. Much better

There are so many of these "track the shows you already watch" apps. Since TVGuide won't make a Windows Phone app, can't someone make a good listings app?

Rudy's app is still the best but it need bug fixes! Tried PushTV, didn't like the design and colors. Added the series 'White Collar', two last seasons was missing. *uninstalling*

Useless only shows US screen dates not UK

Downloading the App, only for following TBBT!

This app it's awesome. I like the metro style background and the simplicity of it. I hope that this app won't be flooded with tons of ads.

Looks like a Tvshow ripoff. Would be nice with a tvshow update. Crashes quite often upon start.

I just downloaded the app and it is great!

F.R.I.E.N.D.S - the best TV show. Ever.

I don''t know is it me or it is a bug, but i spend like 30 minutes adding my fav shows, then i close the app, open it again, the shows were there, but when i close it again and open it, everything was gone, all shows. Did this procedure again with adding shows, close it twice again, all shows gone, I mean, the list. That's the only bug i have occur in the app. On the other hand, it's very smooth, the background image changing to the wall poster of the show is awesome feature. App is very fast loading, everything looks just perfect, Adding fav shows is walk in the garden, very fast and accurate. As I said above, that is the only bug i experience it in this app.

For the developer if they're reading - The having the 'light' theme on the phone makes some of the text/menus harder to read. When adding shows, there's no feedback to say the show has been added, it just disappears.

Long time TVShow user, recently switched to TV Blaze. Better layout/UI, faster performance, superior Trakt.tv sync. Dev still updating the app. Lots of Live tile options. Does cost $1.99 to remove ads, but if you like to track your shows and enjoy a visually appealing app, it's well worth your $2.

I would agree that trakt integration is a must. I'm using TVBlaze and have been impressed by the developers response to an issue I had and the number of updates. Scott

It looks like bad copy of TvTime app :)

Nice copy of my TvTime, but much uglier.

Yes I do watch, though if you are getting vote in India about shows people would prefer their native shows not just serials.
Windows Central Newsletter
Thank you for signing up to Windows Central. You will receive a verification email shortly.
There was a problem. Please refresh the page and try again.