Put yourself in the picture with Dual Cam Photo for Windows Phone 8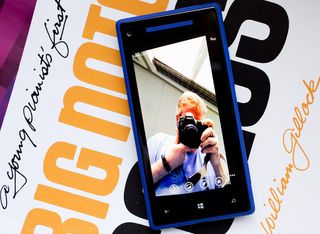 Dual Cam Photo is an interesting camera app for our Windows Phone 8 devices. The app lets you toggle between front and rear cameras at the swipe of a finger and once you take a photo with one camera, a few seconds later the other camera snaps a pic.
Dual Cam Photo will then crop and combine the two images in side-by-side fashion. It's not an every day type camera app but it may come in handy for those situations where you want to interject a self portrait into the mix.
The main interface with Dual Cam Photo has a series of control buttons spread out across the bottom of the screen that control the shutter, allow you to view previously captured images, pin the app to your Start Screen, and rate/review the app. Settings are accessible from the three-dot menu and include setting the delay between shots, resolution settings, flash settings, and focus modes.
The viewfinder view is labeled in the upper right corner and just swipe to the left/right to switch between the front and rear cameras. Once you capture your first image, a countdown timer will start to capture the second image from the opposite camera.
Once captured, you will have the option to share the image via email, sms, Facebook, Twitter, and any other photo sharing service you may have installed on your Windows Phone.
Speaking of resolution, if there is a common resolution between the front and rear camera you'll have the option to choose that resolution. If there isn't, when cropped and resized the lesser resolution will be used. Image quality is marginal, likely because of the reduction when processing images when the two camera's resolution doesn't match.
I can see Dual Cam Photo being used for parties or vacations where you want to send a "wish you were here" type photo. However, Dual Cam Photo wasn't the most stable of apps. Dual Cam Photo locked up several times on both the Nokia Lumia 920 and HTC 8X after taking the first photo, mainly when transitioning between the two cameras. Not enough to call the app a bust but enough to get you frustrated.
When hitting on all cylinders, the hardest thing to remember when using Dual Cam Photo is making sure you don't block either camera with your finger.
Dual Cam Photo may not appeal to everyone but it is a free app for your Windows Phone 8 device so trying won't cost you anything. You do need a front facing camera to use Dual Cam Photo and for those interested, you can find the app here in the (opens in new tab) Windows Phone Store.
Windows Central Newsletter
Get the best of Windows Central in in your inbox, every day!
George is the Reviews Editor at Windows Central, concentrating on Windows 10 PC and Mobile apps. He's been a supporter of the platform since the days of Windows CE and uses his current Windows 10 Mobile phone daily to keep up with life and enjoy a game during down time.
Wonder if WP8 allows apps simultenous access to both cameras so they can produce the dual-camera effect like the GS4.

That would be super funny LOL

That is not practical though. You have to make sure everyone has a smile and all while making sure you don't look funny and mess up the picture. In this app, you get a chance to concentrate on the subject and then your own portrait separately.

I don't think WP8 allows both cams to capture at the same time. I wanted an app that would do it with video.

Even if it doesnt you can tweek it to do so, like for example make the front camera take the picture as soon as the back camera is done, with a very small gap like 0.1 sec between them. i guess it will manage ;)

Not just the GS4. The LG Optimus G Pro had this feature first

Any benefit of having this feature?

Taken a page somewhat from Samsung good going though im liking it :)

At least S4 people won't be able to brag about it to us. We can say, oh we got that too.

That's true so if any say oh can your 920 do that i can say yyyyyup so shh

Not really, the S4 access both cameras at the sametime and actually inserts the FF pic into the RF photo, is a good attempt but not quite there yet.

Like the clone app for WP but two cams

Actually using cameras simultaneously is not easy. Can you keep a straight face while taking pictures?

Not sure how long it takes to get an app from dev to submission to being populated in the store, but I am sure it is not one week. Therefore I would say that this has been in development before the specs came out for the SGS4. It could very well have been inspired by the LG Optimus G Pro. Just saying ;-)

actually it only takes about 10 days.

If you can dev a decent app that actually does something, from idea to development to submission, and have it certified and in the store within 10 days, you're my hero. I want you to teach me. And while you're at teaching me, can I have your autograph???

There is nothing new under the sun.

Its not a lens. Should add that..

Not bad. Needs some work.

It works perfectly fine on my Ativ S on highest resolution. Funny thought got this before the S4. This is huge.

Has anyone actually seen what the results of the SGS4 dual camera pictures look like? Is it really just a side-by-side or picture-in-picture effect? If so....that lame, no matter who came up with it. I don't see the point.

There are some videos of the s4 dual camera. Just look at this one http://youtu.be/brV02KwQ4aI

Okay. Remarkable capability....with absolutely no value whatsoever. It just....looks....stupid. In fact, I can imagine the biggest use for it will be for guys to make very crude and vulgar pictures and videos. Lovely, just lovely.
What a waste.

This my friend is just a gimmick to even draw more ppl in to buying it. I personally don't think it is so awesome either. I do think photosynth what we have is pretty cool. I gonm stick with my Ativ S but I preordered on a upgrade the S4 what I will sell and make pretty sure some great money on it.

Depending on battery tests and user reviews, Im probably getting the octacore sgs4 myself to replace my 920.
Its getting tedious with the small quirks in every action i want to do on my 920, in combination with the rapid batterydrain during certain processes... My SGS3 had far better battery overall, and there were no problems with it. Hopefully this translates to the sgs4, but with improved battery.

Yes the Nokias for some reason have issues battery wise and also with music apps like Spotify but the 8x has also issues with it. I replaced the 8x 3 times and the Lumia 920 and they still crashed on Spotify and frooze and stuff and had bad battery drain. My Ativ S on the other hand has no issues with Spotify and other apps. I talked to Samsung Germany asking them about a sound equalizer and they said one of the major issues they had was with media apps and the sound profiles or equalizers that's why they left them out of the Ativ S and the Ativ S has no issues battery around 20 hours or so where I got 6 7 on the Lumia 920 or 8x but the Ativ S does sound kinda weak when listening to music compared to the others but at least I have excellent battery and no crashing. I take that any time.

My battery is ok with normal nonsmartphone use, but games etc drain it ridicolously fast, also sometimes in standby, possibly a network thing, switching between 2g and 3g i assume...
Spotify works ok, but even in offline mode, songswitching sometimes takes a long time, sometimes it pauses the next track for no reason and i have to wait and hear if it changed track but its delayed, or if it changed but the song has a silent intro or if it changed and then paused. Problem when using headphones and don't see the screen.
Also seeking in the track on videos/music isn't even there, as well as a decent audiobook feature/app...
Iunno, its just riddled with these small annoyances that add up over time.

Like I said I do not have any of those issues anymore since switching to the Samsung Ativ S. It really seems software related to Nokia and HTC

So your phone doesn't get warm amd/or drain battery a lot when playing games, you can pick a timeline point in a youtube vid or a song instead of having to press the forward button, you don't get the Spotify song skips, you have a good audiobook program, etc?
Most things are not model related, most things are sw related. There's tons of those things i didn't even mention last post, because there simply too many to list atm.

Did you have those problems on the 920? Thinking of switching from 900 to 920 in the next few months, but I don't have problems like fast battery drain, overheating, or song skipping (think that's a problem with Spotify, I use metro radio which is Pandora with no audio ads and unlimited skips plus can be controlled from lock screen). I wonder if these are network related. I noticed you only mentioned 2g and and 3g. Live out in a small town and we have 4g although 80% of the time I'm on WiFi. Once you get used to it, you can control videos pretty well with the skip ahead and back feature

Other than on SOME apps needing to use arrow buttons to move video or music, I don't have those other issues you describe with the 920. Maybe I was just lucky. I ttried Spotify, just because of all the hype, and I didn't have any skipping problems but , to me, the service is just lame, so I dumped it. Between XBox Music, Nokia Music and TuneIn Radio, I get everything I need without having to pay extra.

Its not network related, as its the same on wifi as network. Also the games aren't connected games, but pure offline games. It also happens in offline mode.
And yes i can manage with the video thing, but i shouldn't have to in 2013 really :P . And some streamed videos you cant even ff or rewind at all.
But again; its not a specific thing, rather several minor annoyances that add up to a general annoyance.
Scuba: maybe you didn't try it for long enough to notice, or my device is special in some way :P .

One feature I like on S4 is video pause when your face turns away from watching the video. Wp8 or next upgrade would be a great feature to have.

WP8 users are a bunch of cry babies....

Dual cam photo is an awesome app used in windows 8 devices.It helps in different ways of photos editing.They can be used to crop images as well as we can combine different photos.it is an useful app.

George,
Thank you so much for reviewing my app!
And thank you all readers and users for the comment, feedback and for using the app!!
I saw some comments about the timing of this app, so I wanted to add a quick note that the initial version of the app was certified by the windows phone store on 02/22/2013 (more than a month ago).

My blog, "ShuBytes" has a post "Dual Cam Photo: Put the photographer in the picture!" if anyone is interesting in reading more about this app :)

you need to improve it and i am sure you can charge alittle for it too if you improve the app to be on par with s4 dual cam functions
Windows Central Newsletter
Thank you for signing up to Windows Central. You will receive a verification email shortly.
There was a problem. Please refresh the page and try again.