Puzzle Retreat slides onto Windows Phone 8, we look behind the scenes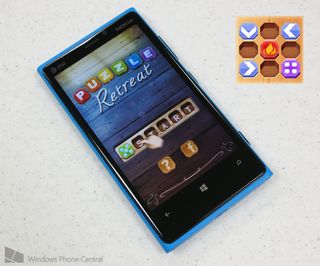 Slowly but surely, the upcoming Windows Phone 8 games we previewed from Casual Connect a few months ago have started to appear on the Store. First came Babel Rising 3D, then Yeti on Furry (awful name!) and Nightmares from the Deep: the Siren's Call. Now Puzzle Retreat, the first game we covered from the show, has finally become available on Windows Phone 8.
Puzzle Retreat (from Australian developer Voxel Agents) is quite clearly a puzzle game. Windows Phone owners can enjoy the first 60 levels for free, and then opt to purchase additional level packs if they like. The developers took great pains to ensure Puzzle Retreat runs on devices with 512 MB of RAM, so everyone rocking a Windows Phone 8 device can play it.
We've got impressions, hands on video, and new behind the scenes info from the developer – all after the break!
Get away from the grind
The basic goal in Puzzle Retreat is to fill every empty space on the board by sliding blocks into it. A block can only be moved once, and only in the cardinal directions. Once all the empty spots are filled and the blocks have all been used, you win the level.
Before long, a variety of special blocks and tiles make their way into the puzzles:
Blocks with dice patterns on them will split up into 2-5 separate blocks when moved, filling multiple spaces.
Ice blocks can water Bonsai saplings or be melted by fire blocks.
Fire blocks melt ice blocks and turn into an impassable block when they burn out.
Bonsai saplings grow into impassable trees when ice blocks touch them.
Arrow tiles cause whatever blocks pass over them to move in a different direction.
And more!
Since blocks can only be moved once and puzzles get increasingly complex, it's possible to make a mistake that prevents you from finishing the level. If that happens, players can undo any move they've made so far by pressing the undo button on the previous move (the hardware Back button also performs the same action on Windows Phone). Or start from scratch by tapping the reset button at the top of the screen.
Call for help
If you really struggle with a puzzle, help is only a button press away. Press the Help button at the top of the screen to visit a Facebook page dedicated to that specific puzzle. There players can ask questions and offer advice. It's definitely an innovative use of Facebook.
However, the feature's implementation on Windows Phone leaves something to be desired. The page loads up in a web browser at a highly zoomed, not optimized for mobile level. Because it can't be zoomed out, the shared solutions are difficult to read.
Voxel Agents discovered this issue during the game's QA process. Unfortunately they don't have the control over the page's formatting on Windows Phone. But they are currently working with Facebook to solve the problem, which should not require an actual title update.
Graphics and sound
Besides clever and challenging gameplay, Puzzle Retreat has also benefited from its very solid artistic design and UI. On the level select screen, you get a preview of the level's appearance and indicators for whether that level is un-played, in progress, or completed. During gameplay, all the functions you'd need are just a single button tap away.
Backgrounds look like they're made of wood, as do most of the blocks. Slide a block into the spaces and they make a satisfying "thunk" sound. Everything is bright and inviting. The only disappointing aspect of the sound for me is the complete lack of music. I always prefer an in-game soundtrack to hunting down my own tunes.
Building a better port
Puzzle Retreat utilizes the Unity game engine, allowing for a relatively painless porting process from iOS to Windows Phone 8. It took a team of two (one designer and one programmer) two months to bring the game over. That's the same time behind the Android port, so at least Windows Phone doesn't seem that much harder to work with than the competition.
The developers added a couple of improvements in the process of bringing their baby over to Microsoft's smartphone platform. For one: they enhanced the level completion animation. This should increase the satisfaction players feel when they beat a level. It does look pretty cool when all the blocks pop out of their holes before the game moves on to the next stage.
The second little enhancement: a live tile. After pinning the game to the Start screen, its tile will display the game's logo atop the most recent stage's background. It's not the most inventive use of a live tile, but still a cool touch regardless.
One challenge that Voxel Agents faced involved Puzzle Retreat's stability on low memory devices. The game would sometimes crash when played on the Lumia 520 and other devices with 512 MB of RAM. The developers discovered that an issue with Unity was the source of the problem.
A huge segment of the Windows Phone 8 market owns 512 MB phones, so Voxel Agents would have limited the game's penetration potential had they released the game without low memory support. Leaving the crash in would have tarnished their reputation for quality and polish, so that wouldn't have been ideal either. In the end, the team decided to delay the release until Unity could fix the engine problem.
Windows Phone and beyond
As long as Puzzle Retreat does well on Windows Phone, the developer plans to support it with new content and features. One of those features is cloud save support. At present, players can restore purchases, but actual save data is not stored on the cloud. As for new content, the "Promenade" level pack that debuted on Android last week will likely be released for Windows Phone as well.
A game like Puzzle Retreat plays great on tablets as well as phones. Voxel Agents first demonstrated it to us on an iPad, after all. Naturally we'd love to see a Windows 8 version to complement the phone version. Voxel Agents reveals that a Windows 8 port is "on [the] radar."
Again, the decision to go ahead with it will depend on the Windows Phone game's performance. As long as the phone version does well enough, we can expect Puzzle Retreat to appear on Windows 8 during the first half of 2014.
One pack at a time
Puzzle Retreat includes two free level packs: "Welcome" and "Morning." Welcome starts out easy enough, but the challenge ramps up around the 15th level or so out of 24. Morning is even more deviously difficult from the get-go. It will take careful thought and practice to clear its 36 levels.
Players who want more block-sliding puzzles can buy extra level packs for 99 cents each. At present, the Windows Phone version offers six extra packs – all with 36 levels apiece. These new level sets feature unique backgrounds, advanced block varieties, and new completion animations and sounds. I grabbed the "Piano" pack and was not disappointed to hear a piano fanfare when I beat a level.
Puzzle games don't tend to amaze from a technical standpoint. But games like Puzzle Retreat can grab certain players and refuse to let go. These puzzles require plenty of planning and/or experimentation in order to succeed. I imagine the game has some will be too hard for certain players, but at least you can always move on to a different puzzle or use the Facebook help feature if you're stuck.
Puzzle Retreat has lots to offer puzzle fans. Hopefully mobile Windows platforms will see lots more from Voxel Agents in the future.
Puzzle Retreat – Windows Phone 8 – 18 MB – Free – Store Link
Get the Windows Central Newsletter
All the latest news, reviews, and guides for Windows and Xbox diehards.
Paul Acevedo is the Games Editor at Windows Central. A lifelong gamer, he has written about videogames for over 15 years and reviewed over 350 games for our site. Follow him on Twitter @PaulRAcevedo. Don't hate. Appreciate!