Remedy is working on two new titles, neither of them Alan Wake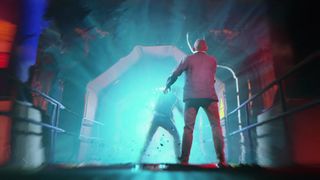 Remedy Entertainment, the studio behind Quantum Break for the Xbox One and PC, has given an update on the state of the studio. In an effort to create more games at a faster pace, Remedy will expand into two game development teams.
While the developer will still be supporting Quantum Break, the teams are already hard at work on new projects. From Remedy:
In order to set expectations, Remedy communications chief Thomas Puha announced that neither of Remedy's new projects are Alan Wake titles. However, Puha noted that the company is still "exploring opportunities in other mediums to tell more Alan Wake stories."
What would like to see next from Remedy? Let us know in the comments.
Windows Central Newsletter
Get the best of Windows Central in in your inbox, every day!
The press release explicitly states that the two games they are working on are not Alan Wake related. The part that worries me the most is the "new" partner they're working with. I think they're exclusive partnerships with Microsoft Studios in the past have produced great results and, as an Xbox gamer, I selfishly would prefer that to continue.

Lol just let me get some sweet sweet DLC for Quantum Break.

I"d love to see a DLC or an expansion of some kind for Quantum Break. The game is great and i love playing through it but the story felt a bit short and left me wanting more

I always wish companies would make more single player DLC, it always feels a waste when their a game with fun mechanics and you get to the end of the main campaign. I guess it makes sense though that designing and building a set of maps for a multiplayer game is more cost effective.

not necessarily. bioware/ea made two single player DLCs for dragon age inquisition and both were excellent and expanded the main story, the second one even setting up the story for a future sequal. so i think remedy should be able to make a nice DLC for quantum break and answer some of the questions left at the end of the main campaign

More quantum break... Posted via the Windows Central App for Android

"Exploring opportunities in other mediums to tell more Alan Wake stories"... Telltale games series?

Remedy working with a new partner 'Sony'??

Could be. Xbox missing the VR makes Sony natural choice.

Xbox will be supporting VR very soon. And likely it could be supporting all the big VRs like Vive, Rift, and their own. Though VR absolutely pales in comparison sales wise to what traditional games do.

there is absolutely no proof that MS will have a VR solution for the Xbox One this year. in fact the rummor out is that an enhanced version of the XBO codenmae Scorpio with supposed VR support won't arrive until some time next year. if true that's a far cry from "very soon"

True. Only thing they might offer is that Xbox + Oculus + gaming PC combo that is no solution to anything.

What is "a new partner" ? WHo is that ?

I didn't really like Alan Wake, but I am always in favour of developing new franchises over rebooting old ones

I'm playing through Alan Wake right now, for the first time (got it free with Quantum Break). I'm incredibly impressed. Despite not really liking the psychological thriller / horror genre, I can't put this game down. The writing, ambience, sound effects, lighting, voice acting, gameplay--literally almost everything about it--is superb. I was skeptical going in, especially since I made the mistake of playing American Nightmare first and thought it was just so-so, but I have been pleasantly surprised. Very impressed with what Remedy made here.

The next one sounds like it won't be an MS exclusive then

A real Remedy max payne would be awesome and discard MP3 from the universe(even though I enjoined it, but MP1 en 2 were so much better).

It's not Alan Wake, but it's Alan wake

I want to see max Payne HD. The old ones though
Posted via the Windows Central App for Android
Windows Central Newsletter
Thank you for signing up to Windows Central. You will receive a verification email shortly.
There was a problem. Please refresh the page and try again.