Quick tease with the Nokia Lumia 800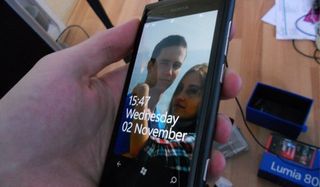 Allow this teaser to quench your appetite, we have a hands on coming up with the Nokia Lumia 800, and it's in the quiet rooms of a home instead of the busy bustle at Nokia World. Be sure to get in some microwave popcorn, stock up the beer fridge and join us when we take the handset for a spin and give our thoughts.
Until we publish the review, be sure to check out our quick run through of the Lumia 800 (opens in new tab), at Nokia World, after the break.
Windows Central Newsletter
Get the best of Windows Central in in your inbox, every day!
Rich Edmonds was formerly a Senior Editor of PC hardware at Windows Central, covering everything related to PC components and NAS. He's been involved in technology for more than a decade and knows a thing or two about the magic inside a PC chassis. You can follow him on Twitter at @RichEdmonds.
Took some photos of the Nokia Arch (check out the post from yesterday for the pics), will compare it to the Omnia 7 in the review. It's good though, very good.

Go read what tnkgrl said about the camera in the N9 on engadget, its basically the same unit

I know that, but I recently saw an article that Lumia 800 camera wasn't as good as N9 on CNET.

I read that too and took it with a pinch of salt, I know others say alot different

Gary, as much of a Nokia fan, and WP fan as I am, the info that I've seen regarding the N9 camera have been just 'OK'; nothing stellar. And they should be stellar given the optics. Shootspeak did a camera comparison of the N9 vs. the SGSII, and the N9 didn't fair better. As a result, Damian Dinning was, promptly, made 'aware' of the N9 photo results. Given the touting that DD did regarding the camera tech in the N9 (which was most likely mirrored in the Lumia 800), I hope that he is in the lab working on some firmware updates. Otherwise, what's the benefit of a Carl Zeiss optics on a 8MP, if other 8MP camera's fair the same or better?

1. it was CNET. 2. it was a very poorly done "comparison".

Thought so, but it is nice to have a confirmation from a trusted source (WPCentral). I wouldn't brave travelling to Stratford to see it myself ;-)

Looking forward to getting my hands on one of these in 5 days... All I need now is for Nokia to say "yeah sure keep it and develop something for it" ;)

ahhhhhh can't wait till this thing is released in hk.and the review

How long do we have to wait?? tonight ?? ;)

The review and hands on video will be up today :-)

how long do we have to wait?? tonight?? ;)

This looks great. I think I prefer black to blue but blue looks great too.

still don't understand why no FFC especially with Microsoft releasing video chat update in about a week. waste of phone, especially if you're locked into a 1-2yr contract with old technology

Are you serious. How is it old technology only because it has a lack of a FFC??? Plus who uses a FFC i can tell you it isnt a majority of smartphone users. Most people use a laptop far as I know. I have never seen anyone in public, on the train, anywhere use video calling. Maybe if your indoors and am chilling on the sofa and cant be bothered to move would you seriously use it. Yes there are some people who definitely need it for business or long distance relationships, families etc. But seriously its not a feature that has gone big yet. Motorola was doing the whole FFC thing back in 2005 still hasnt caught on. Nice to have but not necessary for most, its a want rather than a need!

It would be good if you could test the touch accuracy too. For example, the shape drawing games in Taptitude (or any drawing app would work.) On my HD7 the above games are really hard because on my HD7 if I go slowly the lines always come out squiggly, even if I move my finger straight, due to the poor touch accuracy on that phone - seems like there is a matrix of sensors about 5mm apart.

WHERE'S THE REVIEWWWWWW, and still kind of disappointed, kept us all excited and stuff for more than half a year, then releasing a phone with not the most that NOKIA can offer...i would love the 900, but i just can't wait for another one or half a year.

Review is up :-) Nokia had time constraints, what they produced in the time they had is pretty impressive.
Windows Central Newsletter
Thank you for signing up to Windows Central. You will receive a verification email shortly.
There was a problem. Please refresh the page and try again.