Popular Swedish quiz game Quizkampen comes to Windows Phone 8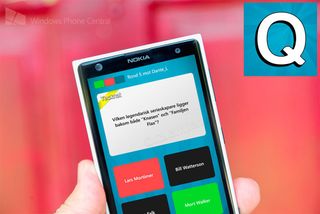 Here's a game for all our friends in Sweden. Quizkampen is now available for Windows Phone. It comes to our platform via Android and iOS, where it's already picked up a sizeable number of fans. Today you can join your iPhone and Galaxy friends with Quizkampen. Let's check it out.
Download the app and you can sign in with either Facebook or your own account. From there you'll be ready to play some quiz games. Quizkampen features:
Over 40,000 questions
200 questions added daily
20 different categories with fun ones like TV series, video games, and more
Submit your own questions to the game
Smart rating system to compare your skills with the rest of Sweden
Sadly, we don't speak Swedish. Although we do love ourselves some Swedish Fish (and babes), we didn't get a chance to enjoy the game like many of you will.
Hit up the Windows Phone Store to download Quizkampen for free. You'll of course need to know some Swedish to really have fun. Don't forget to use the QR codes below or swipe to the right to grab the game. Enjoy!
Thanks for the tip Samuel S!
Windows Central Newsletter
Get the best of Windows Central in your inbox, every day!
finally, what took them so long? i must say its better looking on WP than on Android and IOS

Äntligen!!!!!! Finally!!!

Great to see this game finally arrive on WP. If you go back a while this was a must have app in Sweden. But feels like not to many talk about it anymore. Hopefully it won't take this long for the next must have app to show up

Sadly so i think you are right:(

The story of Windows Phone... hey, want to play a game of Draw Something??

The Dutch website of this game shows a Windows Phone in the background ( http://www.quizduel.nl/ ) . So maybe the other languages will be releases soon .

German site as well. I've read, developpers are working on it with no release date to announce, as of now.

Sad this game has almost died out, at least among my peeps. Well. Great to so more apps released. Now there's a few other crucial things (Swedbank app, Tele2 & Halebop apps, a working Spotify app, Swedish TTS and voice commands and other) and then it MIGHT grow a bit more. My mother considered a Lumia, but went for iPhone 5s just for Candy Crush Saga...

I mailed Swedbank earlier this summer about an app for Windows Phone and they said they are working on a solution for Windows "Mobile" devices.

According to their support on Facebook they're working on a mobile solution for all operating systems - in other words - a mobile site. Sad. Which will come out next year during the summer. Yet they keep working on their specifically targeted apps for kids instead of getting a working Windows Phone app out there - when people have been asking for one for years.

Just give me Swedish bank SEB already! And candy crush (the only reason my wife doesn't run wp8) I know right..

Great, will give it a try.

They seem to be working on the premium version for the game as well - a bit like how Ruzzle did. At least as a Swede, I'm kind of happy to see it land in the store! In any case, I find it weird they did not release a Windows Phone 7 version, as they've been using a Nokia Lumia 900 to showcase the game for over a year over at their website: http://www.quizkampen.se/

Please learn to make QR Codes with real links, Sam! No one can use / scan this with his Windows Phone device!

Sounds like "quizbattle" :) that's what its called in Denmark.. But there has been an unofficial client in the store for quite some time :)

Funny that is my unofficial app(and it has quite a few bad revievs atm, so a small bugfix update is in the works), :-) it is not the same game though. :-P

been dying for this app in german! its pretty much all my friends have been doing. i was also this close to convincing a friend of mine to get a L520 but he then realised this wasn't available.. so no go!

About fucking time. Like a year too late tho, all my friends have moved on.

When Candy Crush comes to Windows Phone, we know it's officially not popular anymore. :p