Hands on with the Rail Rush Christmas update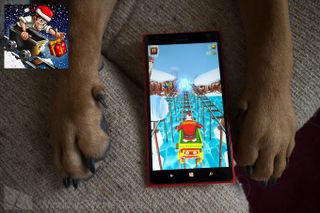 We are having a hard time putting our phones down after the latest version of Rail Rush became available this morning. It's another endless-runner game, but we like that the latest update gets you in the Holiday mood.
We put it in front of our camera to show you how it looks on our Nokia Lumia 1520. Head past the break to watch the video.
What's new in version 1.5:
New world "Snow Land" - visit the wonderful Snow Land and deal with the rumble valley!
New hero "Santa Claus" - a Christmas exclusive hero who helps you in destroying rolling snowballs
New Christmas theme music and game menus
If you want to play as Santa Claus, you need 25,000 points. You can earn points by playing the game, or you can buy them from the shop. This may be a good time to use those fresh Microsoft points from buying a new Lumia phone.
Playing Rail Rush is very simple. Lean left or right by tilting your phone. Swipe left or right to switch between tracks. Swipe up to jump and swipe down to crouch. Your job is to collect precious stones, so get as many gold nuggets and gems as you can. Try to avoid falling Christmas trees or other things that block your way. It gets harder the longer you stay on the tracks.
You can use the "Save Me" button after falling to prevent you from starting over. It costs points, so try not to use it too much. You can also equip your cart with power ups to extend your chances inside the mine, while completing missions and ranking up.
Rail Rush is a free download at the Windows Phone Store. It's currently only available to Nokia Windows Phone 8 devices. Go check out the Christmas update and let us know what you think in the comments!
Windows Central Newsletter
Get the best of Windows Central in in your inbox, every day!
This game looks so fun! Need to re-download it!

It's lots of fun! I like the gifts feature too, best way to handle the whole "I'm not paying for IAP" thing. Gives you a few passes to unlock worlds for a little bit.

Just redownloaded it 1 hour past I think. Playing and trying all the available free world. Seems like I will not stop. Haha :P

Mark brings a refreshing take on headline pics and adds a personal touch to it. It's humbling. The family aspect and what not :) Seasons Greetings :D

Should have had a picture of your dog with antlers and a red nose on him in the background instead of just his paws lol

lol good idea for another post!

Mark,what breed of dog is it?Alsatian/Labrador?

The adoption center put him as mastiff/boxer. It looks like he's going to be a lot bigger. He's currently 9 months old.

Yay, this is my favourite toilet game.

Yeah, its a good time waster when you're dropping off the kids.

The Best game till now on Windows Phone8..

One thing that we never seen with Xbox on WP games: thematic updates. Why? I guess everyone knows... All I want from now is that this great games add a cloud save way so I can reset my phone and not lost my progress. I stop playing games on my phone about months ago because I had to reset my phone so many times that I can't finish a game before that. Sad. :(

There is app backup option.take backup and uf u reset u will get that data back

I am unable to update to the latest version 1.5.0.0 (size 31 MB) (i.e.) when I click the update button, screen changes to 'downloads' but nothing happens after that. I am on WiFi. Is anybody else facing this problem? I dont want to uninstall since I will end up losing all the points/coins collected.

Restart your phone and try updating again!

Anyone figured it out how to escape the hand that pops up in one of the worlds...

It is either lean on the opposite side or slide down (bow)

Awesome game with more great update. Anyone knows how to use the permanent handbrake? I have eqipped it to cart, but there is no button to activate it. Cheers.


Its nice to see the christmas update. Gets us in the christmas mood. I'm sure especially the kids would love such kind of games during the festive season. When will Temple run 2 be out ? Is it goning to be released this year for WP8 ? I'm quite sceptical about it as its almost the year end.

I got a bad experience with my Rail rush update. Updated the game yesterday. Played it for a while and after that I can't play the game. It tells me to buy all the worlds, including the free worlds. When i press the buy button, nothing happens. I think I need to reinstall the game.
Windows Central Newsletter
Thank you for signing up to Windows Central. You will receive a verification email shortly.
There was a problem. Please refresh the page and try again.