Rainbow Six Siege Shifting Tides ships a perfect conclusion to 2019
Shifting Tides wraps Year 4 with a final strong season, filling the gaps in the Rainbow Six Siege roster.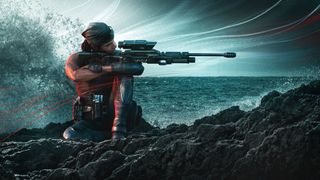 (Image credit: Ubisoft)
Tom Clancy's Rainbow Six Siege has locked down its fourth and final update of 2019 – and looks to end on a high note. Operation Shifting Tides concludes an eventful year with an aquatic twist, backed by another duo of playable Operators, and refresh of an existing locale. Its scheduled additions couldn't come at a better time, fulfilling highly-requested vacancies among the 50-strong roster.
Shifting Tides introduces Kali and Wamai, which might not occupy new roles, but serve as crucial and creative alternatives that diversify gameplay. They rival two long-uncontested Operators from back at launch, with Ubisoft's past learnings evident down their core identities. And if they fulfill Ubisoft's intentions, both could realign Rainbow Six Siege's meta into top form.
Marking a departure from global counterterrorism units (CTUs), Operation Shifting Tides enrolls private military aid. The Nighthaven Special Intervention Group takes the spotlight this season, its emblem prominent throughout teasers, welcoming elite Indian and Kenyan talent and new combat gizmos. Doubled up with a return to Hong Kong's abandoned Theme Park map, flaunting a brighter coat of paint, it amends any long-standing grievances of recent years.
Eyes On Target
Tom Clancy's Rainbow Six Siege
Addictive, challenging shooter action

Ubisoft's hit shooter is hotter than ever, touting tense tactical gameplay, and regular free updates. With millions of players in 2019, Rainbow Six isn't slowing down.
Kali: Precision, power, and an anti-gadget agenda
From privileged Indian origins and now Nighthaven lead, sharpshooter Kali joins Team Rainbow as its secondary sharpshooter on the roster. Controlling the perimeter via high-caliber firepower, she juggles sniping and anti-gadget utility as a two-armor, two-speed Operator. Her support-focused loadout might not be an untapped role, but fills a void between Thatcher and Glaz, serving as their much-needed alternative.
The centerpiece of the loadout is the CSRX-300, the first bolt-action sniper rifle in Rainbow Six Siege's arena. The hard-hitting cannon delivers a devastating blow of 97 damage per shot, paired up with a distinctive rumble bellowing down hallways. That power will instantly put any defender into a down-but-not-out (DBNO) state, also capable of tearing open soft walls or penetrating multiple enemies. Ubisoft has also implemented a unique reorientation mechanic for those downed by the CSRX-300, automatically facing the origin of the shot to relay Kali's position to allies.
But unlike Glaz's existing OTs-03 semi-automatic rifle, the CSRX-300's traits conjure a completely different beast. Slow rate-of-fire and five-round capacity encourage a distinct playstyle, proving highly effective with player precision. There's also a variable scope too, between the default 5X to 12X, although highly-situational given Rainbow Six's close-quarters gameplay.
Swipe to scroll horizontally
Category
Spec
Ability
LV Explosive Lance
Primary
CSRX-300
Secondary
P226 MK 25
C75 Auto
Gadget
Claymore
Breach Charge
Armor
●●○
Speed
●●○
Price
25,000 Renown
600 R6 Credits
LV Explosive Lances are the CSRX-300's hidden trick, a secondary underslung launcher providing anti-gadget utility. Firing against soft or hard surfaces will destroy gadgets on either side, not too dissimilar from Thatcher's EMP. The crucial differentiator is the destructive spin, eliminating devices like Maestro's Evil Eyes, rather than disabling them temporarily.
While locked into the CSRX-300 as her sole primary, Kali is backed by the formerly SAS-exclusive P226 MK 25 semi-automatic pistol and C75 Auto from Dokkaebi. It allows her to stand ground when up close, while still leaving opportunity for Thatcher's rifles.
Kali debuts in two long-uncontested roles, especially valuable as Pick and Ban hits Ranked. The LV Explosive Lances avoids past missteps of Glaz, taking on several roles beyond her sniper rifle. But she releases as Ubisoft struggles to find a place for its existing marksman and tackles the contrast of snipers in closed locales. If Ubisoft was going to bring a new sniper to Rainbow Six Siege, Kali is the right way, if she can make her mark on the meta.
Wamai: Jager's competition means high risk, high reward
Shifting Tides expands the defender lineup with Wamai, a Kenyan-born aquatic maven under Nighthaven. Ocean-raised under a fisherman's family, the two-speed, two-armor Operator touts underwater dexterity, climbing naval ranks and into Team Rainbow. Kitted in diving apparel, this Operator utilizes the power of magnets to shake up combat mechanics.
"Where Jager cancels gameplay, Wamai distorts it," Ubisoft tells us, crediting the Operator's new Mag-NET system. Framed as the long-desired Jager alternative, Wamai utilizes new anti-projectile tricks to eliminate throwables, among other airborne gadgetry. The value of Jager saw his pick rate skyrocket throughout Year 4, with Shifting Tides set to equalize popularity with its new anchor role.
The throwable disc-like form factor is fundamental to the device, affixing to walls and floors, awaiting passing threats. Grenades and projectiles in its radius are halted in their path, pulled in, resetting their timer, and detonating at the device. That skews the travel path and cook time across gadgets, potentially backfiring on attackers via smart placement. It's a less binary alternative to Jager's ADS, trading high risk for high reward.
Swipe to scroll horizontally
Category
Spec
Ability
Mag-NET System
Primary
AUG A2
MP5K
Secondary
Keratos .357
P12
Gadget
Barbed Wire
Deployable Shield
Armor
●●○
Speed
●●○
Price
25,000 Renown
600 R6 Credits
Although a Mag-NET node will deny one projectile before self-destruction, Wamai features a regenerating inventory, akin to Lesion. That allows for two discs during initial preparations, with more steadily fed into your hands as the round progresses. The implementation also promotes a more involved role of redistributing nodes during rounds, rather than the place-and-go nature of the ADS.
While Kali draws attention through her CSRX-300, Wamai revives existing weapons from attack and defense. The full-fledged AUG A2 assault rifle gets repurposed from IQ, delivering balanced performance, although hampered by the screen-filling silhouette. Mute's MP5K submachine gun returns too, while the Ketatos .357 and P12 occupy secondary slots.
I only had opportunity to spend a handful of few rounds behind the eyes of Wamai, and it's clear where he may fit in higher-tier play. The Mag-NET discs serve as a double-edged sword, balancing a firm objective perimeter while skirting placement at the detriment of allies. But my experience currently sees Mag-NETs temporarily slowing the attacker push, rather backfiring in any meaningful way. That time could be the deciding factor in a round, but he still falls among the pool of situational Operators received across Year 4.
Theme Park rework: Wait, who turned the lights on?
In addition to Kali and Wamai, Operation Shifting Tides revisits Theme Park, continuing Ubisoft's round of map reworks across the existing catalog. The reimagination tackles key community complaints while spicing up the palette with increased brightness and vibrancy. The team also considers cultural traditions, swapping out Gargoyle and Haunting Dining rooms with Throne Room and Armory in the process. Rail Platform finally gets the ax, while switching up other fundamental routes.
As proven by past Rainbow Six map drops, initial impressions after two hours rarely reflect the realities of the public launch. It's hard to gauge competitive flow, but the removal of Rail Platform and Arcade Entrance eradicate two former chokepoints, with significant implications on the objective approach. The Technical Test Server (TTS) debut will provide further context, though Ubisoft's philosophies already show notable leaps over the vanilla 2017 design.
Shifting Tides sets sail as an already fitting conclusion to Rainbow Six Siege's fourth annual rotation of updates. Kali and Wamai diversify teams through familiar abilities, supporting desirable roles in the meta, while Theme Park's rework revitalizes the locale. Supported by much-needed additions and amendments, Ubisoft appears to be examining the series wellbeing more so than ever, which leaves the tactical shooter in a robust spot as Year 5 looms.
Operation Shifting Tides is set for a November 11 TTS debut on PC, followed by an expected early December launch on live servers. In the meantime, Rainbow Six Siege is available starting at $26 on Amazon.
Ride The Wave
Tom Clancy's Rainbow Six Siege Year 4 Pass
Get the jump on Shifting Tides

The Rainbow Six Siege Year 4 Pass grants full access to 2019 content, with early access to Operators, exclusive in-game gear, and progression boosters.
Eyes On Target
Tom Clancy's Rainbow Six Siege
Addictive, challenging shooter action

Ubisoft's hit shooter is hotter than ever, touting tense tactical gameplay, and regular free updates. With millions of players in 2019, Rainbow Six isn't slowing down.
Get the Windows Central Newsletter
All the latest news, reviews, and guides for Windows and Xbox diehards.
Matt Brown was formerly a Windows Central's Senior Editor, Xbox & PC, at Future. Following over seven years of professional consumer technology and gaming coverage, he's focused on the world of Microsoft's gaming efforts. You can follow him on Twitter @mattjbrown.