Rainbow Six Siege Operation Wind Bastion packs some of its best Operators yet
Rainbow Six Siege wraps up its third year with Operation Wind Bastion, packing two Operators, an all-new map, and more.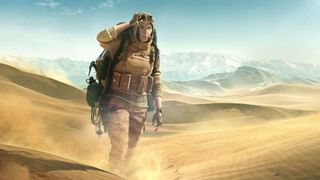 Ubisoft just revealed Operation Wind Bastion, the next season of content headed to its hit tactical shooter, Tom Clancy's Rainbow Six Siege. Wrapping up its third year of post-launch support, the update hits the blazing African heat amid a sky-high Moroccan fortress.
Operation Wind Bastion retains the standard template of past seasons, including two new Operators, one multiplayer map, and a variety of accompanying content. And while these additions won't reshape how you play, it concludes another year on a high note. After two hours hands-on with Operation Wind Bastion ahead of launch, here's what we learned.
Rainbow Six Siege Operation Wind Bastion: Everything We Know
See at Amazon (opens in new tab)
Kaid: King of the castle
Swipe to scroll horizontally
Category
Spec
Ability
Rtila Electroclaw
Primary
AUG A3
TCSG12
Secondary
.44 Mag Semi-Auto
Gadget
Barbed Wire
Impact Grenade
Armor
3/3
Speed
1/3
Price
600 R6 Credits

(opens in new tab)
Jalal "Kaid" El Fassi forms half of Operation Wind Bastion's playable duo, pitched as the resident Commander and mentor of towering kasbah. This defensive Operator delivers an electrifying twist on safeguarding objectives, distinguished by his high-voltage "Rtila Electroclaw." The throwable gadget latches onto any surface via a spider-style design, dispersing a deadly charge across nearby reinforcements and player-deployed gadgets.
The Rtila Electroclaw leverages a form factor comparable to Ela's Grzmot Mine, binding to flat surfaces, electrifying adjacent conductive gadgets and visualized by an on-screen perimeter. This vast area of effect also allows for chaining of multiple devices via a sole Rtila, forgoing the requirement of making full contact.
Due to its compact nature, the Rtila boasts formidable verticality, establishing the first solution for electrifying hatches from below. This could further promote creativity among defenders, allowing new placement configurations and reducing predictability. Making it easier to obscure the source of electricity, Kaid could prove challenging to hard breachers.
Backing Kaid's debut are two firearms, complementing his ability to lock down the objective. His AUG A3 puts a 9mm twist on the existing assault rifle, resulting in reduced stopping power and buffed fire rate. Conversely, the TCSG12 semi-auto shotgun packs a lethal blow, flaunting high damage when up close. And while only one secondary, the .44 Mag Semi-Auto is both hard-hitting and agile, and distinguished by its clear scope.
Kaid isn't innovative or extravagant but based on early hours with Operation Wind Bastion, could sway how the objective is approached. His one-speed, three-armor setup makes for an ideal objective anchor, contrasting his roamer-friendly counterpart, Bandit. While his Shock Wire may be overshadowed by the Electroclaw, increased agility might carve distinct roles for both Operators among the defensive lineup.
Nomad: Run like the wind
Swipe to scroll horizontally
Category
Spec
Ability
Airjab Launcher
Primary
AK-74M
ARX200
Secondary
.44 Mag Semi-Auto
Gadget
Stun Grenade
Breach Charge
Armor
2/3
Speed
2/3
Price
600 R6 Credits

(opens in new tab)
Sanaa "Nomad" El Maktoub is shaping up equally promising, as a student of Kaid, touting a skillset built on training expeditions. As the game's first offensive trap Operator, she's primed to sweep away the competition, with help from the signature "Airjab Launcher." This device stows proximity shockwave charges, swiftly hurling foes to the ground upon detonation.
Mounted to both of Nomad's assault rifles, the Airjab Launcher functions as an alternate fire mode, similar to Buck's Skeleton Key shotgun. These charges stick to almost any surface, readied with a proximity sensor and vibrant yellow light while dormant. Upon detonation, a sharp shockwave propels enemies backward, followed by a brief recovery animation. Although the Airjab won't deal damage, it opens a window of vulnerability for an easy kill.
Veterans may recognize this animation from Operation Chimera's Outbreak cooperative mode, seemingly recycled for a multiplayer debut. However, the ability feels fresh in the hands of players, while keeping defenders on edge. And yes, just like Outbreak's Smasher, the charge will throw you into destructible surfaces, often making for comical encounters.
Nomad has the choice of two assault rifles, both equipped with the Airjab Launcher attachment. The AK-74M is a power high-capacity rifle, while her ARX200 increases damage at the cost of few bullets. There's no vast difference here, though both are well-suited to the kasbah's open sightlines. The .44 Mag Semi-Auto also returns with its beautiful scope, proving equally useful when on the offense.
While Kaid is established on familiar foundations, Nomad offers a fresh take on the attacking role. It's clear she'll require time to use effectively, though just a couple of hours is showing her potential.
Fortress map: Play from all angles
Operation Wind Bastion also brings a new multiplayer map, "Fortress," in-line with the season's Moroccan theme. Following an agreement with Commander Kaid, team Rainbow Six will battle it out in a mudbrick kasbah amid the Atlas Mountains. Split into two distinct zones, there's a glitzy renovated suite for the resident Commander and a deteriorating training zone for elite soldiers.
Operation Wind Bastion showcases the team's improved map design process, with recent seasons committing to entertaining, competitive play. Despite its tight interior, hallways and interconnecting rooms also offer lengthy sightlines, packing welcome variety in encounters. And with roof access rivaling existing map, Favela, multiple entrance points ensure much-needed verticality.
As with most Rainbow Six Siege maps, you'll need a dozen matches to explore those nuances and form final impressions. However, leading up to launch, Fortress should be a welcome extension of the map roster.
As Rainbow Six Siege's final major update of 2018, there's no better time to get started, starting at just $27 on Amazon (opens in new tab). What are your thoughts on Operation Wind Bastion? Let us know in the comments section below.
Check out Windows Central's Rainbow Six Siege hub for in-depth coverage of upcoming content, latest updates, and tips to improve your gameplay.
Windows Central Newsletter
Get the best of Windows Central in your inbox, every day!
Matt Brown was formerly a Windows Central's Senior Editor, Xbox & PC, at Future. Following over seven years of professional consumer technology and gaming coverage, he's focused on the world of Microsoft's gaming efforts. You can follow him on Twitter @mattjbrown.