Rajeev Suri named as new Nokia CEO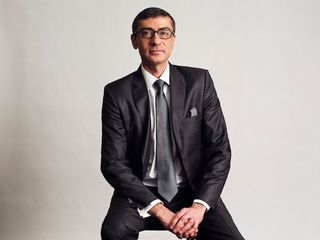 Nokia has announced that Rajeev Suri will become its new President and CEO on May 1. The 46-year-old executive, a 20-year Nokia veteran, moves up to the top job from his previous role leading Nokia Solutions & Networks, formerly Nokia Siemens. In a video message Suri says "the opportunities in front of us are as great as I have ever seen."
"The coming changes in technology will be as profound as the creation of the Internet," the new CEO adds, "we are rapidly approaching a world where everybody and everything will be connected." With the recent completion of Microsoft's acquisition of Nokia's handset business, Nokia will focus on three "strong business" areas — its HERE mapping software, Networks and Technologies.
A post on Nokia's official blog lays out the company's broader strategy. Its Networks business will focus on investing in new and innovative products and services for network operators, it says. Future efforts for HERE will focus on location tech for smart cars, "cloud-based services for personal mobility," including wearables and "special purpose devices," and location-based analytics for businesses. Finally, the Technologies business will continue to license Nokia's patent portfolio, while exploring new technologies "for use in potential future products and services."
Meanwhile the Nokia brand will continue to be used on Lumia smartphones created by the Microsoft-owned Nokia Devices and Services unit "for some time," according to recent tweets by @Nokia.
Source: Nokia
Windows Central Newsletter
Get the best of Windows Central in your inbox, every day!
Leads the hardware division at Microsoft now :)

He with microsoft now and the rest of the left Nokia this new CEO will be incharge of here maps, telecom

He works for Microsoft now.

It's interesting how already two new CEO's for big companies have Indian heritage. Both of them have a great outlook and have a strong technological background. It will be interesting what each will bring to the plate.

And both of em are from my college ! (mit manipal)

So you have a great chance...:D..

So you might get direct job there through approach...lolzzz

Really? I thought Nadella was an IITian?

I'm too from MIT, Manipal. Its celebration day here.

Indians...... Everywhere......!!! :)

Good.. Innovate so Microsoft can buy the remainder of you next year.

Could be Microsoft's gateway to Europe..

This guy reminds me of some American comedian who yells during his comedy - forgot his name

I hope even this CEO thinks of merging or selling Here maps to Microsoft. Such news will be great.

Never thought b4 that Microsoft will buy Skype, Never thought Microsoft would biy nokia devices. But it happened.

I was kind of surprised that Microsoft didnt buy HERE, it just seemed to make sense that they should've.

They tried to get it with the mobile divison, but Nokia wouldn't sell. Nokia is working the automobile sector with their HERE/Naviteq, which I read is(was) already in 80% of the in-Car Navis. Makes also sense, since they can't be making a lot of money with a free app :-)

Feel kinda sad for them. Wish them a smooth ride. And I love the way indians are taking over....what is India doing about it? when they talk of BRAIN DRAIN!!

2 persons vs 2,00,000 people..Its still there :-P

All the best man to lead the Nokia... ND don't let the name die

Funny. I clicked on the wpcentral site which was still showing the old news on the tile. The segment went blank& the new post appeared. Went back to the start screen. That's when the notification appeared..

Same here, don't think it happened before update

Don't know about the notifications but live tile wasn't updating for me since 8.1.

all I want is the lumia 930 here in the U.S. ( and don't think about replying to this comment about the icon or Verizon)

Buy it from Negri or another source then.

Variants! Wouldn't be much of a difference.

Indians rule them alll.....

Hey. Simmer down from your hot balloon. :)

Psst... Mughals, Bristish

Darius 1. First foreigner to invade India.

Welcome to Nokia !!!! Sir

He has been there for 20 years..

Go Indian go..... One day president of USA will be Indian.... Lol...

How is that funny?! I am Indian BTW.

Have you hear about Luisiana Governor? A Republican of India descendant and possible presidential contender.

Jindall has lost a lot of popularity after saying that the GOP has to stop being "the stupid party" (though he did have a point there). I don't think he had presidential ambitions anyway.

Satya Nadella is only 47 Years old. and yet Satya controls one of the most biggest companies in the world that has a marketing cap of 338B

Another indian... Well done

First & most important thing of all windows phone have not the basic features of Smartphone i mean to say smartphone not mobile.Please Mr.India put all basic features for Nokia (windows phone).For example............. file manager,usb on the go & where is fm transmitter gone people need that,copy/paste/rename/mark option every where,download video saved in videos or photos hub,curser in dialer,games like candy crush,sonic dash,apps like superbeam,app share,mx player,vlc player etc................

Hold your horses. First of all the first sentence is false. Second, I don't think the other things apply to him.

windows phone and lumia are part of microsoft now. Rajeev Suri can't do anything about windows phone. He's ceo of nokia(here maps, network and technlogies).


Everything you asked copy/paste/move/rename all comes in wp8.1 as a app already reviewed by wpcentral see with your eyes open man

Damn, looks like the Jews are now interested in us Indians. They/we be takin ovah! #YahudiShazish

Wow. Just... wow. Take that racist/ethnist crap and park it on some other site.

Nice address. Focusing precisely on each area. Right from the general viewer to the investor to the employees. Covering all bases

Nokia will rock with windows love the combo

In case you didn't understand, the focus on Microsoft is over. Nokia will now innovate to make things available to everyone, no matter the platform. So, you'll soon be seeing things like HERE maps on Android and iOS.

HERE maps is already on iOS (possibly on Android as well, but cannot be bothered searching). Nokia have long had a focus on getting their services on as many platforms as possible (see Nokia X). As do MS for that matter, so it was was maybe a priority for MS services, but not ignoring others.

But not camera the os protection and the cortana .. Everyone has their own unique ness we need to know and understand that

Elop is now listed on the Microsoft exec page.

Though it is good to see Indians excelling in IT. I've always hated being Indian. Japanese, German and Kelly Johnson engineering inspired me more than any Indian ever will.

I wish the era of Lockheed Skunk Works were just beginning. What an amazing time.

And soon Indians took over the world......xD
Proud to be an Indian

Fuck off u bloody Indians

You are such a bastard..It's better you fuck off...Wpcentral is not a place for cheap racists like you

Keep calm bro if u have guts to say that say in front of a press conference then do so. U will get a reason to be killed away

Oh come on dude O don't need to say this on press conference !!!!
I said that don't blabber Indian airs

dont worry he too is an indian... Russell Peters said it all i hope hhahahaha

its about about time ... for tech companies to be lead by indians :P

Outside usa, very few will get your joke :P

From your name I guess you're an Indian

Isn't Sri Lanka a dependency of India?

Don't give your airs for this site

Obviously my favourite part in this is that they did left the door open for a return to devices in 2016 through the Advanced Technologies division. And maybe even some smart gadgets before that. Also, the company was heavily restructured. You could say that, like Sony and Microsoft, they also went with the "One Nokia" approach. HERE will also get a slight rebranding to include "A Nokia Company" under the name and NSN was now extinct and transformed into just the Networks division.

Amen for the first part. just a wishful thinking. nokia has the chennai plant (India) which they can use to manufacture phones for msft till 2016 then they can use it to return to mobile manufacturing though chances are very rare.

I'm thinking MSFT will eventually pick up the 2 plants originally left out the deal...

The south korean plans is a small one (only 200 workers) and will be shut down.
The chennai plant, india is going through a very complex tax dispute and I think that msft will ignore going through that mess.

Hey!!! Siri's an Indian guy. Oh, my bad.

How long before MSFT buy the remainder of Nokia? I'll wager 18 - 24 months...

I think, there is no need for msft to buy the remainder of nokia. they already have the devices and services which they were really interested in the first place. they also have licenced the patents and mapping services and they have zero interest in nokia's network division, so why will they waste their money.