Razer Phone is a sharp Android smartphone for gamers
Razer's first step into the smartphone world is now official.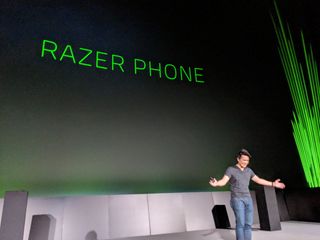 On stage at its London event today, Razer took the wraps off of its first smartphone. Simply called the Razer Phone, the Android device brings Razer's gaming gravitas to the mobile world.
The fact that Razer was working on a smartphone hasn't exactly been a secret. Following its acquisition of Nextbit, makers of the unique Robin smartphone, in early 2017, Razer hasn't been shy about teasing its plans to expand from its bread and butter of gaming peripherals and laptops to the smartphone market. What remained a mystery, until now anyway, was how it would differentiate the Razer Phone from the competition.
As you might expect, Razer is gearing the Razer Phone toward mobile gamers with some pretty beefy specs. One of the more intriguing inclusions is a 5.72-inch 2560 x 1440 display with an absurdly fast 120Hz refresh rate and a wide color gamut. Razer is also talking up the phone's audio prowess, with dual front-facing speakers, THX certification, and Dolby Atmos support. Internally, you'll find a Qualcomm Snapdragon 835, 8GB of RAM, and 64GB of storage.
Razer says its smartphone is the first to ship with Qualcomm Quick Charge 4+, which will allow the 4,000 mAh battery to charge from zero to 85 percent in an hour. Around back, the Razer Phone sports dual 12MP cameras, which will allow for some cool depth of field effects. Razer promises more features, like slo-mo and portrait mode, will arrive in future updates. All of this is packed into a matte black exterior that screams of the Nextbit Robin design language, albeit with Razer's iconic logo on the rear.
As for games, Razer has included what it calls Game Booster, which it says will let you manually optimize gameplay for performance or battery life. Razer also says it is planning gaming partnerships that will result in games that are optimized to run well on the Razer Phone.
The Razer Phone will be available starting November 17 for $699 / €749.99 / £699.99 in North America and Europe. Preorders are open now at Razer's online store, and the phone will be sold at Microsoft Stores as well.
Related
Everything you need to know about the Razer Phone
Windows Central Newsletter
Get the best of Windows Central in in your inbox, every day!
Dan Thorp-Lancaster is the former Editor-in-Chief of Windows Central. He began working with Windows Central, Android Central, and iMore as a news writer in 2014 and is obsessed with tech of all sorts. You can follow Dan on Twitter @DthorpL and Instagram @heyitsdtl.
Guys, am I missing something Microsoft related here? Honestly, I really don't get it...

Microsoft Stores will be selling it. End. We also cover Razer a lot here because they're awesome. This is the first phone I could see Windows phone users wanting to switch to since no bloatware, clean, specs, and ties to a popular PC brand.

And it's still running an OS by google, so using it would mean I have to let Google in my life... This phone is still not for me. But what I'd love to see from Razer, is a premium quality GPD Win-like device with LTE and beefy specs :D

It's not like you're letting Google couch surf for a day that turns into a month, it's just a phone.

But I'm avoiding to use all their services as much as I can, because I don't want their stupid ads everywhere, and don't want to know them what I do. The only service I'm using from them is YouTube, because there's not any viable alternatives to that. So if my 650 ever dies, and MS won't have anything I can replace it with, I'm switching to an iPhone instead.

Ok, I know you guys like Razer hardware but admittedly it's strange to see this thing pop up here without any Microsoft reference in the article no? Perhaps add that to the article? Was a legit question really, not a pun or criticism to be clear😊

Nah, its just mainly got more RAM, other phones do the no bloatware thing, everything else the average user wont take advantage of and is mainly nice on the spec sheet. Plus no wireless charging, a WP staple. Not really seeing why this would be a better phone to switch to than something like the Pixel 2.

That's your view, but that does not make it valid. The internet is FULL of sources with Android news. If we would want to know anything about Android we would visit those places. And even if I do want to read Android news, which might be the case, I would follow a website that is Android first, so I would not miss anything. Windows central is becoming less relevant by each day. Lot's of non related windows news or non consumer related news. I highly doubt this website can continue its existence long term. I doubt this audience really cares for 80% of all the news articles lately. I visit Windows central less and less. Not completely your fault of course, because Microsoft as a whole is simply becoming less relevant for consumers. For enterprise zdnet is probably the better place. Take my advice and focus on what is interesting for your audience and not on what is interesting in your opinion because that's seriously going off-road.

"That's your view, but that does not make it valid."

Listen, I don't want get into a tit for tat here. You don't like the coverage just skip it, no harm, no foul. No one is forcing you to click and read these, or comment on them. No one expects you to want to read every article we write, that's totally understandable. Also, our traffic is up YoY significantly and we're actually doing very well with a lot of growth for Windows 10 and Xbox gaming, so, um...no? We're the top Microsoft/Windows site for Surface, Xbox, PC, Windows 10, and more. Look it up on Alexa, no need to guess or base if off your usage. We do nearly 6M uniques a month, quite proud of that, actually.

Take my advice and focus on what is interesting for your audience and not on what is interesting in your opinion because that's seriously going off-road.

Going to take a hard pass. I've been directing content on this site since 2011 and it's done nothing but grow in part because we have an awesome audience here.

But Daniel, with all this Android posting you're going to push down all the Windows Phone articles and I realy, really need to know what is going to be in the next Security Update!

"Also, our traffic is up YoY significantly and we're actually doing very well with a lot of growth for Windows 10" Driven by the growing number of trolls that have setup shop here. Unfortunately this is how many other sites went. For example that "new win" site. The trolls started flooding the site, the site started publishing more and more articles that had nothing to do with Microsoft, and it has changed into a site that is more about Microsoft's competition and a gathering place for the anti-Microsoft people. I have said before having some non-Microsoft news is fine. When there is another Apple media circus, you know, the ones where they announce new products, this site usually has an article about how to watch it. Knowing what the competition is doing is good. Of course, your sister sites don't have the class to do the same when it is about Microsoft. But lately this site is starting to slide into being over taken by the trolls, and becoming a site that focuses on the other companies is, I fear, around the corner. Growing your traffic is good, but at what cost?

what do u want to see here? surface unicorn dreams? By the way go ask Nadella as to y sell this phone in MS store

You seem like the sort of person that would go to the SUpermarket and tell the cashier how to bag your groceries. I bet you're fun at parties.

We also cover Razer a lot here because they're awesome

thanks for the laughs

It's an awesome phone Daniel!

Yeah, for as much as people here complain that Microsoft is doing things for the competition, this site has been promoting the competition a lot. If they were post an Android article over at iMore the 10 people who read there regularly would revolt, but any old article here is OK.

Dolby Atmos? What in the F

I tell you what it would actually have been really awesome if the Razer logo lit up in RPG lighting when playing games/etc, but I have a feeling that migt be a bit harsh on the battery.

Hmmmm, Htc u11 plus, or this? I like the idea of all that RAM, and minimal bloat. But Htc have a longer pedigree.

I'm not getting why this should be anything special next to all the other top flagship phones. Especially if they want to focus on games? I mean, lets be honest, all that for hype for a 120MHz display? A true way to stand out and success would have been the possibility to add controller on top and bottom (like Nintendo has on the Switch) and stream all your games from XBOX, PlayStation, Steam, ... , native integration of Services like Twitch / Mixer / .... and Teamspeak/Mumble/...
So its just another phone with high specs

So this is just another smartphone?

With Dolby Atmos, 120 Hz display, Quick Charge 4+ and 4000 MHz. So it's pretty much awesome all around. And stock Android!

I doubt gamers will buy this. They play mostly on PCs and consoles, but not on smartphones. And I don't see why this is especially for gamers, apart from the high specs.

I agree pretty much a dissapointment, all that tech in the phone is wasted on mobile touch screen games. I thought it might have had some tie to Steam or maybe even Xbox (is MS were smart) but nope, no premium AAA games or network at all, just a high powered Android phone.

Actually, I like coverage of this imo! You guys should probably cover more non windows devices anyway since Microsoft's mobile world isn't with dead windows mobile no matter if they provide security updates...

The only way I would get this thing, is if they announce in 2018 it will be possible to root it and instal Windows 10 Andromeda OS. Then we are talking.

Assuming Windows 10 Andromeda OS is actually available in 2018.

I guess the price start in Europe will be 900€?if it's even coming here

750 Euro, which is still ridiculous.
Windows Central Newsletter
Thank you for signing up to Windows Central. You will receive a verification email shortly.
There was a problem. Please refresh the page and try again.