Give your eyes a break with Internet Explorer Reading Mode for Windows 8.1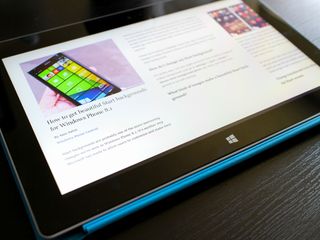 Microsoft recently released the Windows Phone 8.1 Preview for Developers and introduced a collection of new features, including an updated version of the mobile Internet Explorer 11. The new software update brought forward a collection of new exciting features along with an ability we have had for quite a bit in Windows 8.1's IE11 browser – Reading Mode.
The Reading Mode embedded within IE11 on Windows 8.1 has spent quite a bit of time being overlooked, but in fact, can provide a simple and distraction free reading experience for your favorite news and blog sites (including Windows Phone Central!)
To access reading mode within Microsoft's Internet Explorer browser, first make sure that you are running Windows 8.1 on your PC, which includes Internet Explorer 11. Next, go ahead and launch Internet Explorer from your Start Screen; you must have Internet Explorer set as your default browser for it to launch in Windows 8 mode.
If you are unfamiliar with setting Internet Explorer to your default browser, you can do it in a few simple steps. From your Windows 8 Start Screen type "Default Programs" and a new window will appear on your desktop; from there, select "Set your default programs". Find Internet Explorer in the list on the left hand side and confirm your choice by clicking "Set this program as default". Once finished, click "OK" to close the window.
Once Internet Explorer is set as your default browser, clicking on it from your Start Screen will launch the browser in the Windows 8 mode. To take a look at the Reading Mode, let us get started by heading to a site that contains articles and news – let us say Windows Phone Central. Once you are on the site of your choice, click on an article and wait for the page to load fully (the Reading Mode option will not appear unless the page is done loading).
The "Read" button should now appear in the address bar of your browser if you have landed on a site that is supported. Click the "Read" button in the address bar to launch the experience. From here, you can scroll left and right to read the content. Full text and images are displayed for your enjoyment, but all other content is removed.
If the Reading Mode is not displayed exactly how you wish it to be, you can access the browser's settings to customize your experience. Simply access the Charms bar, you can do so by swiping in from the right border of your screen (or by pressing WIN-C on your keyboard), and then select the "Settings" option. A new menu will open up for all of Internet Explorer's settings – click the "Options" button.
Within the options menu you are able to adjust the size of the font within Reading Mode between small, medium, large, and extra-large. The options menu also allows you to change the color of the reading background between sepia, black, white, and grey. Find what settings work easiest on your eyes and enjoy your favorite content!
If you have a Windows Phone with the Windows Phone 8.1 Preview for Developers, we recommend checking out our article here, to see exactly what has been changed. The customizable reading mode along with new swipe features, synced tabs, and more, are worth reading about.
Have you used Internet Explorer's Reading Mode before – how do you like it?
I am loving internet explorer 11 so much. It feels good to have all my favorites and password syncs between my surface and Lumia. This reading mode thing is actually handy.

Nice feature...certainly works well on my 1020 & on my Asus T100

One of my favorite features on this update!

Agree. I love it when it takes all the ads and links and hides them away, leaving just what I want to read, and related pictures.

I find it a bit slower than before. :(

HM. Didn't know it existed on IE11 on w8.1. Need to have a look at it.

I really like this feature.

I love this mode! No more squeezing, changing to landscape or squinting!

This is what I've been using in Win8.1 and I'm glad they've included it in WP8.1. The best way for ad free reading!

I was using UC before. But now IE 11 all the way

i have been using and loving reading mode on my windows phone for 2 days. was not aware it was available for my 8.1 laptop as well. will definitely check it out. thanks for the info!

how do i see my history in IE on Windows 8.1? (NOT in desktop mode)

Very poorly implemented. For example, images not displayed. I still use Web Reader http://www.windowsphone.com/en-us/store/app/web-reader/60745e69-6196-4ca...) on Windows Phone 8.1.

Big thanks for this link, this is what I've been looking for.

Interesting question :what's the keyboard shortcut to do it faster ?

Definitely useful although I get most of my news from apps so wouldn't really use the browser that much. Overall since I installed the developer preview I pick my phone up more and use it a lot more. It's a Lumia 925 and feels like a whole new phone

Haven't tried it on my Surface Pro yet, but this feature is awesome on WP8.1. Too many "mobile-compatible" sites haven't figured out how to display mobile yet (which I've noticed generally means they only tested on an iPhone).

It's hit and miss but I try it on all sites. Thanks for settings hint, it will make for much more enjoyable bed time reading

Love the idea of having the latest browser, and the reading mode is a great idea, I had really missed the reflow from my HTC Desire. But I have found IE a bit of a nightmare on some sites. Worst of all, the Major Nelson site does nit display properly. Anyone have any ideas why? I can no longer see the right hand side of the screen.

I love the reading view on my Kindle Fire HDX. Glad to see IE getting something similar.

I read all of my wpcentral articles in reading mode because its so good without any adds

I LOVE this feature and use it all the time.

Is Uploading and downloading feature added in IE11?

We have options for downloading from other browsers though but no ways for Uploading. I wish it's in IE11.

Too bad it is only for IE. Still using Pocket, independend on device/browser.

I hope they add a text to speech reading capability for the reading mode. I daily use the speak article feature of Weave news reader while commuting. If they do this to reading mode and even Bing news app, life will be awesome. Let my phone work for me.
Windows Central Newsletter
Get the best of Windows Central in in your inbox, every day!
Thank you for signing up to Windows Central. You will receive a verification email shortly.
There was a problem. Please refresh the page and try again.