Reading on Windows 8 - a look at Kindle, Nook, and Kobo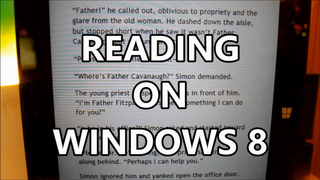 While many readers still embrace the paper pages of a book, others have moved on to the embrace of an electronic ink or LCD display. Amazon was the first company to push eBooks into the mainstream market in 2007. Today, many readers choose to pick up a tablet, cellular phone, or dedicated eInk device to dive into a world of adventure. We are taking a look at the top three eBook reading apps (Kindle, Nook, and Kobo) for Windows 8 and Windows RT devices.
Kindle
Amazon still clutches onto first place with its range of electronic ink reading devices and suite of Kindle apps. Opening the Windows 8 application throws you into a grid list of your eBook library that can be sorted alphabetically or by your most recently read content. Switching between content on your device and content stored in the cloud is only a click away.
The Kindle Store itself mimics the layout that we have seen on the Kindle Fire HD; it is easy to find new content, locate specific genres, and see personal recommendations.
Reading within the Kindle app is a pleasant experience as you swipe or tap your way through a novel. We did enjoy the added features including note highlights and quick dictionary definition look ups. There were times that the application detected a swipe or tap as a dictionary look up, but it was easy to note the mistake being made and correct our actions. It is my personal hope that Amazon works on a better way to detect swipes and taps.
Overall: The Kindle app has a large selection of eBooks and a super easy UI that allows readers to get to all their content quickly. The Kindle app also has the most unique feature set and dictionary definition lookups should not be underrated.
You can grab the Kindle app here (opens in new tab).
UPDATE: Since this article, a new version of the Amazon Kindle app with a brand new UI has been published; click here to learn more.
Nook
The Nook app opens up to display your "Daily Shelf", a five item collection of your latest content. The application design is a nice bright refresher compared to Amazon's dark Kindle UI. Users can scroll to the right to access more of their collection or start browsing content from the store. Unlike the Kindle UI, which tucks the store away until you need it, the Nook app's start screen is a mixture of your content and what Barnes and Nobles hopes will soon be your content.
The Nook store has a vibrant collection of media including books, magazines, and comics. Amazon has begun to introduce comic book content into their store, but for now – Nook has the edge. That being said, we recommend using comiXology's app for comic book reading.
Reading with Nook is also enjoyable. The application has a page slide animations which pushes pages out of the way; while more beautiful, I find the animations a bit distracting after an extended reading period.
We also enjoy the fact that the Nook app's settings allow for a "Publish Defaults" option; it is easy to switch on, and almost always seems to format an eBook perfectly.
We did not like the fact that columns could not manually be adjusted for reading within the application. The Nook app automatically selects a number of columns for you based on your text size – for me, this is a deal breaker and makes reading not as comfortable.
Overall: The Nook's UI is a welcomed change from the dark Kindle UI and offers a beautiful layout. If you insist on integrating comics and books in the same app, Nook has you covered. We enjoyed the option to switch on "Publish Defaults" for text, but the inability to select the number of reading columns - just might be a deal breaker.
You can grab the Nook app here (opens in new tab).
Kobo
The Kobo ecosystem might be considered a much smaller player next to Amazon's Kindle and Barnes & Noble's Nook, but it still provides a great selection of content.
Kobo's app start screen mimics the simplistic design of the Kindle app with similar store integration as seen in the Nook app.
Navigation between areas is cumbersome as the developer decided to ditch Microsoft's guidelines, and buried the nav bar inside the settings panel; this is extremely disappointing as the rest of the application, including the reading experience, feels great.
Navigation within your eBooks takes a slight turn from the Kindle and Nook apps as you are only allowed to tap through pages – no swiping for Kobo. The app does include an option for publisher defaults which we enjoyed.
Overview: The Kobo app creates a great alternative for readers who don't want to feed into the Kindle or Nook machines. The content selection for books is still vast, and reading is enjoyable. We would like the option to swipe through our content though. Also, a redesign of the navigation is a must.
You can grab the Kobo app here (opens in new tab).
For more information about reading eBooks on your Windows 8 tablet – stay tuned to Windows Phone Central. For more information about reading paper books – ask your grandmother.
Are you a bookworm - how do you consume your content?
P.S.- Any fellow nerds can join me on GoodReads by clicking here.
Great apps really... First comment again...

Again, no one really cares. Although good to see you actually had something semi constructive to add to the conversation this time

Congratulations on having no life.

We salute you, you are the winner!
I don't care about books, so I have no comment about the article.

That's really good to know Rayyan. And we're all wondering - what did you have for breakfast?

Rayyan Hussain: "Come on, new article, please wpcentral, i've been looking at the screen for hours now, I gotta be first at something in my entire life!"

Biggest difference is ecosystem. Amazon is both large and stable, and even if their app on W8 isn't the best at the end of the day its safer to give your money and store your books with them than with Kobo or Nook

Wait what? I don't get this.

i didn't notice until i saw this comment, look at the screen shot for kobo... lol

Liking sex makes you a pervert!? Better make them prisons bigger.

its just a poke for fun dude

When is Nook coming to WP8 after MS buys them or what?

First thought when reading this was about a radio commercial today I caught in the middle- '...or you buy a Kindle Fire HD for the techie dad.' Really? So tablet = for techie? Related to the article itself- I have the Nook app on my desktop. I think I fall into that "needs paper" category. I keep saying I'm going to get an e-ink ereader, but for the limited content I would use it for as we are both big paper readers still, I might just have to learn how to read on a desktop or on my 928. It would be useful if a monitor company could some how have a dual-mode screen where for text viewing it can go into e-ink paper mode. I realize it isn't practical, but it would make eBooks much more attractive as the multiuse devices could be truly hybrid.

I would also remind those that don't want to buy books that many local libraries utilize overdrive to handle eBook lending. I download straight to the app on my tablet. Reading is easy, but rotation is a bit wonky sometimes. For magazines has anyone ilused zinio? Libraries can use this too.

I used Zinio for a bit. Great service if you are a magazine junkie. Popular Science and Popular Mechanics both displayed wonderfully.

I use Zinio all the time. More of the magazines I read now offer their articles as text-only, which is how I prefer to read my content-heavy magazines.

sorry if I missed it but is there a similar article for WP8 readers? I have started reading A Song of Ice and Fire and would love to know about my options.
Currently I am using Freda on Win 8 and WP8 and it is pretty good except the inconvenience of no sync.

The Kindle app on WP8 is bare bones and a disappointment. No dictionary, does not always sync with my other devices, no note-taking, etc.

The nook app is sluggish on my surface rt. Prefer the amazon app for its speed and love the built in eBook store.

Also how.come no mention of Overdrive for windows 8? You can borrow eBooks from your local library for free!

Check the Store. It exists for WP7, and works pretty well.

The Kinde app still doesn't allow "Send To Kindle." This is a huge missing feature that the iOS and Android version do support. I don't buy a lot of books from Amazon, but I do have a lot of MOBI formated eBooks from other stores that I'd like to read on the Kindle App.

It is unfortunate. I personally use Pocket-It to save articles I find on the web. We actually did a review on Pouch, a Pocket-It client for Windows 8 and Windows Phone. Just a suggestion. :)

That's my issue as well. I use the Kindle app across all platforms (even though I don't have a Kindle) because it syncs my progress across devices. I have quite a lot of MOBI books (personal documents as dubbed by Amazon) that I can't really read on my Lumia 920. This is a big downer for me. Everybody knows how difficult it is to convert page numbers from one format to another. That's why I have to resort to my iPad or don't read altogether.

What's the point of an e-reader for my windows tablet or laptop if I can't switch to reading on my Windows Phone and back. My answer - none.
Wake up B&N and Microsoft. For me It's almost too late. My Kindle library is too extensive now. Why would I willingly fragment to another ecosystem?

Really, Peanut Press beat out Amazon for eBooks on Palm Pilots then adding Pocket PC & even on to Apple (before iTunes). I still own a ton but have to read them on old PDAs or finally Nook for PC.

I like the UI for nook but it is a slow and sluggish app for the surface so I use kindle for more stability.

can anyone enlighten me about adding pdf files to kindle library on windows 8 pc ?? like you can do on an android phone??

I still find Kindle slow to page turn. You could see that on the video too. Hopefully they can speed that up in future versions.

The #1 feature missing from both Kindle and Nook (haven't tried Kobo yet) is SEARCH. Such a basic feature, and I'm surprised it doesn't exist.

In book search exists within Kindle.

When the 7 inch Windows 8 tablets come out I will definitely be replacing my Kindle Fire with one. I can't wait.

Same here! We've been waiting so long... And I'll be happy to have Windows RT and not Pro on the device.

I personnly like "Book Bazaar Reader" the best. It is not perfect, but it is the only one that lets me side load books and group the books by author. I have tried all ebook readers I can find in the App store, but so far this is the only one that gives me as much flexibility to sort books the way I want to see them. I do also have Overdrive, Nook, and Kindle.

I can't find the Nook app in the Windows Store on my Surface RT. I'm from Norway, can this have something to do with it?

Probably so, since Barnes & Noble makes nook and it is a US store so I doubt you can buy things from it.

Wait, so you can look up definitions on the Kindle app?. How? I've never been able to do that.
Windows Central Newsletter
Get the best of Windows Central in in your inbox, every day!
Thank you for signing up to Windows Central. You will receive a verification email shortly.
There was a problem. Please refresh the page and try again.