Popular Reddit app 'Readit' arrives on Windows 10 to ruin your productivity
Reddit is one of the most popular social media sites on the internet, boasting almost 200 million monthly users.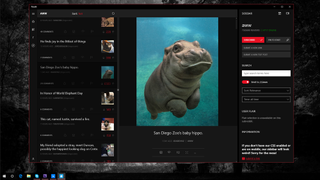 On PC, most users access the social media aggregate via their web browser. Browser extensions like Reddit Enhancement Suite provide improvements to the site's functionality. Though, in general, Reddit.com is pretty out-dated and proves a nightmare if you're using a touchscreen.
Thankfully, the chaps at Message Across Studios have finished building Readit for Windows 10 - delivering a premium Reddit experience for PC and tablet users.
Feature rich without sacrificing performance
Simply put, Readit for Windows Phone is so fun to use that it's been destroying my productivity for months now - and that trend is set to continue with their Windows 10 app.
Readit for Windows 10 uses the new universal app SDK, bringing with it a whole host of fresh controls. Considering it's a completely new app and separate from the Windows Phone version, some features are still in development. You likely won't be waiting long, though, as I've witnessed first hand how fast these guys work.
Readit for Windows 10 sports a customizable columnar interface, allowing you to hide and show elements with a simple toggle. With a touch screen, scrolling is responsive as you'd expect from a quality app, and elements shift with pleasing animations. When using a mouse, the app detects where your cursor is hovering allowing to scroll through different sections without selecting them.
I've been using Readit on an high-end Surface Pro 3 with a mouse and keyboard and on a budget HP Stream 7 with touch - it runs like a dream on both. Windows 8.1 Reddit apps often struggle when displaying websites because of problems with the SDK, but Readit does so smoothly without a hitch. Readit is among the first high-quality third-party apps dedicated for Windows 10, and it gives me optimism for the future of the ecosystem.
The vast majority of Reddit's functionality is present in Readit, including voting, upvoting, nested commenting, and so on. Readit goes a little further by incorporating DNLA/Miracasting into videos, allowing you to stream /r/documentary content straight to your Xbox One over your home WiFi. You'll also get notifications for comment replies in the Windows 10 action center.
If you're a user of the Windows Phone app, Readit for Windows 10 will be welcomingly familiar. If you're new to Readit, you might find yourself ditching Reddit.com for good.
Readit's future updates
Readit doesn't have complete parity with the Windows Phone version as it's a completely new app. The developers have big plans for updates moving forward, as they've detailed with me. This version focusses on standard functionality, power-user features and software optimisation, but future versions look set to make Reddit Enhancement Suite obsolete.
The first update for Readit will include user tags, full messaging support, comment search, post filtering, comment formatting preview and expanded mod tools. Future updates will bring back customizable settings light theming, multi-reddit support, sharing from other apps (e.g. the Windows 10 Photos app), the addictive swipe view and much more.
As a universal app, Readit will eventually make its way to Xbox One and HoloLens. A Windows 10 Mobile version will eventually replace the Windows Phone 8.1 version once Message Across Studios can bring feature parity.
You can pick up Readit in the Windows 10 store using the link below. It's free with ads, but you can remove them with a reasonably priced in-app purchase. If you've already paid for the Windows Phone version, you're all set to go as Readit supports purchasing across devices.
Update: We are seeing a download error through the Store right now. Sit tight and give it some time as the app should be downloadable soon.
Download Readit for Windows 10 / Windows Phone (Free) (opens in new tab)
Have you tried Readit for Windows 10? Leave a comment below or leave a post for the devs directly on /r/readit!
Jez Corden is the Managing Editor for Windows Central, focusing primarily on all things Xbox and gaming. Jez is known for breaking exclusive news and analysis as relates to the Microsoft ecosystem while being powered by caffeine. Follow on Twitter @JezCorden and listen to his Xbox Two podcast, all about, you guessed it, Xbox!
wow it arrives , great UI looks cool

Not available on my 32 bit laptop..why?

Apparently not available for my desktop PC either, 64-bit with gaming graphics.

Did you use the link in the article or search the store? The search from the store said it wasn't available for my SP3, but the link worked fine.

"Readit goes a little further by incorporating DNLA/Miracasting into videos, allowing you to stream /r/documentary content straight to your Xbox One over your home WiFi. " OH My. Awesome. "If you've already paid for the Windows Phone version, you're all set to go as Readit supports purchasing across devices." Even If it's a different app from WinPhone 8.1? Nice.

If you've purchased the app on your Windows Phone and you use the same Microsoft account on Windows 10, you don't have rebuy. Really cool dev.

As a developer you can link separate apps to be the same purchase (or in-app purchases from separate apps).

Nice! They said it would be here Friday but they got it out a day early.

This app will not work on your device... oh well..

lt will, just give it a bit to propogate across the store for everyone :)

Got it now, working nicely. Great work!

Been waiting for this!!! Time to install it on my desktop asap :-)

More apps coming to windows 10 yeah! But reddit been blocked in my country....

So glad this came out, AND I don't have to re-buy!

"Universal app" is the keyword here

Also just a heads up but Reddhub just came to phone today as well.

I'll have to use this until baconit comes.

If Baconit vs Readit on Windows Phone is any indication, I think you will like Readit much better. Definitely more fully featured (so that's what the sidebar is--I never used Reddit's web site, so didn't know what was else was missing), and fewer bugs than Baconit was when I switched a few months ago. I really did like Baconit while I used it, though.

Nice, smart of the dev to use a dark theme! Will download and use for that alone. White backgrounds only belong on print work.

This app will not work on your device. My device is SP3

I don't use Reddit, but it sounds nice what these Readit developers are doing for Windows ecosystem. good for them and the users who like using Reddit. :) I will install it, even if I don't use reddit just to see it. I got an error but closing the store and opening again the link made it install. but it looks good and all, hope more developers do a great job like these guys. The only bug I can see it's that gray tilebar when you click somewhere else and dont have it active. but thats the only visible bug i can see

Third party Windows 10 app having best UI ever...

The looks force me to download it... coolest UI

I was looking the other day for a reddit app working properly with mouse and keyboard and here it is!

I just use the browser for Reddit. Why do we need an app for something that works well on the browser?

Actually, when it comes to Reddit, I like using Readit much more than in a browser. Weird enough.

only available for phones

Says not available for your device. Windows Ten tablet

I don't see it in the store, please leave a link for indows 10 for PC

See y'all in a few weeks!

which is better Readit or NextGen Reader ??

Readit has one of the most beautiful UIs (and UX) for WP. So well executed.

Awesome! Best Reddit app on all platforms.
Windows Central Newsletter
Thank you for signing up to Windows Central. You will receive a verification email shortly.
There was a problem. Please refresh the page and try again.