Readit gets a ginormous 1.2 update for Windows Phone, here's all that is new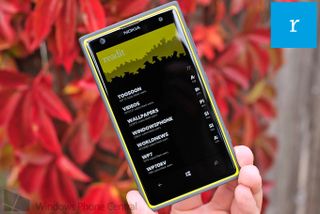 A few weeks ago we told you about Readit, a new Reddit (reddit.com) app for Windows Phone 7.x and 8 devices. We liked it so much, we gave it our editor's choice for Reddit clients. Even though its 1.0 debut was one of the best we've seen for any app, there was room for improvement. As a few of you noted in comments, memory usage and performance could be better.
Luckily, the developers agreed with you as version 1.2 just went live in the Store. Its changelog is either the most detailed we've ever seen, or it's just so massive that the developers should be commended for their hard work. In fact, it's so big it's not listed in the app or the Store.
But you're at Windows Phone Central, so we have all the details…
Readit version 1.2
BUG FIXES
720P/1080P, WVGA, WXGA Splash Screen Images added
Pull To Refresh arrows are now correct colors
Fixed small tile going blank
Fixed front page tile
Fixed an UI anomaly when replying to a message from inbox
[deleted] profile can no longer be accessed
LOADING POSTS indicator will now hide when posts fail to load
Removed some hardcoded colors in the YouTube player
YouTube site will now load instead of our player when listening to music on your phone
The app will no longer crash as often when viewing a profile on a low memory device
NSFW tags are displayed correctly when preview images are turned off
A LOT of Memory & Performance improvements
Battery life improvements
Background tasks will now work properly
Fixed failing to download things from the web when the app is backgrounded
You can now login with special characters in your username/password
IMPROVEMENTS
GENERAL
You can now open the system tray by opening the application bar on any page where there is an application bar but the system tray/time is hidden
Fast App Resuming - WP8 only
You can now close out progress dialogs by using the back button - everything will still be processed
Dialogs - like new post dialog - no longer close when leaving and opening the app again
When loading more comments, they are now ordered and parented correctly
Sidebar no longer shows huge quotes as the content
HOME PAGE
Made the font lighter
Search button added to the subreddits header for an access to quick search
Reordering subreddits is now much faster
Fixed a duplicating subreddit bug - WP8 issue only
There is now a delay before the rate and review reminder is displayed
SUBREDDIT MANAGER
You can now reorder subreddits like you can on the home page
You can now send a subreddit to the top of the list by clicking the up arrow
Subreddit Manager can now be accessed by users who are not logged in
INBOX
You can now compose a message to a user from the inbox
Performance improvements
VIEWING SUBREDDITS
When you upvote/downvote on a comment, the score and vote indicators are now colored to match the reddit.com theme
You can now vote rapidly without vote registration errors
Posts are now cached for 10 minutes. After it is cached, and you view the subreddit, it will load the posts from cache if the cache isn't invalid (invalid after 10 minutes)
Preview images are now loaded for all livememe posts even if the author didn't provide a file extension
An image loading indicator now displays for preview images that are still loading
50% image quality increase for preview images
Subreddit view resumes from the post you exited (if using Swipe view)
Wiki
VIEWING POSTS
You can now edit self text posts
You can now hide and save posts from Swipe view
You can now save images to your phone
All gifs are now handled correctly
YouTube player UI enhanced - much more friendly and sexy now
Subreddit name is now displayed in swipe view like so: i.imgur.com • pics
Fixed a self text rendering issue that could rarely occur
Updated UI for when a windows phone store link is being viewed
NSFW posts are masked before tapped
Landscape for Videos and Images should now work correctly
Smoother animations and swipe action
COMMENTS
Clicking on the post title will now navigate you back to the post content
Collapse comments by clicking the header now (name, date, score, etc...)
Collapsed comment UI added so that you know what is collapsed
Collapsing/uncollapsing comments are animated now
After voting on a comment, bringing up the menu again will highlight the arrow for which your vote was cast
LOADING COMMENTS - no longer displayed when more comments are loading, instead the running dots are displayed along the left side of the screen
Refresh Button added to the application bar
OPTIONS
Data Usage settings page has been added
New option - Use Full Resolution Images - on by default
New option - Use Full Resolution Preview Images - Off by default
New Option - Maximum YouTube Video Quality - Default 480p - 480p/720p/1080p
New Option - Back Button Navigates to Post Content - Off by default - Enable this to use the back button to go back to the post content when viewing comments
New Option - Show Posts That I Already Read - On by default - Disable this to hide read posts in Subreddit View
New Option - Lock Screen Update Interval (in hours) - 1 hour by default - can be set to 1,2,6,12,24,48
MARKDOWN IMPROVEMENTS
Numbered lists are now parsed and displayed correctly
Quotes now render markdown instead of plain text
Spoiler Alerts now have a new style
PROFILE
You can now compose a message to a user from the profile viewing page
ALBUM VIEWER
No longer shows an obtrusive message box when it fails to load an album
New grid index as a first page
Preloads the next and previous images
Smoother scrolling between images
SUBMITTING POSTS
You can now get a post title suggestion (like reddit.com provides) when submitting a URL post. This is only available when you enter a valid URL and the title box is empty.
THEMES
The entire theme is now special cased for light theme
Dark theme is now darker
New fonts, etc. everywhere
A lot of minor theme & UI adjustments
Holy moly. That is by far the most changes we've ever seen listed for a changelog. It may be detailed, but it's that attention to such things that makes this app, in our opinion, one to have on your phone.
They jokingly even note "and maybe about couple dozen minor things we just can't remember anymore…". We don't blame them. What's more, they're starting on version 1.3 tomorrow.
Now believe it or not, all is not perfect with version 1.2. There is one known bug that was caught too late in the submission process but will be fixed in a 1.2.1 update (already submitted).
Quick search function has a bug that will get you stuck
So just be aware of that. Otherwise, version 1.2 has just updated on our phone, so we're going to go ahead and use it for a bit. Once again, if you're a Reddit user, take a serious look at Readit. It came out the gates running and it looks like they're just getting started.
Pick up Readit here in the Store or scan the QR code below. Windows Phone 7.x and 8. $1.99, free trial.
Windows Central Newsletter
Get the best of Windows Central in your inbox, every day!
Daniel Rubino is the Editor-in-chief of Windows Central, head reviewer, podcast co-host, and analyst. He has been covering Microsoft since 2007 when this site was called WMExperts (and later Windows Phone Central). His interests include Windows, laptops, next-gen computing, and for some reason, watches. Before all this tech stuff, he worked on a Ph.D. in linguistics, watched people sleep (for medical purposes!), and ran the projectors at movie theaters because it was fun.
Updates are always nice. Things are going uphill from here.

Never got that phrase. Surely "things are going downhill from here" would indicate that things are going to get easier and smoother, but alas, it means the exact opposite.

Its because people mix up sayings all the time. Your right, going downhill was a good thing. But when we say things have gone downhill, its negative. Going downhill usually means you've created the hill and now it's easier. When something has gone downhill it indicates you have to help it back up. Both sayings use downhill hand get used in nonsensical wats.

It's like when people refer to getting a raise at work as 'climing up the ladder of success' or similar. Yes, climbing is hard, but the point is what you gain from doing the climbing. So 'going uphill from here' means to rise above the crap down below.

Seems like this is a big update to me!

Damn!! You weren't kidding when you said there were A LOT of improvements.

Incredible update, worth the money

Lazy developer. Only 75 fixes. JK :P

Much faster now, easier to search. This is actually replacing Baconit as my primary app.

Best Reddit Client in any platform. PERIOD. And its only getting better.

live tiles don't work on Lumia 920 with GDR3. sucks! shouldn't have bought this

They definitely do work. Check your background task permissions, app settings and wait for at least one 30 min cycle to go through.

did all that. still doesn't work. what do the live tiles suppose to show anyway? when i pin a readit tile, it shows my username and 1|0 when i pin a subredit tile, doesn't show anything

I'm with you on this, exact same problem on my 920. I just wanted the "r" tile or at least some useful info, but it always goes to 1|0 :( might be the background agent crashing, it doesn't stay in the allowed list for long. Love the rest of the app though :)

Save in swipe view!!! That was driving me nuts. Thank you!!

Getting better. Still takes unusually long to load images randomly.

Woah!! Hope this improves the app's performance a lot..

I love this app. That is all I have to say.

Hmm, nope. The app is still a time capsule for me. The front page is literally stuff from last year.

Daaamn that is one heck of an update.