Realarm alarm clock app for Windows Phone updated with better Cortana support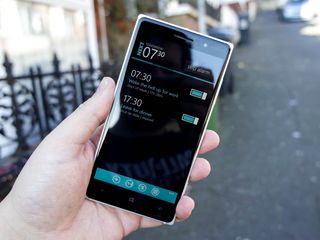 Realarm is currently our favorite alarm clock app for Windows Phone, and today a new version was released with a bunch of new features and improvements, including better English support for Cortana.
The developer behind the app, Viktor Szekeress, released a major revamp to Realarm in February, bumping the version number to 1.0 with lots of additions and improvements. The latest update brings the version number up to 1.0.1.0 and it has a lengthy change log as well:
[NEW] Established webpage http://realarm.eu/ with Faq section
[NEW] English voice commands reworked to work together with Cortana - see Voice commands page to check out new phrases
[NEW] German voice commands
[NEW] Voice commands now accept also 24h format to create new alarm
[NEW] Added 2 long sounds: Quantum leaper (I'm loving it) and Torchbearer
[NEW] Added 2 short sounds with huge pause (perfect for decent notifications)
[NEW] Russian translation
[NEW] Slovenian translation
[NEW] Norwegian translation
[NEW] Greek translation
[NEW] Ability to rename quick alarm directly on setup page
[NEW] Double tap on date in calendar to add new alarm
[NEW] Option to remove quick alarms immediately after expiration
[FEATURE] All sound files now have faded-in beginnings
[FEATURE] Removed today/tomorrow from Quick Alarm and Mute All pages, day is now calculated
[FEATURE] Showing day names instead of "days of week" in main list
[FEATURE] Alarm is automatically turned on after being saved (just like in native app Alarms)
[FEATURE] Date showed in long format in Alarm page
[FIX] Spanish translation is now applied also for other countries (e.g. Argentina, Mexico)
[FIX] Corrected French translation
[FIX] Corrected Dutch translation
[FIX] Fixed messagebox showed after "Cancel skip" voice command
Viktor clearly continues to add features to Realarm and we expect to see even more big updates for the app in the future. Thanks to Viktor and everyone else for the tips!
Download Realarm from the Windows Phone Store (Free)
Windows Central Newsletter
Get the best of Windows Central in in your inbox, every day!
The best alarm app. Thumbs up to the developer.

Could you detail the new voice commands?

Open the app? It will surely have something about it?

Only if I don't have to change region just to use cortana because I don't have much of her features. But I'm good with the pre-installed alarm though.

Why do you think you have to change region on your phone? It's better than the built in, it doesn't matter what region you have.

Preinstalled Alarm app is good but give this one a chance. Its awesome.

@Tafsern Because Cortana is not yet available here in the Philipines :(
@yaswanth I see, I'll give it a try next time I'm on a tight schedule, used to have 8 alarms in a day :D

Just keep your phone the way you have it right now, no problem. :)

Realarm is my favorite alarm app. Looking forward to use the new Cortana integration.

Best alarm app got even more better. [NEW] Option to remove quick alarms immediately after expiration LOVE THIS!!!!!

I use this. Good work dev.

I tend to use the silent alarm on my Fitbit flex, but I can see this getting used as a timer for cooking over anything else, with quick alarms.

Best alarm app out there! I love it!

The Best app alarm in the market!!!

Hey same..alarm app is built in to windiws 10..isn't it.?

I helped in Hindi translation... :)

This app is a must have, kudos to the developers.

"[FEATURE] All sound files now have faded-in beginnings" Done, downloaded. That's all I needed.

Nice, didn't know about this one. Any Swedish language support on the way perhaps?

When I started to translate it to Norwegian, the Swedish translation were on 20%. When I was done, nothing had happened with the Swedish. Go in and translate it, it's really easy :) Just ask the developer for a link!

Never heard of this app but it sure is racking up the cool points. Got to grab it. Thanks.


Going to check this out since everyone is all "best alarm app ever".

Realarm really is excellent!

A really top drawer App, so much better than the stock one, especially the way it puts upcoming alarms on the live tile. Couldn't be without it now.

Er, ok, and what is wrong with the built in app ? It works with Cortana (when she works) and works flawlessly. I have been using it from WP7 and never an issue. Yea, maybe this has more features but, for a morning alarm clock (like I use it for), do you really need more features for something to wake you up in the morning ? I'm sure it's pretty cool with it's feature set but, I guess I dont see i a need for these features on an alarm.

More features, a live tile that works great and it looks awesome. And it's free! No reason not to use it.

What a great app! One thing I miss is the stock alarm app automatically rings on my Band, which is handy. Hope this gets added in the future.
Windows Central Newsletter
Thank you for signing up to Windows Central. You will receive a verification email shortly.
There was a problem. Please refresh the page and try again.