Realtor.com picks up long overdue update for Windows Phone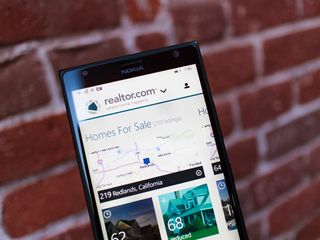 We love when a zombie app rises from the dead. Today we've got the official Realtor.com app for Windows Phone doing just that. Zombie app? It's a word we just made up for apps that haven't been updated in years, but then out of nowhere get a big update. That's what happened with Realtor.com for Windows Phone. Let's check it out!
Head into the Windows Phone Store and you'll see Realtor.com (realtor.com) sitting at version 1.0. How is this an update if it's at version 1.0? Well you'll notice that the app has the 'Made for Windows Phone and Windows PCs' badge, which means this is a Universal Windows app. We're guessing the app was completely rewritten and will be showing up shortly in the Windows Store as well.
The app is officially called 'Real Estate Search by Realtor.com' in the Windows Phone Store, but we're just going to keep calling it the official Realtor.com app for brevity's sake. We're looking at a redesigned app with the following features 90% of listings updated every 15 minutes. All the rest updated at least once a day.
Quickly swipe to see rich and detailed photos of real estate properties, apartments for rent and homes for rent that interest you.
Property listing details now include property tax, sales history and more school information including ratings for each house.
Draw your own custom search area right on the Bing map
Add open houses directly to your calendar from the listing (open house search is started from the Home screen)
Search nearby homes for sale, open homes, recently sold homes, apartments for rent, and houses for rent all from the photocentric and data-filled home screen
Filter out pending listings from your search.
Pin your search to the Win8 start screen
Sign-in to save searches and listings. Access them again on your mobile phone, tablet, PC or at www.realtor.com.
Don't forget to pin the application to the start screen in order to launch the app quickly and to view local market statistics right from the tile!
Realtor.com is one of the largest websites for finding your next pad. Whether you're looking for your first house or rental, Realtor.com can handle it. We're stoked to see the app get some love on Windows Phone and can't wait to see the Windows 8 version.
Update and tell us what you think of the new version of Realtor.com for Windows Phone!
Thanks for the tip everyone!
Windows Central Newsletter
Get the best of Windows Central in your inbox, every day!
Nice necro, Zillow was pissing me off.

Zillow is horrible in general, completely out of touch when using it for comparable sales.

Pff if zombies come ill just get a medal door and bar up my Windows. There dead so they can't break in.(most likely break there arms off trying to open the door.

*Bar up my Microsoft Windows

Yeah zillow isn't much help.

Oh, now y'all wanna cover some WP news....

Umm, what's this article got to do with Surface Pro 3?

I guess i see what you did there..

ZOMBIE APPS...
Voxer
XBM.... Lol!
Basemark OS 2
Glance Background
IMDB
Netflix... Which for some reason X
❕❕ Instagram "IDKW it's still" Beta
Kelly Blue Book
Photosynth......

Red box
Yelp
Pageonce
CBS Sports
Groupon
Living Social
LinkedIn
Health Vault
Vimeo
IMDB
Slacker
MyFitnessPal You get the picture...

I said IMDB.... Lol!!
Vine❕❕❕......... We'll just call them ZA's, or Zapp's... Lol

I'll see your LinkedIn and raise you a Bloomberg.

I'll see your Bloomberg, and raise you PayPal and Photobucket

I was just about to add MyFitnessPal. I emailed them yesterday asking if they will fix their app, so it can actually be used again...

Twitter. Jesús, los &android have updates every week or similar...

I won't be able to afford a house of I keep buying every surface pro Microsoft releases

I hope this makes the app useful. Real Estate apps are one of the beenchmarks I use to measure how poorly WP is represented in the 'real world' when it comes to app parity. Simply put, all US Real Estate apps have sucked royally from the launch of the platform.

And banking and store apps...

Not impressed. And I also don't get how anyone says this app is better than zillow's. Zillow shows so many more results with maps. I got 22 results from Realtor.com and there are only 4 filter options.

This app just went from useful to useless. The old app actually used your specific location to search close to you. This new app just uses the whole city you're in as "nearby." No settings anywhere to manually set GPS location either.

It worked for me. Showed my nearby area first, then if I moved the map and clicked the More (or something like that) button it repopulated the new map area. Only thing I didn't like was that I couldn't zoom in on the pictures.

It's definitely not using my specific location at all, either in map view or with a straight up search. Moving the map and 'Search Here' works but it really should find my exact location to begin with. On the plus side, the Windows 8 app is a little easier to use and navigate so I will perhaps use that instead.

There is a search icon at the bottom of the screen that lets the user to search the location.

I don't know how to phrase it differently. Searching does not use the exact location. It knows I'm in Chicago, but there's 13,000+ homes for sale in Chicago. Useless. It should start on my block first, like the old app did.

Another zombie app is Smugmug. When are they updating it?

Bad, bad app. Half the time it shows 0 listings where I am, the other time it shows 1 house. If I switch to map view it shows me the middle of the atlantic ocean. The filters for area do not work, the draw option to filter area throws an error message, and since its a universal app, it does it in both apps!!!

Sounds like they didn't even test it lol. Edit: Or you have location services off?

The app is pretty bad for me. I can click on a listing but the pics and details don't show up, and the location is a map of North America - which is true but not helpful... Also if I click the "more info" link in a listing, the app crashes.

Wow! Can I have the old app back please? Location on, constantly clicking show more just to get some results on the map view. No link to open houses. Again, old app please?

There's an option to filter for open houses only.

As a REALTOR I'm very pleased to see that the realtor.com app for Windows Phone is FINALLY receiving an update!!! Oh wait.. I just read the previous comments.. I'll hold back my excitement until I go try it out.

I am not having any of the problems they are having, so far...

It's ok. It doesn't load houses near my location,rather it loads my city.

Twitter is a Zombie app too - far behind its Android and iOS counterparts.

Hopefully this is a sign that a Realtor.ca app will be getting a similar overhaul/re-launch as it was removed a while ago as it didn't work on WP8 devices. I'd be happy just having an app...

It's kind of buggy. At this moment I liked the old version better. Perhaps they will improve it.