Red Dead Online: Everything we know about Red Dead Redemption 2 multiplayer
Assemble your gang this November for Red Dead Online. Here's what you should know.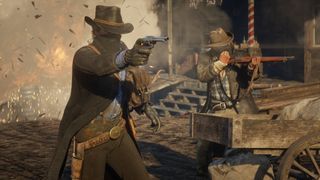 (Image credit: Rockstar Games)
Red Dead Redemption 2 is here for Xbox One and PlayStation 4, and it's shaping up to be one of 2018's top titles. While its Wild West world stows hours of single-player adventures, Red Dead Online brings together cowboys across the globe. Multiplayer details are limited but we've wrapped up everything we know so far.
See at Amazon (opens in new tab)
Red Dead Online release date
While Red Dead Redemption 2 beta saw an October 26 debut, the game's online component is subject to a delayed rollout. The initial release date is slated for November 27, with a staggered rollout among players in the coming days. Here's a breakdown of the planned Red Dead Online rollout and when you can play.
November 27: Red Dead Online available to Ultimate Edition owners.
November 28: Red Dead Online available to those who played October 26.
November 29: Red Dead Online available to those who played before October 29.
November 30: Red Dead Online available to all.
Red Dead Online first launches in public beta, aiming to excuse early feature limitations or technical issues.
Read more: How to play Red Dead Online beta
Red Dead Online news
As with many Red Dead Redemption 2 features, official Red Dead Online information is scarce. The studio is yet to detail the online experience in full; instead, it has provided small teasers of potential contents.
Red Dead Online should share similar core philosophies with GTA Online, dropping dozens of players into its open-world sandbox. Rockstar promises a blend of cooperative and competitive activities, alongside the option to freely roam its world. While you can draw parallels to early Red Dead Redemption online features, improvements seen in GTA Online will likely return. Red Dead Online will also support up to 32 players per server, as confirmed by the game's PlayStation 4 bundle, with eight players per player-created posse.
Speaking with IGN, Josh Needleman, senior producer at Rockstar San Diego, also outlined plans to "introduce narrative elements" for multiplayer. Taking forward the "best elements and best content packs" of GTA Online, these served as a "template" for merging gameplay with the narrative, he said.
Red Dead Redemption 2's $100 Ultimate Edition (opens in new tab) has provided further online details, promising exclusive bonuses to enthusiasts. Online outfits, weapons, and a horse are among the benefits, indicating customization will play a key role again. A free Survivor camp theme is promised, which could be Red Dead Online's version of player-owned apartments.
Like GTA Online's purchasable Shark Cards, Read Dead Online is expected to pack microtransactions. Common among games-as-a-service titles, this allows developers to monetize games and deliver free post-launch content. And it redefined Rockstar's approach to GTA V, eventually axing plans for single-player DLC.
In late 2017, Take-Two Interactive CEO, Strauss Zelnick, affirmed to investors that it will push "recurrent consumer spending" in future games. While Zelnick has since claimed it's not a "primary concern," we still expect a clear presence in Red Dead Online.
Red Dead Online leaks and rumors
One of Red Dead Redemption 2's biggest leaks surfaced via Trusted Reviews, which published alleged development notes in February 2018. The leak focused on the game's unannounced online features, detailing game modes and features.
According to the document, Red Dead Online will feature "Revive and Survive," a high-stakes, no respawns battle, and a "Money Grab" objective mode. Red Dead Online is also expected to follow the battle royale trend with a mode comparable to Fortnite or PlayerUnknown's Battlegrounds (PUBG). The leak also detailed numerous side activities, as listed below:
Challenges with small rewards.
Weapon challenges.
Deathmatches.
Treasure hunts.
Gold-mining.
Fishing.
Player-owned tents.
Wrapping up this leak, a companion app for iOS and Android is rumored, similar to Grand Theft Auto V's "iFruit." While primarily hooking into social features, a poker minigame will reportedly feature too.
We also expect Red Dead Redemption 2 to revive the Content Creator mode, with references found in the game's official font pack.
Red Dead Online DLC and updates
While Red Dead Redemption 2's focus initially lays with single-player, Red Dead Online will support the package for coming years. Rockstar plans to deliver regular free content to maintain an active player base, as seen with GTA Online.
Imran Sarwar, director of design at Rockstar North, told IGN the original Red Dead Redemption "fractured the audience" with every update. The team is now "obsessed by keeping the audience complete and experience beyond perpetual," which started in GTA Online. In short, don't expect standalone paid DLC, especially for multiplayer.
Through a Sony marketing deal, PlayStation 4 players will also gain early access to "select online content" before Xbox One players. This will remain a "timed exclusive for 30 days," although the content's scale is unknown.
Your thoughts
Which features do you hope to see from Red Dead Online? Drop into the comments section and let us know.
See at Amazon (opens in new tab)
Updated November 26, 2018: Refreshed with Red Dead Redemption 2's latest launch details.
Windows Central Newsletter
Get the best of Windows Central in your inbox, every day!
With the size of the download... I can see all of this happening, plus some more. I believe this game is gonna be be great

I would like to see a few X1X game play clips before I decide to buy. I'm afraid they might scale back the graphics on X1X since PS4 Pro is their main priority.

X1X does native 4k at 30fps. PS4 Pro does checker boarding and is blurry. Graphics and performance are much better on the X1X.

What makes you say PS4 is their priority? As Jams said, it greatly outperforms on the X over the Pro.

this says anyone who played on Oct 26 gets in Wed.
the other article quotes them as who played on Nov 26 get in Wed.

Given that Red Dead Redemption 2 would have sold itself, I wonder how much Rockstar got Sony to fork over. Didn't sound like something Rockstar had to have for a successful launch.

Does anyone know where to get a horse grooming brush in online mode?