Reddify is a brand new third-party Reddit app for Windows 10 PC and Mobile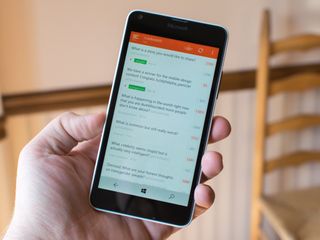 There's still no official Reddit app for Windows 10, but there are a few solid third-party apps in the Windows Store. The latest is called Reddify and it's a universal app for both PC and Mobile users.
Take a look at Reddify's long list of features:
Four different view options (List, Card, Pictures, News) per subreddit
Customize view per subreddit (Example set pictures view for r/pics and list view for r/askreddit)
Quickly toggle view for each subreddit
Multiple Accounts
Secure oAuth login, subreddit sync
Collapse comment and threads
User and story flair
Subreddit sidebar support
Trending subreddit
View imgur images, albums, gifs, gifv, gfycat, livememe, Flickr inline
Toggle images in comments (Requires setting every time app restarts)
IAMA mode for /r/iama
Quickly subscribe/unsubscribe form stories and comments page
Browse Multireddit support
Vote, comment, save, hide and share reddit content
Gilded comments/post highlight
Spoiler support
Browse and search user profile
Browse posts by domain
Basic search for subreddit stories
Full table support fro self text, and comments
Basic search for subreddit stories
modern looking and fast performing universal app
Basic search for subreddits stories
Full table support fro self text, and comments
Browse posts by domain
Search User
beautiful design user interface with loads of customizable options
Change color, font and text size
Night theme (Dark Theme)
Disable animation on slow/older devices
Move top navigation bar to bottom
Split-screen mode optimized for tablet and desktop
Lets us know what you think of this latest third-party Reddit app in the comments!
Download Reddify from the Windows Store (opens in new tab)
Downloading and will compare to Readit.

Surely you mean Baconit? :/

Readit is another app client, not a typo!

I see humour was one of your failed subjects at school :)

Imma computer scientist, I have to be factual by nature. I mean, that's rule #0.

Please be the one. I can't find a Reddit app I actually enjoy.

That and when you do they run it through the crapifier and ruin it with every update. Odd this is a different dev than the android version with the same name & logo.

He is the same guy making the app in his free time as a hobby !

There's plenty of great Reddit apps. All we need is some great Imgur apps.

No Windows Phone 8.1 version? Yeah, no thanks. #IamThe54%

Ahh. As much as I love readit, unless I run into some serious bug, this reddit app has already won my heart. It has appearance settings for large phones (bottom nav), list view, and easy access to commonly used commands (like copy post URL and nicer collapse)

Seriously Reddit? Get it together already.

What? What are you trying to express?

That reddit should've made an official app a long time ago

It would most definitely suck, just like the official Twitter app.

The new one is pretty good though. At least I'm enjoying it.

Beautiful app and very customizable. I will use it over Baconit.

Yeah, maybe. Still checking it out. Posted from Windows Central for Windows 10 Mobile

http://clkde.tradedoubler.com/click?p=259740&a=2542549&g=0&epi=d_wp&url=... ugg

anybody know if this is capchat enabled? not being a huge reddit poster poses a problem on ALL current reddit apps :(

Readit properly handles captchas. Source: I'm the dev.

Hmmm I'll have to look into this. So far I haven't found any Reddit UWP client that compares to Reddit Enhancement Suite (a browser extension).

is there any reddit 3rd party app that doesnt direct me to browser when log in, because reddit is blocked in my country

Man, redditors are rude! Has anyone seen the fatpeoplestories? This comment was posted on Windows Central for Windows 10 UWP.

Not all of reddit. There are friendly places like r/casualconversation and r/furry, not to mention helpful place like r/asktechnology. and then tjerebare places like r/dogshowerthoughts.

I was talking about that sub reddit. Not all are. Sorry if I made that a generalization This comment was posted on Windows Central for Windows 10 UWP.

Nah, don't worry about it. Most of Readit isn't super nice, but there are pockets here and there.

Loaded a blank UI on my PC. Uninstalled.
Windows Central Newsletter
Get the best of Windows Central in in your inbox, every day!
Thank you for signing up to Windows Central. You will receive a verification email shortly.
There was a problem. Please refresh the page and try again.