Reddit app Readit for Windows 10 is ready for the Xbox One with latest update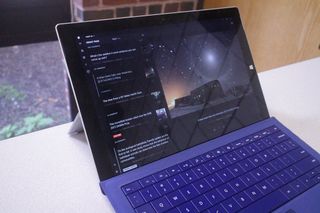 The popular third-party Reddit app Readit for Windows 10 on PC and Mobile has a new update. It includes a darker theme and is now ready to be released for the Xbox One, once Microsoft gives the go-ahead.
The change log for the new 5.4.0.0 version of Readit states its new features:
Dark theme is now darker (enjoy AMOLED users)
Light theme is now a bit lighter
Changed some animations in the post viewer such as the comments header and parallax effect added to post content, also the comment count now slides in where the loading indicator is instead of moving abruptly
New comment UI, transparent with a new hierarchy indicator
Changed the way subreddit post notifications work
A toast will only display on screen for the first new post it finds (this applies to every subreddit that you enabled notifications for)
All other posts found will be added to the action center silently (at most 4 other notifications for each sub)
Added support for the "suggested sort" that mods can set on posts (such as q&a for AMAs)
If a suggested sort is set and you visit the link, the suggested sort will be loaded automatically
You will know this as it will be indicated with a "(suggested)" tag either in the mobile sort menu or the desktop's sort dropdown
Comments should scroll a bit more smooth than before
Here's what Xbox One users can expect when the Readit app officially launches:
Select will open the hamburger menu
Y will open the sidebar
RB/LB, Right Thumbstick & Left Thumbstick Left/Right navigation in swipe view to switch between posts
Controller is used as a mouse until I get the time to write an entire UI for the big screen/native controller support
Favorites appear at the top of the subs list like mobile
Defaults to desktop UI, can be overridden via settings (Disable adaptive UI - on; Prefer desktop UI - off)
Moving right stick left/right will:
Upvote/downvote comments
Mark as read/unread for posts
Can be disabled via the Swipe Actions setting in browsing settings
Yes, there are some bug fixes as well:
Fixed cloud sync (roaming data) not syncing correctly for some users
Fixed adaptive UI on desktop/tablets not triggering, and the associated settings not being respected
Fixed vevo videos/copyrighted videos not loading
Fixed swipe view in profiles for all category options
Fixed a bug where posts would fail to load if a youtube url contained uppercase characters randomly in the domain name
Fixed "Select a post..." message disappearing in desktop randomly when there is no post selected
Fixed arrow keys navigating posts when in a textbox
Fixed links not loading when launching from live tiles for subreddits
Download Readit from the Windows Store (opens in new tab)
What I've been waiting for. Love Readdit.

TIL....ELI5.... Posted from PornHub.

Better than BaconIt in my opinion. Great to see more and more uwp apps coming to the Xbox store.

Can't wait for perfect workout app on the Xbox one.

nothing on windows store is an official app...i'll just stick to web mobile site if i want to access a server and sadly just leave the web page unclose

Yes but most of the third-party apps are better than the official apps. This is one of them.

I'm all for UWP and love Readit, but I have zero interest in this app on the One. Are people actually going to use this (even snapped) vs on mobile or PC?

That actually looks slick as hell.

Easily better than the app I was using. The auto updating Background and Lock screen wallpaper feature is a nice bonus to the app.

Wonder why third party apps are better rather than official apps...
Windows Central Newsletter
Get the best of Windows Central in in your inbox, every day!
Thank you for signing up to Windows Central. You will receive a verification email shortly.
There was a problem. Please refresh the page and try again.