Latest version of Reddit client ReddHub now available for Windows 8.1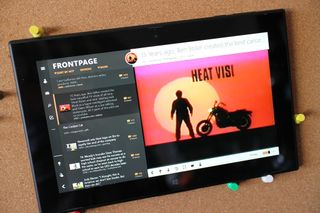 Yesterday we had a sneak peek at the next version of ReddHub for Windows 8.1. It's an app that Redditors should definitely check out if they're looking for a quality Reddit experience on their Surface 2 or Windows 8.1 device. The new update is now live in the Windows Store. Full details and download link below.
ReddHub (official name Reddit ReddHubV2) is a fully-featured Reddit client for Windows 8.1. This latest update has been rewritten from the groundup to be super fast and stable. Here are some of the features you can look forward to the app:
Easily browse your favorite content in a rich experience
Discover, save, and search for things you enjoy
Full reddit integration - login, submit, subscribe, notifications, and more!
Mulltiuser account switching
Support for share-to
Windows toast notifications for new messages
Live tiles
Integrated imgur, youtube, and much more
Rich WYSIWG editor
A highly recommended Reddit app for those on Windows 8.1. We've been playing with the beta for a few days and really enjoy it.
If you've been using the frist version of ReddHub you'll notice that this isn't an upgrade per se. Though it's a new version, it has it's own spot in the Windows Store and won't be a direct upgrade for those on the old app. Why? This new version was written from scratch to be a brand new experience and to make an app that could scale to the future. Plus, the developer wanted to leave the old app for those who prefer it to the newer version.
Does that mean if you've paid for Silver/Gold in the old app you'll need to pay again for this new app? Nope. You'll find an update for the old ReddHub app that will enable you to re-unlock your Silver/Gold status in the new app. Just go to Settings -> Upgrade for instructions on how to do this. Don't worry, you won't be charged twice.
Again, this is probably one of our favorite Reddit clients for Window 8/Windows 8.1. This is the Reddit client for you if you're looking for an app with multi-user switching, great portrait mode support, inline viewing for tons of media types and more. Take it for a spin and let us know what you think!
Get the Windows Central Newsletter
All the latest news, reviews, and guides for Windows and Xbox diehards.
We have Readit which is the best reddit app ever.

it looks amazing, but it still (as version 1 did, and why I always used Reddit to Go) suffers this lags when quickly jumping between single threads in a subreddit. Also there are many small UI glitches. But it is okay for a version 1.0 product. and yes, we need this as WP app.

Hey, sorry about the lag! I noticed it too, after I get a few key features in (multireddits, theming, etc), I'll sit down and focus on what's going on there! Also, I'd love to hear about the UI glitches you mentioned. Thanks

Hi, I didn't want to sound harsh. I think the lag is happening while the content of a thread is loading (comments, website or image), the UI just freezes then. For the glitches.
- subscribing to a subreddit doesn't fit the rest of the UI
- spacing of the popup you get, when pressing the 3 dots on the bar below the threads content, is too much
- when opening the subreddit overview, the icons in the left bar are redrawn
- subreddit sidebarcontent has no formatting Anyway, you just got a new user who payed for the app ;) Very happy, absolutely in love when those things are ironed out. Going crazy when available for WP 8.1 :P

Hi Kevin, no worries, your feedback is constructive and very appreciated - will help nail down a better app! I'm aware of the lag - that's unfortunate and mostly due to the way Microsoft implemented the webview in Win8. I dont quite understand what doesnt fit for subscribing? Is it the fact it's in a popup? The popup spacing is definitely problematic and something I want to fix. Subreddits panel will definitely get some work in the next few updates :) Anyways, to avoid taking over the comment chain here, feel free to pm me or make a post at /r/reddhub to continue the conversation! Thanks again for your support.

Would it be possible to add a Volume control to the optimal Video view? If the Video can not be load (region restriction) it will just seemingly show a blank page, may want to add something or force "original" when it can't load the video. Very nice app btw, the webview locking down the UI is very unfortunate, may want to get in contact with MS to see if that can be resolved, the app definitely sufferes from it noticeably.

Hi, no, it is fine as a popup, but it's margin and paddings seem not to fit with the rest of the app.
Also the text in the text box isn't centered like in the rest of the OS. It looks like you applied some global value on text fields.

Piggybacking on this comment to give a feature request The app I regularly use on my Surface is Reddit-to-go which has the ability to swipe left and right on a post or comment as a way of up/downvoting or performing another function (it is customisable) If you could add something similar i think it would be really cool. :)

So disappointed with this app. Was expecting porn....there is no porn... Change the misleading name :P

this app is AWESOME!!!! I seriously cant describe how awesome this App is! It has all features I want + moooore. Raise your dongers for this App! ヽ༼ຈل͜ຈ༽ノ

Hah, thanks for the support :)

Unfortunately, not enough devs put this much time into their app or have the artistic ability to make sure our looks this good. To many third world second grade computer science project.

Thanks very much! It was indeed a ton of work, so I can see why most developers struggle to get that level of polish. I also had a fantastic designer helping with it, which helped tremendously.

Like Reddhub but when scrolling through the FrontPage (with down arrow on keyboard) why does it sometime changed to other subreddit instead of staying on FrontPage reddits. Only issue that annoys me.

I swear I read RedTube! hahahahaha

So what exactly is reddit? I still don't know. I guess I'm just behind on the times. Lol.

Don't worry, you're not missing much.

"WYSIWG" -> "WYSIWYG"; "frist" -> "first"; "it's" -> "its" This site needs a copy editor something fierce. I'm not saying every post needs to follow the Chicago Manual of Style as gospel, but for a professional news organization it should be closer to that than a teenager's Facebook wall.

And topically awesome: http://www.youtube.com/watch?v=8Gv0H-vPoDc

That was awesome. Al is nuts. Thanks for the comedy.

Wow, that was quick. From the earlier announcement, I didn't expect to see it for at least 2 weeks.

Better app than other options for Windows 8 (in my opinion). I do think in the next update the developer should either remove the theme button until it is implemented or disable it with a tooltip.

Love Reddhub. Bought gold with Version 1 and would again in a heartbeat.

Very well done. I like it!

The upgrade option does not work. I am a 'silver' member and whenever I tried to get a code from the ReddHubv1 it throws exception and crashes the app.

Please send an email to support so I can help you resolve it!