Sneak peek at the next version of Reddit app ReddHub for Windows 8.1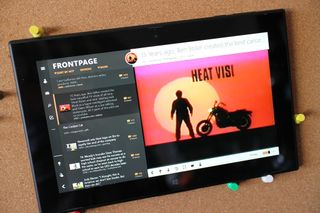 Do you go on Reddit a lot? If you do, you're probably not too happy with the app selection for Reddit apps on Windows 8.1. There are some decent apps, but none really stand out. I've been pretty happy with an app called 'Reddit on ReddHub'. If I had to recommend one app for you to check out today for Reddit on Windows 8.1 it would be that app. Which is why I'm super excited for an upcoming update to the app that's going to drop soon. We're a quick sneak peek at the future of ReddHub.
What's new in V2?
ReddHub V2 was rewritten from the groundup. The end result was to make a Reddit app for Windows 8.1 that new and stable, with the ability to quickly gain compelling features with more updates. That's right. Reddit for Reddhub will remain in the Windows Store for those who liked the old version, while the newer version of Reddhub is a brand-new app for Windows 8.1. Everything in this new app was built from the groundup to make a kickass app.
Here are some new features that will help you appreciate ReddHub V2:
Easy content switching
Multi-user account switching
Rich set of embedded content support
Awesome portrait mode experience
WYSIWYG editor
Refinements across the board
I've been playing with the latest version of ReddHub and really like it. It's layout makes it perfect for browsing Reddit on the Surface 2. Head into your favorite subreddit and you'll have posts on the left and the content on the right. So it makes it easy to quickly scroll through and find great pictures, GIFs, submissions and more.
ReddHub V2 will hit the Window Store in a few days. We'll let you know when it drops and give you a hands-on video of the app in action. You can check out the version currently in the Window Store (opens in new tab). In the meantime, sound off below with your favorite Reddit apps for Windows 8.1.
Windows Central Newsletter
Get the best of Windows Central in your inbox, every day!
Where is Readit for Win8.1?

And where is flipboard!!!!!

I'll make the assumption you're joking.

Well, I meant for Windows Phone 8.1

Devs said they were bringing it to Windows Phone about a year ago. Maybe they decided that if MS is bringing android to Windows Phone, why bother. Their job is already done.

Sometimes I wonder if these Reddit apps are truly better than just going to the website on IE when you're using something like a Surface Pro.

ReddHub developer here - I'd hope so - one of the biggest goals for the app is to complement Reddit and actually make it a BETTER experience, both on touch and desktop. I use it almost entirely for my redditing on my desktop and (touch) laptop. if there's something you'd like to see, definitely let me know.

The screens look great.Colors are good too. Thanks for the work.

Reddit's website is pretty awful.

Waiting for Readit as well. Maybe Sam can get in touch with the developers because they have gone dark on he subject for the last few months.

I talked to them about it after build and they said it wasn't going to happen anytime soon because it would require alot of rewriting of UI controls. The emails seemed kind of negative about it.

Where is WP8.1 more to the point... Apparently it's coming, always just around the corner... "it's a hardknock life..." Even when it does arrive in the UK there's no Cortana, that's already been announced... For now anyway...

ReddHub developer here - is there anything specifically that you feel is missing from ReddHub? :)

Hey Feras, not a feature request, more just a question. Are you 1) Going to allow those of us who upgraded to premium a lower price? 2) are you laying the groundwork for a universal app? (WP and Xbox versions)

Hi jjmuprhy. Yes, I actually went event further than that - I did the work to update the old reddhub to allow users that have upgraded get a 'redemption code', which they can then put into the new app for a 'free upgrade'. It took a lot of work, but wanted to ensure to continue to support users. As for a universal app - I'd love to do something for xbox - but no promises on anything yet :)

This is awesome. I would have been happy with just a nice discount.

Ok, feature request: Can we get a way to organize saved reddits? I save a lot of food from different reddits, and its tough to sort through.

Do you only want to re-arrange the ordering, so it isnt the default alphabetical sorting it does currently? The new version *does* support favoriting (the star) which will move them to the top.

They said it isn't coming anytime soon. They have a ton of controls which they would need to rewrite to get it as a universal app. They said the long term plan is to write new apps which will allow them to rewrite components and slowly transition to universal apps. I was real sad to hear that but I've been using this beta of Reddhub and it is wonderful.

Sweet! I ended up switching to Reddit2Go because Reddhub wasn't all too snappy for me, but I'll definitely keep an eye out for this. I haven't really been satisfied with any of the Reddit apps. Thanks for the heads up!


Been using Reddit2Go and switched to Reddit for Redditing. But, I have recently discovered Reddit, Set, Go which is a beautifully designed Reddit app (hint: use the light theme) and is my current go-to. It's fluid, fast, has a nice UI, and also has support for multireddits. Like Reddit2Go it displays full-sized images when there is one instead of the smallish thumbnail type from other apps. With a few more tweaks and options, it becomes the top Reddit client in my opinion. Reddit2Go has the more reliable notifications of the bunch. But, I think Reddit with Redditing and Reddit, Set, Go, both by the same dev, are farther along as far as features. I'll check out this new version of Reddhub when it hits.

This looks amazing! Hope they release it soon.

ReddHub has been my go to since it launched in the store. Excited for the new version!

Will add this to the short list of apps to download the day I get my surface! (whenever that is lol).

I paid for the existing version, and now they are launching a brand new version which is not an upgrade of the existing version. Lame.

See my note above to jjmurprhy - we will definitely allow you to get the new one ad-free!

Heat visión and Jack Jajajajaja

Reddhub is good, it just needs a few UI and big fixes. Can't wait for v2!!

Fuck yes! I used reddhub on W8 and its nice and the best reddit client on W8 but definitely needed a rewrite.
This looks fantastic. Can't wait to update.

ReddHub is almost all I use my surface for. Totally paid for the gold version of the app. Wonder if we will need to pay for the new app now too.

iFunny needs to come to WP

iFunny has come to WP, here: http://www.windowsphone.com/en-us/store/app/ifunny/6b53912f-5129-4531-8c...

I was in the beta for this, and it's legit. The developer is super responsive on GitHub (and in these comments as well, it seems) and the second beta build had huge improvements over the first one. Currently I use Reddit To Go, but this is going to be my go-to reddit client as soon as it's up on the Store.

Reddhub... REALLY? Is this guy intentionally making it sound like a porn app?

Need a better Imgur app for Windows 8

Why do we need an app? We've a full browser...