Remote Desktop for Windows 10 coming out of Preview for all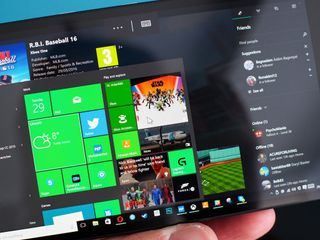 Microsoft is confident its popular Remote Desktop app for Windows 10 and Mobile is ready for primetime. The company just announced (opens in new tab) that the official version in the Store should be pushed to the production build today if you download it and as an update later on.
Interestingly, the company is also keeping the Preview version alive for those who like some excitement in their remoting lives. The reason for the Preview version continuing is because not all the features from the 8.1 app are present in the new Windows 10 one. Just like Insider rings the Preview Remote Desktop app will be updated more frequently with newer features, but may contain more bugs.
Here is what works in the official Remote Desktop App:
Desktop connections are preserved
User names are preserved
Passwords need to be re-entered
Gateways are preserved
Remote resources URLs are preserved from Windows Phone 8.1 but require new sign in
Remote resources are not preserved from Windows 8.1 and need to be re-added
Some general settings are preserved
Here is what is not working, but is on the roadmap to be added:
Multiple simultaneous connections
Dynamic resolution and rotation
Printer redirection
Smartcard redirection
Microphone support
Localized app (currently English only)
Microsoft also notes that you can have both versions (official and preview) installed on the same device, which would give you the most flexibility.
You can grab both or either from the links below. Both are available for Windows 10 and Windows 10 Mobile.
Windows Central Newsletter
Get the best of Windows Central in in your inbox, every day!
Daniel Rubino is the Editor-in-chief of Windows Central, head reviewer, podcast co-host, and analyst. He has been covering Microsoft since 2007 when this site was called WMExperts (and later Windows Phone Central). His interests include Windows, laptops, next-gen computing, and for some reason, watches. Before all this tech stuff, he worked on a Ph.D. in linguistics, watched people sleep (for medical purposes!), and ran the projectors at movie theaters because it was fun.
Dynamic Resolution and Rotation is a pretty big part of why the Windows 8 App is currently better, I hope they add this soon.

I had it working great (my phone is in the photos) and then the last update seemingly ruined it and made everything appear massive again :(

This broke as part of the work to start giving some flexibility to choose different resolutions. This will be fixed shortly :-)

Does it require the Pro version of Windows for PC?

For client, no. For host, yes. But Remote Desktop also works with Azure or similar virtual machine solutions. Lots of acedamic institute offer that too.

Hopefully they add a way to easily access devices on other networks too, like TeamViewer.

That'll be nice, but probably won't happen.

This is pretty easy to do when you know how, but I see what you mean. I just don't think they intend Remote Desktop to do this, it's aimed a lot more at technical users who can configure port forwarding etc. and has been around like this for a long time. As things move more to the Cloud, say if people star hosting their desktop in Azure one day, then there isn't really any config in that situation

Please do an in depth review of how the app works

For those asking about how this works you may want to check out TeamViewer for easier consumer setup. I'm not saying don't Learn about RDP too just recommending it as a very quick way to get up and running with remote access to your PC, if you have multiple PCs on the same network and want remote access to all of them there's a number of steps you likely need to take where as something like Teamviewer is as close to "install and go" as you can get.

I do use TeamViewer and am thankful for their ongoing Windows support, but as all really good and amazing things go, it's great to understand if a Microsoft alternative is able to accomplish the same in case TeamViewer gets a new CEO who decides it needs to charge everyone with personal accounts.

I have never had the need to use RD. Now that I have, I will surely try TeamViewer too!

TeamViewer is awesome, it's a solution that "just works" and their apps have fantastic support on the Windows platform. Definitely recommend it.

I am thinking of upgrading to Windows 10 Pro just to use Remote Desktop. Actually, there should be a built-in feature in Windows 10 Mobile that allows one to remotely control any device with Windows 10 without having to do this through an app. App for this is fine for iOS and Android but not Windows.

Without using an app? What? How else would you connect?

How would that work?
Everything in W10m is an app, from the Edge browser to the camera... Or are you saying the app should come preinstalled? Sent from a shiny electronic rectangle.

No, I mean Windows 10 Pro shouldn't be needed to connect Windows 10 devices with each other.

Windows 10 Pro is not required for clients accessing a RDP host. Windows 10 Pro, however, is required to allow connectivity as a target RDP host. I'm sure you understand that, but just wanted to put that out there since there seem to be a few people on here that don't understand that. Say, you have the following: HostA (Windows 10 Home)
HostB (Windows 10 Pro) HostA can connect to HostB via RDP, if configured and allowed on HostB. HostB cannot connect to HostA since feature is disable/unavailable on HostA. For the record, I also agree that RDP should be a feature enabled/allowed across any Windows 10 device. Cheers,

Thanks for the info. I could put Win 10 Pro on my laptop, but what I don't like is the fact that its license will be stuck with that PC and if anything happens to it I'll have to buy another copy for the new laptop. I wish Win 10 Pro should have come with a subscription like Office 365 or something.

Use Remote desktop more often than ever since got addictive to continuum on phone, and also RD also work with azure and similar virtual machine solution too, if your company or school often that.

Can this (or something else) allow me to use my phone to wirelessly control my surface 3 (like as a TV remote) which is connected to my TV via HDMI cable at the other side of the room?

You'd have to upgrade to a Windows Pro license to support RDP or go with another solution like Teamviewer (which I highly recommend).

I'm running pro.. TeamViewer sounds good I'll look into it

Team viewer is a dream! Took a while to configure but all good now- how has nobody been able to tell me about this already?? Thanks! :)

universal remote desktop app with continuum make a phone a proper pc, if only for a short time.

RD and Continuum is nice, but you need a dock, cables, a screen, a keyboard, possibly a mouse to use it properly. So you can have all that with you, or you could have, I don't know, a laptop?

True, but at the same time you could already have the peripherals setup at work and home and just plug in wherever you want. I gave it a go for a few days using an Azure VM to access Visual Studio (I'm a full time dev). The thing I missed most was multiple monitors as I had access to all the software I needed

At work I have my working environment set up as I need it, with desktop, monitors, etc. At home I got a laptop and USB keyboard from the firm and my own mouse. Yes, they could save on the laptop if they started using Windows phones now, but that laptop should have been in the bin years ago :D But this will work in ad hoc situations when one can connect to the mother ship any time anywhere and do something. Which BTW I would never do. I refuse to be available 24/7 for my firm to use me as they like.

Miracast requires no cable or dock, and the phone can be used as touch pad, so all you need is a keyboard for most applications. Working fine with our 950.

I have a pretty nice solution with a microsoft wireless connector, a foldable keyboard and an arc mouse. It is smaller than any laptop, it even fits into a jacket (with large pockets) and for me i am using it with a small bag which i carry around all the time anyway since my wallet, keys, pocket knive, chewing gum, tissues and all the other small things i need do not fit into my normal pockets without making me uneven marshmallow looking anyway. And it is much lighter and smaller then carrying around a laptop and a phone while being more modula so whatever you do not need at the moment: Just keep it in the bag or pocket.

I hope the new Windows 10 release version is better than the current preview app. It sucks compared to the 8.1 version. Everything is massive (low resolution) and framerate is terrible and video playback is choppy/low quality. I know RDP isn't really for video playback, but the 8.1 version does it just fine. Why even bother launching the 10 version when it's still inferior? Why not leave it in preview until it's truly worthy of replacing the 8.1 app?

The problem with everything being massive is being fixed now. I appreciate the feedback for the video playback.

I just tested this from a SP4 to one of our desktop Windows 7 machines and in my opinion, it works better than full blown RD. Full blown RD with high resolution screen makes the desktop on the remote computer too damn small to read anything. There are plenty of people that prefer the ability to have icons on their remote desktop be similar in size to what is already there. The small icons are so tiny that sometimes you can't always see what they are. The other people will learn that when they get older and their eyes are going bad.

I got an update that fixes the low resolution issue, but now the resolution is too high. I noticed there's a display slider in settings but it doesn't seem to change anything. Resolution is always 3584 x 2016 on my Lumia 950 XL. Just wondering if I'm doing something wrong or if it's still a work in progress.

still the sessions end unexpectedly unlike the windows 8.1 app

@Loise, you make $27h thats great going girl good for you! My story is that I quit working at shoprite to work online, seriously I couldn't be happier I work when I want and where I want. And with a little effort I easily bring in $35h and sometimes even as much as $85h…heres a good example of what i'm doing, ============>>>>> http://Onlinejobs.nypost55.com

Shareit updated with wifi direct feature.

im on the normal official buld for windows desktop and today i went to play music and grove is broken, also store is broken, im absolutly fed up with having no control over my updates as i cant even roll back anymore. These kind of issues keep hapening. Im not there yet but im not far off the point of giving up on windows 10 altogether. If your gona force upgrades then make sure they work or give the user back the control its that simple. Soz but after 20 years on windows im very disapointed that these issues would even arrise on a desktop os.

I think I will stick with TeamViewer, although this does look promising.

Rdp seems to be a little faster. It is not yet that fast to play games on it, but the fps is around double the value for rdp against teamviewer for me. On the other hand teamviewer is easier to setup.

I'm sticking with TeamViewer.

Theres still a feature gap between it & the regular pc application

Right now, I use the Windows 10 RDP to connect to other computers on my network. I have a batch file that runs a Wake-On-LAN (WOL) script and launches the RDP connection. Does this app enable WOL? If not, it is useless to me.

LiteManager for windows 10 remote desktop tool, there are file transfer,task manager, regedit and other modes

Still no saving connection info to cloud though I suppose? Like RDM and Royal TSX.
Windows Central Newsletter
Thank you for signing up to Windows Central. You will receive a verification email shortly.
There was a problem. Please refresh the page and try again.