A good way to protect your home is to install a security camera or a few around the exterior. Not only do they help discourage potential intruders from breaking an entry, but they can also record all the action for prosecution. We're growing our NAS coverage on Windows Central, including the best NAS for home.
The Reolink RLC-511W was reviewed favorably, and today we're looking at the RLC-410. Unlike the RLC-511W, which comes packing a motorized auto-focus and wireless connectivity, the RLC-410 isn't quite as advanced, but this is reflected in the lower price. It does, however, have IP66 protection against the weather, and night vision.
So, how does it fare against the RLC-511W, and is the RLC-410 a great starter camera for the home?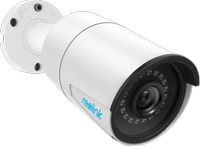 Reolink RLC-410 Specs
While the RLC-410 isn't quite as capable as the more pricey RLC-511W, the specifications are almost identical, aside from optics, wireless connectivity, optical zoom, resolution, and dimensions. This camera does support PoE too, making it possible to power it using a single RJ45 cable.
Swipe to scroll horizontally
Category
Reolink RLC-410
Reolink RLC-511W
Type
Indoors & outdoors
Indoors & outdoors
Sensor
4MP
1/2.7" CMOS Sensor
f=4mm Auto-focus, f=2.0
5MP
1/2.7" CMOS Sensor
f=2.7-12mm Auto-focus, f=1.6
Resolution
2560 x 1440
2560 x 1920
Night vision
✓
Up to 100 ft
✓
Up to 100 ft
Optical zoom
-
4x
Viewing angle
80 degrees
31 - 90 degrees
Pan & tilt
-
-
Waterproof
IP66
IP66
Storage
MicroSD
MicroSD
Connections
Ethernet
AC power
Ethernet
AC power
PoE
✓
-
Dimensions
186 (82 for mount) x 68 x 83 mm
238 (100 for mount) x 76 x 84 mm
Launch price
$50
$90
Inside the box, you'll find the Reolink RLC-410 camera, as well as a waterproof cap for the ethernet connector, RJ45 cable, software CD, manual, and all the mounting hardware (screws and plugs) you'll need. Like other security-focused products, Reolink includes a sticker with the RLC-410 that lets you notify visitors your home is protected.
Reolink RLC-410 Features and design
The RLC-410 is well packaged, and unboxing the camera makes you believe they mistakingly packed another model by accident as it feels very well put together for a security camera at this price. It's quite the compact device, too, since you're missing the 4x optical zoom found in the larger RLC-511W. Still, it has plenty of kit where it matters most, including IR LEDs and the front's main camera.
The design is a bullet-style, with the main unit up front attached to the mount on the rear. Everything is aluminum, aiding the IP66 rating that allows you to use this camera outside without fear of weather damage. The sides are bare, aside from the subtle Reolink branding, and the rear houses the two antennae connectors, a single cable, and MicroSD slot.
This single cable splits into three parts—one for the reset button, another for the ethernet, and finally, AC power. This isn't required since the RLC-410 supports PoE, making this a great option if you already have a PoE switch available.
Inside the RLC-410 is where the magic happens, thanks to the 4MP1/2.7-inch CMOS sensor with auto-focus. To make everything work in the dark is an array of ## IR LEDs with a single light sensor to determine when it's time to automatically switch between day and night modes. It's completely wireless too. Once hooked up to AC power, two antennae can be attached to the rear of the camera to allow the device to communicate with the outside world (or your NAS/NVR) without a data cable.
Reolink RLC-410 Setting up and using the camera
To set up the RLC-410, all that's required is downloading the smartphone app on Android and iOS or the PC app for Windows. Using either is easy since you'll still require to have the camera connected via ethernet to the router or switch, so it's on the same network as your phone or PC.
The apps should automatically detect the camera on the network and allow you to set a password for the camera. This step is important since it's what ensures you're able to connect to the camera using third-party software.
After the camera has been successfully configured, it's time to install it in your desired location. This part is also fairly straightforward. Reolink includes a small paper template that can be used as a guide to drill and install the wall plugs. Once that's out of the way, all that's left is to screw the camera's rear to the wall.
Much like the RLC-511W, all that's require to swivel and rotate the camera is the included Allen key, which is used for a single screw on the base. Once it's facing the right way, you can tighten that screw for the camera to be secured in place. The main cable for the ethernet, reset switch, and AC should be hidden within a junction box or within the property to prevent someone from tampering with the camera.
Image 1 of 2
The software is also outstanding from Reolink. The mobile and PC apps are excellent if you do not plan on using a NAS/NVR, letting you configure a whole host of settings, view live feeds, receive motion detection alerts, and view recorded footage. The video recordings' actual quality is outstanding, even though we've dropped down to a 4MP sensor with a lower resolution.
It'll not be too good in low-light conditions, so if you install the RLC-410 in a shaded area, it may be worth having night vision mode active. The IR LEDs allow this camera to be used throughout the day and night.
If you would like to use a NAS or NVR, you can do so without issue. Most modern enclosures from Synology, QNAP, and ASUSTOR will work well with the RLC-410, allowing you to add the camera to the respective surveillance software. So long as you have a free camera license to spare on the enclosure, you're good to go.
I rounded up some of the best NAS for home surveillance to help get you started. The installation process is largely the same between enclosure vendors. Many of them have helpful resources that help you get started in no time at all, even if you're unable to locate and add the camera automatically.
Reolink RLC-410 Things I didn't like
For the price, the RLC-410 has plenty going for it, though it's not perfect. It's not a wire-free camera since it requires an AC power source or PoE through RJ45. This is a slight bummer for those who prefer to not have cables running everywhere and would prefer to charge an internal battery instead, but this does allow Reolink to keep the camera size compact.
Because there's no internal battery at all, should your home lose power, so too will your Reolink security cameras. It would be good at the very least to have a small battery backup in case of power outages, even if it is to record but a few minutes of footage.
The quality of the video recording is very good, but in low-light scenarios, it's not quite as good as more expensive security solutions. For most homeowners, the day and night recording quality is more than good enough.
Reolink RLC-410 Should you buy?
Who it's for
If you need to install a home security camera
If you plan on using the camera on its own
If you want a security camera that works well with NAS/NVR
If you have a PoE switch/router
Who it isn't for
If you want a camera with a backup battery
If you want the best camera for low-light recording
If you want a camera with an optical zoom
If you want a wireless camera
The Reolink RLC-410 is one of the company's more budget-friendly security cameras but has everything you need for a compelling solution for the outdoors. The IP66 rating ensures the camera won't sustain damage from the weather. PoE makes for a cleaner finish, only requiring AC power, and it's incredibly easy to set up and use.
Not everyone needs a more expensive camera, which is where the RLC-410 comes into play. It has everything you need for a starter home surveillance solution, including a 4MP shooter for HD recording, a built-in microphone for capturing noise, great build quality for defending against the elements, and a MicroSD card slot if you don't plan on hooking up a NAS or NVR.
If you were to purchase a NAS, the RLC-410 works well with the leading brands, including enclosures from Synology, ASUSTOR, and QNAP. Whether you need to cover the front, rear, or all sides of your home, the RLC-410 is a great option that'll work both inside and outside the property.
Starter Camera
The perfect beginner home security camera

The RLC-410 from Reolink has plenty going for it, including night vision, HD optics, microphone, MicroSD support, PoE, and the full potential for a complete home surveillance NAS station.
Rich Edmonds was formerly a Senior Editor of PC hardware at Windows Central, covering everything related to PC components and NAS. He's been involved in technology for more than a decade and knows a thing or two about the magic inside a PC chassis. You can follow him on Twitter at @RichEdmonds.