Report: Acer releasing updated Iconia W3 8-inch tablet, improving the terrible display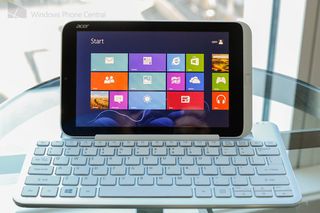 Like most people who picked up an Iconia W3 8-inch tablet, running full Windows 8 on an Intel Atom processor, we loved the concept but recoiled at some of the execution. We've joked in the past that Acer has two design teams: A and B with the former being responsible for the S7 and R7 (gorgeous devices) and the B team overseeing the less-than-pretty W510 and W3.
Forgetting the looks of the W3, which seem to be something designed three years ago, functionally the nimble 8-inch tablet had one glaring flaw: its display. In 2013, IPS displays are all the rage and found in most ultrabooks and laptops, giving users high visibility at various angles and great color saturation. High viewing angles are even more relevant for a device that you hold in your hands and flip around.
As we noted in our W3 hands-on (see above), the display on this device is positively dated. It's a straight up LCD display and looks like something you would have wanted five years ago, but not in 2013. Indeed, everyone we spoke with at Build had the same story: "I thought the display was broken the first time I turned it on!".
We're certain Apple never had that complaint about their working-as-normal iPads.
Now, Dutch website Tablets Magazine is reporting that Acer is rejigging their production of the W3, updating the display for future orders. They note that:
And because IPS technology is thinner and lighter than old LCD, we can probably expect a smidge in savings for weight and girth.
That's great news unless of course you already purchased an Acer Iconia W3, in which case you just got hosed. We suppose those who received them for free at Build can't complain too much--after all, you got a free 8.1" tablet and keyboard—but c'mon, Acer, you can do better than this for a launch.
Source: Tablets Magazine; Thanks, Martino, for the tip!
Windows Central Newsletter
Get the best of Windows Central in your inbox, every day!
Daniel Rubino is the Editor-in-chief of Windows Central, head reviewer, podcast co-host, and analyst. He has been covering Microsoft since 2007 when this site was called WMExperts (and later Windows Phone Central). His interests include Windows, laptops, next-gen computing, and for some reason, watches. Before all this tech stuff, he worked on a Ph.D. in linguistics, watched people sleep (for medical purposes!), and ran the projectors at movie theaters because it was fun.
Somehow I still want one.

I imagine that Nokia -- if they release it -- will use IPS in their tablet. It'll be amazing!

I think the way Nokia have been virtually going it alone with WP over the last 18 months has given them a massive amount of goodwill with the WP community and if they were to branch out into tablets and maybe even laptops they'd had a good chance of doing really well. I think they need to broaden their portfolio as much as possible and that's an obvious direction to take.
They should also get back into wellies, I know they've missed Glasto but yellow Lumia 920, matching yellow Purity headphones and yellow wellies would be the perfect festival kit!

That actually have a laptop
http://en.wikipedia.org/wiki/Nokia_Booklet

http://www.xtimeline.com/evt/view.aspx?id=25495

Yeah I remember the booklet, it was really well made and probably the best looking netbook, just a bit pricey. I think it's one reason people want them to get back into the tablet/laptop game, that along with the Lumia range show they really know how to design beautiful technology. Alonside Apple they build the best devices and people have been waiting desperately for someone to come along in the PC market to build something as good as the Air and Pro. Sure ASUS, Lenovo, Sony and maybe Toshiba have built some gorgeous machines, but still Apple get the edge for most people - even if it's just dodgy PC touchpads that let them down.
But really wellies are the future! Or they could get back into tyres and work with Apple on the iCar...

I love Nokia and my Verizon Lumia 822. I used to be a die hard S60 nerd! I worry that the old nokia ways are still there. Like. They wull make something just like the Acer W3, but it will be bright yellow, IPS screen, otherwise same specs, but cost like 900 dollars US!
That being said, If they made the tablet that I just described but it was say $400 MSRP, I would go for it. I think. And yes please offer a jumbo keyboard that it snaps into.

-- J



The product that is never released always seems "amazing"....

Lol, we'll see. No harm in waiting.

Glad I didn't care to get one at first glance...

How would you know if you are purchasing a good or bad display? Luck of the draw?


I'm guessing it will have a different model number.

Well, on the box it notes LCD so presumably they'll update the specs with "IPS" on the new revisions. Likewise, there should be a hardware revision number to indicate the change.

Nice. Any predictions on release?

Literally just bought one yesterday. The screen really is awful. Going back now...

I wonder if the new ips display will be completely compatible with the current shipping version, that way you could potentially order just the display and swap it out. Would make my wife happy ;)

I can't find the Acer Iconia W3 in Canada.

You really didn't want it until now. You can't use a terrible screen on a tablet. Low viewing angle screens only are usable on laptops because they sit at a fixed angle.
I had a Dell Latitude XT3 tablet PC which was very expensive MSRP (I bought it cheap refurbished) which used a crappy TN display. When in portrait mode (to write with the pen) the screen would be horribly distorted, with each eye getting a different color and brightness level. It really messes with your brain.

The article states it will be thinner and lighter and therefore needing a somewhat different design.
The site also has an article about an 8" tablet from Asus coming IFA2013.

They should have done this in the first place and cleaned up but in typical Microsoft partner fashion they tried to go the cheap and cheerful route and hoped people wouldnt notice.

You can pick one up at Staples for $330. It can run desktop apps. If I'm spending $330 on a fully capable computer, I'm not going to expect the best display in the world. I'm sure once they have a version that is thinner and lighter, with a better quality display, they'll likely make other improvements in quality, and the device will end up costing more.

Doesn't need the best display in the world, only a USABLE display. The $169 Kindle Fire HD has an IPS display. I think they can afford to put on in here. And they can, as the revised model has it.

Yeah, but Amazon isn't paying the same license fees, and they borderline lose money on every Kindle Fire sold.

Agreed because its subsidized by content sales.

That's odd. I bought mine at office max. ( no store had one in stock but one office max in whole san antonio) And my display is gorgeous. And i swear it looks alot like an ips display, coming from a person that owns an iPhone 5 and dad has a Lumia 920.

Any chance you can take some pictures of your display? I'd love to see what it looks like since I'm considering getting one.

http://sdrv.ms/17iOMZH Here you go. I took side shots to show the viewing angle. It is a great device. Battery life is outstanding and it runs great. Personally, the display and viewing angle is great. I recomend it.

Thanks, I really appreciate it! The W3 I checked out in the store definitely had the poor screen as described. I see yours seems to have deeper colors than the ones I've seen.

I wonder why. Maybe I got a leaked upgraded one? :p & no problem.

I did see one in a Staples store which had deep colors but there was a mottled look to the screen. I see the same mottled look in your shots. Almost like a screen covering the display. It does not have the clarity of an IPS display.


What do you mean by mottled? & I have a screen protector on it if it makes a difference.

Meaning it looked like it had a screen material or something over the display. In the store it looked like that too. It could possibly be your screen protector giving that appearance too which is why I don't use one. I've tried a few and I've never found one that didn't ruin the appearance of the display. It would be interesting to know if Acer has already fixed the problem and shipped out a batch with the new displays.

Saw the build one. Low rez, washed out, bad viewing angle. Looks like 90s tech.

Actually, the right source is TabletGuide: http://www.tabletguide.nl/39321/acer-iconia-w3-krijgt-opvolger-met-beter...

Acer's product line has no consistency. I have a 23 inch touchscreen monitor from them that is fantastic, but I saw this in the store and it looked like garbage. I wanted to love it because I want an 8 inch Windows 8.1 device so much. Android tablets are so laggy and janky and I can't abide Apple's walled garden.

How cool would it be if ASUS had made a Vivotab Smart in 8 inches?

Sooooooo, us Build guys cant exchange them?!?! Dang!

This is a great opportunity to remind Acer and the other OEM's why Microsoft feels it's necessary to get into hardware. Because **most** of the Windows 8 laptops and tablets produced lately are hobbled in various ways by crap design, internals, or execution.
The Iconia W3 should have been a hit. It should NEVER have gotten past the final approval stage at Acer with this display, and in my opinion, this thickness. How products like these ship with such obvious flaws should be considered a major part of the problem Microsoft faces in battling Apple.

Still waiting for the Surface mini...

If they could improve this and release it soon I would totally buy it

IPS, Bay Trail Atom, 1 full-size USB port. That'll fix it.

They should make an OLED one. I would get one, even if the price is understandably astronomical.

An affordable 7-inch Windows 8 tablet with Blue on board that has all of the full tablet functionality to take on iPad Mini and the Kindle Fire would be the sweet spot for Microsoft. And by full tablet functionality, I mean the tablet needs to be good in of itself sans physical keyboard. I Windows geek can dream, can't he?

I have one of the W3's that were handed out at /Build. It feels like it was so close to something that I would want to buy, but it missed the mark. The screen is poor. With devices like the Nexus 7 out there, there is no reason for a mediocre screen on a tablet at that size. Another problem is that the WiFi radio is crap. I was downloading videos to both the W3 and the Surface Pro over WiFi and the Surface was about 4x faster. I don't know how much more a good screen would have cost, but the WiFi chipsets are commodity items.
It's actually a good little travel device. I was able to download some of videos of the /Build sessions that I missed while still at the conference to watch on the flight home. Doing that with my iPad on the road would hav been an exercise in frustration. For a light Windows tablet, I found it more useful than the Surface RT.


Hmmm... Office Depot has the 32GB model listed right now for $299 and the 64GB for $349 until 7/20. Maybe they're trying to clear out the old inventory before the new screens arrive?