Report: Businesses are adopting Windows 10 twice as fast as Windows 8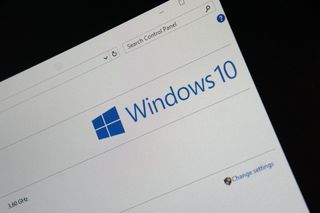 Businesses like Windows 10. That's according to analyst Peter Tsai at Spiceworks, who estimates that 18 percent of businesses have upgraded to Windows 10 after six months, compared against just 9.3 percent for Windows 8 in the same time period. North America appears to be leading the worldwide surge with the report detailing 19.3 percent of businesses in the U.S. making the jump.
The research company last year reported that around 40% of IT professionals predicted they'd upgrade to Windows 10 within a year. While 18 percent falls short at the half-way mark to the 365 days target, it's still a solid start by Microsoft's latest desktop OS.
As well as analyzing the size of companies upgrading to Windows 10, Spiceworks also looked at how different industries rank against one another when it comes to the adoption rate after 6 months. Unsurprisingly, software was named champion at 28.2 percent, but manufacturing, energy, construction and government weren't far behind on 22.6 percent, 20.9 percent, 20.6 percent and 20.3 percent respectively.
The data looks solid, but there's certainly still a long way to go. When taking into account the total number of devices reportedly running Windows 10 (according to Microsoft figures), businesses make up just 11 percent. There's still time for the Windows 10 train to pick up speed in the corporate sector, especially with the free upgrade still underway.
Rich Edmonds is Senior Editor of PC hardware at Windows Central, covering everything related to PC components and NAS. He's been involved in technology for more than a decade and knows a thing or two about the magic inside a PC chassis. You can follow him over on Twitter at @RichEdmonds.
Oh how I wish Windows 10 mobile was enjoying the same success as Windows 10 for PC!

But Microsoft enjoyed the royalties from android too. I don't if they are still getting royalty fees from android OEMs or not.

40% said they would upgrade within a yr. We're at the 6 month mark and 18% have upgraded so far. Not bad. I believe that they will still get to 40% within a year. I think the expectation has always been that more upgrades will take place in the 2nd 6mos as companies have had time to plan the upgrade.

Windows 10 was officially launched around August IIRC. So it's only been 6 months. Don't let hatred cloud your vision. It's only an OS Posted via the Windows Central App for Android

@wpkevin I think that you misread the article. The 40% number refers to the planned adoption rate within 1yr of the launch of win10. That's why the article goes on to read 18% at the halfway mark. If you still disagree, no worries.

40% of IT professionals predicted they'd upgrade to Windows 10 within a year.

Reading comprehension is not your strongest suit, I see.

All of you guys sound very well educated. :/

Zero twice still isn't much ;)

I think you are right :) windows 8 was newer adopted by business an was the same from regular people .

The OS is really great, it is really hard not to upgrade.

Actually for a large business it's very hard to upgrade. The costs, testing, legacy support for what productivity gain?

actually, any large business worth their weight should have a QA dept that they constantly use to test and valiadate their existing infrastructure, Windows 10 would be no different. Spin up a few VMs with Windows 10, handoff to QA the same as any other piece of software being deployed to the company. With tools like SCCM, Hyper-V, etc, etc is business as usual..

Well I have 300+ computers in my organization and they're upgraded already. I ran it on a test machine through various releases with our core programs installed without issues, so I pulled the trigger.. Guess what, no complaints from my clients users at all. Even all of my police department programs work without issues.

I'm thinking a lot of businesses are waiting for Redstone. A lot of good stuff is supposed to come with Redstone (less stuff because of the structural changes but that's okay.)

It's not a delusion, it's an observation. Windows 10 Threshold 1 and 2 seemed to be targeted at consumers, thus the free upgrade path. Redstone, from what I've heard, appears to be aimed more at businesses. I could be wrong, but I honestly believe Microsoft is going to use Redstone to push into the enterprise market.

No, I don't believe Microsoft wasn't trying to sell Windows 10 to businesses, I believe it wasn't their number one priority. Microsoft recognised that implementing the features many large businesses are looking for as an incentive to upgrade would take time, but they wanted to get Windows 10 onto the market. So Microsoft released a version of Windows 10 that would do for some of the more eager businesses, but was mostly for the consumers. Then Microsoft spent a few months refining and improving the "consumer" release with Threshold 2. Now we're seeing the first major feature release, aimed primarily at the enterprise market.

If a company "adopting" windows 10 means having at least one device install then none of these figures mean anything, we have about 5000 laptops / desktops at work and they all run Windows 7. Adopting windows 10 means the large majority of these systems will be upgraded and any new systems will be installed with Windows 10 to start with, adoption doesn't happen when 1 PC is upgraded lol

Where in the article does it say they are considering just 1 PC adopting? You seem to be inventing an argument that only exists in your own mind.

More upgrades in China and India can only help Microsoft achieve one billion devices running windows 10.

Only legitimate copies can upgrade for free permanently. All other free upgrades expire and require purchase. That was explained when the Windows 10 "Free" upgrade was announced. Hence I'm not expecting those big numbers from China and India.

I won't adopt it at work until they fix the broken "Block Windows Store" GPO for Pro.

Tough not to like it when the only alternative is to pay a boatload of money for continued support for Windows 7

This is too funny. Isnt that because virtually no businesses adopted WIN8? Most stayed on 7 and still are.

Windows 8 released beginning of August of 2012, Windows 10 released end of July 2015, that's 3 years. In those 3 years 9.3% of businesses got 8, in 6 months twice that updated. It's not just about how many went to 8, it's about how many more went to 10 in about 1/6th of the time frame.

You really need to chill out Kevin

I'm surprised the adoption rate for 8 was as high as the article states. I actually thought it was lower.

How I wish success for Windows 10 Mobile (•_•)

I work for Ford and they are working on upgrading about 90K employees to Windows 10 within the next year.

My company is smaller but still the upgrade will go to about 2k computers.

This is awesome news indeed!

I think MS will make only premium W10M devices for business class. Low and midrange devices will be made by partner OEMs

Do you know what the article is about?

I'd be using it at work now if we'd not be cheap and upgrade our firewall so we could use cisco anyconnect. The older cisco vpn client won't work on W10

We use Cisco anyconnect mobility client. Does it work on w10?

Yep, all of the computers that students use have been upgraded to Windows 10, which is impressive. As for the staff, not yet, but not really looking forward to having to reinstall things that we have to use for work. lol

If they do "in place" upgrades from 7 or 8, like a regular software update, then you won't have to reinstall anything. You would only need to do that if they decide to either give your staff brand new devices or do a clean install of Win10 on every device. I haven't had to reinstall any software at all, even legacy software, since I started with the insider program in 2014 by doing the "in place" upgrades. :-)

My job has just begun sitting out. I've had it at work a while because I love being on the bleeding edge, but the meeting team has begun trying for rollout.

Is it just me thinking that given the reception Windows 8 had, Windows 10 being adopted twice as fast isn't saying all that much? Don't get me wrong, this is good news, but still...

Wasn't it said before that companies would rather wait for windows 10 then invest in 8 anyways? To me this isn't surprising.

Calm down. It's only an OS. Posted via the Windows Central App for Android

Windows 7 is the best for buisness

Once they said XP was best. Life goes on.

When w10 is coming any date

Businesses don't get the free update like consumers so not sure why the free year matters as mentioned in the last line of article.

Actually many business will get the free upgrades. This is especially true on the small and mid-size businesses. It all depends if they are using an enterprise license or not.

Sure they do. We used Windows 7 Professional and everyone got the free Win 10 upgrade.

Ok small businesses may get free upgrades. But those on Enterprise or volume licensed versions won't which will be a lot of the Windows 7 machines.

It's less foreign to employees than windows 8, since the start menu is back. IT guys will be much happier, because they won't have lots of confused executives calling them because stuff changed and they don't like change. Posted via the Windows Central App for Android

W10 Education version very buggy. Mail metro doesn't sync and Edge had to have shell fix to make it work.

"Buinesses" hated Windows 8 and many just stayed with 7 so faster adoption rates should be expected now that Microsoft rolled back some of the more radical changes in Win8

Not the companies I worked for.... Windows 7 is the stanard.... We did some testing with Windows 10 and some programs dont work right. So, no migration for us.
Windows Central Newsletter
Get the best of Windows Central in in your inbox, every day!
Thank you for signing up to Windows Central. You will receive a verification email shortly.
There was a problem. Please refresh the page and try again.