Report: Ubisoft buyout via private equity looms as projects face problems
Multiple Ubisoft games are reportedly facing internal delays.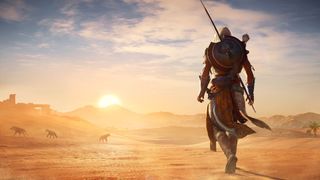 (Image credit: Ubisoft)
What you need to know
According to a report from Kotaku, Ubisoft may be looking to sell in the near future.
Bloomberg previously reported that private equity firms were beginning to analyze the possibility of buying the publisher.
Kotaku reports that multiple Ubisoft games have faced internal delays.
Ubisoft's stock price has fallen in recent years.
French publisher Ubisoft may be looking to sell, according to a new report.
Bloomberg previously reported that private equity firms were beginning to take interest in Ubisoft. Kotaku then reported on Saturday that Ubisoft is working to audit aspects of the company in preperation for an eventual sale.
Acquisitions are at an all-time high in the gaming industry, with 2022 already seeing Microsoft in the process of buying Activision Blizzard for almost $69 billion, while Sony is acquiring Destiny developer Bungie for $3.6 billion.
Ubisoft previously defended against a hostile takeover from Vivendi, with the Guillemot family remaining firmly in charge at Ubisoft an controlling around 15% of the company's shares. Kotaku notes that Ubisoft's stock price has fallen heavily in the last couple of years.
According to the report, Ubisoft is facing numerous internal problems that could lead to the company being sold, including delays acorss various projects. Ubisoft projects include a remake of Splinter Cell, which is currently in very early development, as well as Assassin's Creed Infinity. Other games, such as the next Far Cry and Ghost recon titles, are also reportedly far away. Ubisoft also confirmed the existence of a new multiplayer game called Project Q on Saturday.
In the more immediate future, Ubisoft currently claims that Avatar: Frontiers of Pandora, Mario + Rabbids: Sparks of Home, and the long-delayed Skull and Bones are all slated to arrive sometime before April 2023. As reported earlier in 2022, Ubisoft is developing a standalone Assassin's Creed game that was previously DLC for Assassin's Creed Valhalla, something Kotaku alleges is a "stop-gap measure" for a period in which the company lacks new game releases.
Windows Central Newsletter
Get the best of Windows Central in in your inbox, every day!
Samuel Tolbert is a freelance writer covering gaming news, previews, reviews, interviews and different aspects of the gaming industry, specifically focusing on Xbox and PC gaming on Windows Central. You can find him on Twitter @SamuelTolbert.
Unfortunately, they also still have those allegations to deal with. It's a pity that this had to happen now. I would've loved for them to become an Xbox first party studio but Microsoft can't do anything until after the Activision Blizzard deal goes through. As long as it's not Tencent, Sony or the Embracer Group that buys them, I'll be fine.

Whoever buys them is going to have a truly massive integration challenge on their hands. Bungie, ZeniMax, and ABK are 900, 2,300, and 10,000 employees respectively. Ubisoft is over 20,000. Anything is possible, but I don't expect either platform holder to make a move. Tencent seems more likely, but even so, based on these reports it seems like private equity firms are the surest bet.

As you say, Tencent sounds like a likely candidate, with MS out of the running and Sony without the necessary cash, but the timing is bad for them given the anti-tech/anti-gaming winds in China. Embracer has been more opportunistic and going for smaller outfits with growth potential, whereas Ubisoft looks primed for shrinkage more than growth. Private Equity sounds like a better fit but only as the first stage in a progression.
Typically these firms swoop in, clean up disfunctions, and either sell or IPO the "fixed" company. Ubisoft, though...
At recent revenue levels (€2.2B a year) they're about a third of Activision productivity and over twice BUNGIE. I doubt anybody would offer $20-25B for 20,000 employees and a 5% net (€105M). A large pruning would be in order before refloating and th e long development pipelines of muktiplzt gsming requires deep pockets post purchase. The IP catalogs (plural) and a few select studios could bring more than that, though. They might be worth more in pieces than as a unit so they might end up as a smorgasborg for all the other players. MS would love SPLINTER CELL and (maybe) ASSASSIN'S CREED or PRINCE OF PERSIA. SONY could really use the Tom Clancy games, but the rest they both can live without. The real jewels in the consolidation game are Activision and EA. So, without Activision out and EA healthy enough, unless EA can raise the cash to buy Ubisoft whoever gets them has a lot of work ahead of them. So, again, massive shrinkage to a quarter their staff or dismemberment. The latter is more likely, faster and more profitable.

Why would anybody offer $20 billion+ or anything in that neighborhood when Ubisoft market cap is below $5 billion? Ubisoft stock has nosedived much more than Activisions has in the last 18 months. At best. with a good premium, Ubisoft is looking at $9 billion offer. You are missing a possible suitor by ignoring Amazon. Amazon definitely has the cash and unlike Stadia who didn't want to make the big moves for studios necessary for Stadia, I can see Amazon investing in Ubisoft to support Luna. It be a great deal for Amazon. Those 20K employees support 38 studios of various sizes. Still the return from 20K employees comes with an obscenely high cost per employee. It is over twice the employee size of all Xbox studios and SIE combined. If the best course long term is breaking apart the Ubisoft IP then breaking apart may be a little difficult as most the studios are support studios

Their gross as a fraction of Activision suggests they'd demand a quarter of Activision's price, which they're not going to get because their net is so low. Given their size tbey should be producing *more* than Activision, not a tiny fraction. This disfunction between size and productivity is why I doubt any going concern would be buying them as a unit. They need to sell €2B to net €100M? That's almost as bad as the old Soviet corporations! 😢 And, as you said, breaking up would be hard to do, too. (Cue up Neil Sedaka. 😁) Cleaning up the mess would mean closing so many studios and firing so many people (50-60%) that whoever does it is going to end up with a pretty hostile workforce which is why I suggested a corporate raider or outright dissolution. There is a *lot* of value in their IP but neither their managers nor staff are delivering on it. As is, your suggestion of $5B is basically what their IP catalog is worth, based on BUNGIE, which out-net's them with just one game and their underlying IP. That makes this situation so interesting; it's classic raider bait, worth more shut down and auctioned off than as a going concern.

It's all fun and games until EA buys them...

In today's environment that may actually be best but does EA have the wherewithall to buy Ubi?
Do they have enough to keep it running while they clean house?
There's a few choice IP anybody would love but others... not so much. There is something really...odd...when 20,000 employees produce less than a third of the gross revenue of (poorly run) Activision with 9000. €2.2 vs US$8.8 in 2021. EA has 10,000 employees and grosses US$6.5B and, more tellingly, *nets* $3B+ a year. That's over 40% margin!
They have their own problems to fix but they have the cashflow to fix them. It's a generally healthy operation, at least financially. Sill, Buying Ubi in toto might be a bit much unless it comes at a steep discount.
Not impossible but risky. Tripling their staff without tripling revenues? Or even doubling? It really raises the question: what is going on at Ubi? It's not just a matter of net but of gross revenue. Something smells.
Windows Central Newsletter
Thank you for signing up to Windows Central. You will receive a verification email shortly.
There was a problem. Please refresh the page and try again.