Review: 24 Hours with the Sprint Touch Pro (Updated)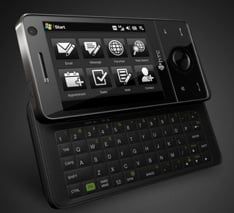 The Touch Pro for Sprint was originally scheduled to be released on Oct 19th, then delayed to Nov 2nd, and then bumped up to Oct 26th. With all this confusion we at WMExperts wanted to give you a full review of the Sprint Touch Pro with our first impression of the first 24 hrs of its (limited) release. We will then do a follow up review in about 3-4 weeks with an in-depth long term look at the Touch Pro, how it does on extensive road trips, what customizations we ended up adding to, what 3rd party software we felt are must haves, etc.
With a slew of new phones hitting the market so closely together, it can be challenging to decide which one is the best for you or which one lives up to its expectations, or which ones fall flat on its face. So for now, we are are going to dive into the Touch Pro and see if it is all that it has been hyped up to be. Is it worth $299 (which includes a $100 rebate and discount with a 2 year contract)? Did HTC cut any corners at the expense of the consumer (like with the RAM in the PPC-6800)? What new technologies and advancements did HTC throw in?
After playing with it and delving deep into the Touch Pro for the last 24 hours, I am in awe of some really cool new features, impressed with others, and have developed my wish list that would have made it a perfect phone. I believe that the few improvement wishes are greatly overshadowed by the positive features the Sprint Touch Pro has to offer. Read on to see all the details...
Out of the Box
The box is very small and compact, leading me to wonder what if they are short sheeting the Touch Pro on accessories. I was immediately pleasantly surprised when I opened the box to find that they simply packed it all in a tiny package. Besides the phone and a battery, HTC left little to desire with all the extras. Besides the expected (i.e. the phone and the battery, AC charger, and USB sync cable) they also threw in a stereo headset, a screen protector, a connector so you can use the headphones and charge it at the same time, a sideways holster (that uses velcro to close), and a 1 GB microSD card! Except for a car charger, there isn't much more anyone could ask for.
Physical Build
Even with it turned off, sitting in the box the Touch Pro does look impressive. With its sleek black face, shiny chrome sides and matte gray back, it will catch the eye of the professional user while still maintaining the sex appeal for the more casual user... though certainly not as sexy as the Diamond (its keyboardless sibling). With the dimensions being 4.17 (L) x 2.05(W) x 0.70 (D), it cannot be considered a large phone when compared to the Mogul, iPhone, or Treo when looking at its width and length... though many would say it is too thick when compared to the Diamond.
Holding it in my hand, the phone feels good and well balanced. At 5.3 ounces it is not overweight but rather giving it a solid feel. The rounded edges and corners gives it a nice look and helps to give it a natural feel while holding the phone up to your ear.
Screen
Once I finally turned the phone on, it was hard to take my eyes off the 2.8 inch 640x480 VGA touch screen. If you have never had the experience of using a VGA screen on a cell phone, you are missing something. Since VGA screens provide about four times the resolution of the more common QVGA smartphones, it does deliver a very crisp and detailed display.
Buttons
I personally am one who can appreciate having a few extra buttons along the top and sides of the phone, but the Touch Pro offers a smaller physical button selection. On the face of the phone you have the following buttons: Home, Back, Answer Phone, Hang up Phone, and the Navigation Control. Along the left side you have a Volume Up and a Volume Down button. I have found myself missing my Jog Wheel and an email and camera button.
The Navigation Control replaces the traditional 5 way navigation button. You still use it just like a 5 way nav, but with one huge innovation... it is touch sensitive. It can recognize when you slide your finger around the edges of the dial. Since the Touch Pro does not offer a Jog Wheel, I was personally hoping that just by sliding my finger around the Nav Control it would scroll down my email lists. Come to find out it is a Zoom Wheel. That is right. With certain applications you can slide your finger around the Nav control to zoom in and slide it the other way to zoom out. This is kind of cool, but using this same motion to scroll would have been more practical and useful on a daily basis. Let's hope that a 3rd party app or utility will come along to offer this.
Keyboard
The keyboard feels very solid extended and while sliding it in and out. The phone is small enough to easily be able to slide the keyboard in and out one handed. They are individual buttons which makes it easy to feel individual keys on the keyboard. I immediately fell in love with the fact that the numbers have their own keys along an extra top row as I have to type a lot of numbers for work. With the extra row, the buttons are a little smaller than on the Mogul but still a nice size and larger than an exposed keyboard. I can type pretty fast on it, especially when there are numbers involved.
G-Sensor
The G-Sensor is just darn right cool. With it, the phone can tell which way you are holding or tipping the phone. So, for example, when browsing the web, if you want to view the web page in landscape, simply rotate the phone and the screen will automatically orientate itself. They have even included a very simple yet very addictive game where you have to tilt the phone to roll the metal ball bearing into the green hole while avoiding all the other holes along the way. This game easily shows how accurate and extremely sensitive the G-Sensor really is. I cannot wait to see what new innovative software will be coming out that will take full advantage of this.
Stylus
The stylus holder is worth mentioning for several really neat features. The phone will recognize when you pull the stylus out. If you are talking on the phone and pull the stylus out, it will automatically launch the Notes app. If the phone is asleep and you pull the stylus out, it will wake up. The stylus holder in the phone is actually magnetic. This not only helps to hold the stylus in, but it will actually suck the stylus in the last little bit when inserting the stylus into the phone.
The stylus itself is shorter than I prefer, but still very usable. I will look forward to someone like Seidio coming out with a 3rd party telescoping stylus for the Touch Pro.
Memory and Processor
After HTC short sheeted the Mogul with its pathetically low memory, this was the first thing I looked at as specs started to solidify amongst the leaks and rumors of Touch Pro in the months prior to its release. I was very impressed to see that it has 512 MB flash and a whopping 288 MB of RAM. With my Mogul, I was lucky to have 14 MB of free RAM after I reset the phone. Out of the box, with the Touch Pro I had 134.8 MB free RAM along with 234.55 MB free ROM. Then even after I installed a fair collection of software and games I still had over 110 MB of RAM free to use.
The processor is a Qualcomm MSM 7201A 528MHz. I was really hoping for a bit more. It may not be the king of the hill, but it appears to be holding its own at the moment. Only time will tell how well it does and what 3 party apps, if any, may help push it to its limits. Out of the box though, it appears to be snappy enough for the most part. It isn't a major issue at all, but I have noticed, sometimes, a small delay in response after pushing a software button, but that could be other factors like the software itself, caching, etc.
Unlike the Diamond, the Touch Pro offers a microSD slot that will support up to a 16 GB microSD card. The microSD slot is actually located on the back of the phone under the battery case. This relieves any fear I constantly had with other phones whose microSD slot is exposed making it possible to bump the memory card and lose it without even realizing it.
Connectivity
The Touch Pro certainly does not offer any disappointments when it comes to connectivity.
Bluetooth is ver 2.0 with EDR / A2DP support (Stereo Bluetooth). It works great with several BT headsets as well as several A2DP headphones and speakers.
WiFi is fast and was easy to set up with my home network. It actually recognized more wireless networks in my neighborhood than my laptop did.
In order for you to connect your laptop to your computer to sync, you can use the most common way via the ExtUSB (mini-USB and audio jack in one) port with the USB sync cable. At first glance it looks like a MiniUSB port, but it is not. You can also use Bluetooth if your computer has it. I am using a Windows Vista desktop and it would not sync at first. After a little exploring, I unchecked "Enable advanced network functionality" under Start / Settings / Connections / USB to PC and then it worked flawlessly.
GPS
The Touch Pro does have an internal GPS built into the phone. It works, but there is a known bug that delays the signal a few seconds. It may not sound like much but if you are driving 60 mph a few seconds delay can make you miss your exit. HTC is apparently aware of this and is working on a fix.
Phone Calls
Okay... here is what everything is centered around. The quality of the call will make or break a phone... we have seen it happen many times before. Even though I fully recognize that this is subject to personal perspective, geographic locations, surrounding noise, etc., I have to say I have been very impressed so far with the quality of calls. Everyone sounds clear to me, and I sound clear to them on the other end as well. The speaker phone is adequate as well.
The phone application has a different layout. No longer do you have the buttons along the side. It is just the phone keypad at the bottom of the screen, two possible matches from your contacts listed in the middle, and the number you are dialing along the top. Once you are connected, I really like the selection of buttons available. They include Call History, Calendar, Notes, Mute, Speakerphone, and Contacts.
Software
Rarely am I interested in the software preinstalled on my phone. In fact a lot of the time I will tweak the phone so I can uninstall a lot of them. But this time, I really like several of the software apps offered.
TouchFLO 3D. This gives a 3D finger friendly interface to the phone. You can slide your finger to go from one part to the next. In Mail, it shows an envelope with a page sticking out giving you a preview of the most recent email message. To scroll through others, simply flick your finger up or down. You can do the same to flip through your pictures or videos on your phone. It includes Weather, a nice 3D picture contact page, Sprint TV, Messaging, Internet, Sprint Music, Settings, and Programs.
MP3 Trimmer. I have enjoyed this a lot more than I would have expected. It is a simple app that can take an MP3 song and make a ringtone out of it. You can set the exact second in the song to start and when to end. It will then save it in your Rings directory and automatically make it your default ringtone if you want it to.
JetCet Print. This handy little app will allow you print directly from your handheld to a network printer or bluetooth enabled one.
WorldCard Mobile. This is a very hand application if you get a lot of business cards. You simply take a photo of the business card and it reads all of the contact information and adds it to your contacts. I did my business card for work and it is fairly accurate. I missed a few letters, like it put an N instead of a M... but it was at least 95% correct.
You Tube. It includes a specialized You Tube app. My wife immediately used this to find all the "Simon's Cat" cartoons.
Some of the more standard software apps included are:
Windows Live. Standard on nearly all WM phones, but cool enough to mention that it was not forgotten here.
Sprint Navigation. Subscription based GPS guidance software. It is a decent software package, though unless you have it bundled in your plan with Sprint, it can be spendy at nearly $10 a month.
RSS HUB. Headlines gathering app. You tell it what news agencies you like and it will scour the internet and list all the most recent headlines with links directly to the articles.
Sprint Diamond vs Sprint Touch Pro
I can see it now... threads in the forums raging in debates of which one is better, the Diamond or the Touch Pro. I can tell you now that the answer is both... depending on your personal preferences, likes, and how you use your phone. It think it will boil down to two questions:
Do you want a physical keyboard or not? If you do, the Touch Pro is the easy choice. If you don't mind using a software keyboard, then the Diamond might be right up your alley.
Are you going to want or need more than 4 GB of storage? The Diamond has 4 GB of internal storage but no microSD expansion slot so you cannot add any more. The Touch Pro has 255 MB of storage but can be expanded up to 16 GB with a microSD card. I know that 4 GB may sound like a lot of room, but I have over 6 GB of MP3 and more than double that from DVDs that I have formatted to play on my phone.
So the answer is based on you, and cannot be a blanket answer for everyone.
Conclusion
So, after 24 hours of using the Touch Pro, I am overall very impressed with it. It has a lot of memory, and is fully loaded with accessories out of the box, built solidly, has a VGA screen, and is motion sensitive. It appears responsive and comes with one of the best selections of preinstalled software titles I have seen in a long time.
I will be sorely missing my Jog Wheel along with all the other extra buttons for email, camera, etc. that I have grown used to with my last several WM phones. The GPS lags, but we are hopeful that this will be fixed. And I wish that the Navigation Control scrolled instead of zoomed. But when compared to all the positives the Touch Pro offers, these become minor cons.
I am anxious now to take the Touch Pro on the road and customize it, and to push it to its limits. So after a very positive first 24 hours with the Touch Pro, we will post a full review of what we think of the phone again in another 3 to 4 weeks from now!
Update: Browser Screen Shots
The Touch Pro has thankfully replaced WM Internet Explorer with the superior Oprah internet browser. It is a quick browser and does a great job in viewing the pages as they are meant to be viewed. It initially loads the page full width, which is great for finding the area you want quickly. If you double tap on the screen it will automatically zoom in. It is also one of the apps that supports the Nav Control Zoom, which is kind of cool. It also supports multiple tabs, which I have always been a big fan of. You can scroll in any direction with a flick or slide of your finger. As mentioned above, if you want to view a page in landscape or portrait then you simply rotate the actual phone and it will automatically display the page accordingly.
Just the Facts
Specs
Size:

4.17 (L) x 2.05(W) x 0.70 (D)
102 mm (L) X 51 mm (W) X 18.05 mm (T)

Weight:

5.3 ounces
165 g (with battery)

Connectivity:

CDMA 2000 1X/EVDO Rev.A/1xRTT and
IS-95A/B voice or data.
Dual band (800 and 1900 MHz)
Bluetooth® 2.0 with EDR with A2DP support (Stereo Bluetooth)
Wi-Fi®: IEEE 802.11 b/g
HTC ExtUSB™ (11-pin mini-USB 2.0, audio jack, and TV Out* in one)

GPS:

Internal GPS antenna /AGPS

Operating system:

Windows Mobile® 6.1 Professional

Display:

2.8-inch TFT-LCD flat touch-sensitive screen with VGA resolution

Audio

Built-in microphone,
speaker and FM radio with RDS


Camera:

3.2MP, with autofocus, flash and video calling

Internal memory:

512 MB flash
288 MB RAM
Expansion slot: microSD™ memory card (SD 2.0 compatible); supports up to 16 GB

Interface:

HTC ExtUSB (mini-USB and audio jack in one; USB 2.0 High-Speed)

Battery:

1340 mAh Rechargeable Lithium-ion or Lithium-ion polymer battery

Talk time:
Chipset:

Qualcomm MSM 7201A 528MHz

Device Control

TouchFLO™ 3D
Touch-sensitive navigation control
Keyboard Slide-out 5-row QWERTY keyboard

Ring tone supported formats:

MP3, AAC, AAC+, WMA, WAV, and AMR-NB
40 polyphonic and standard MIDI format 0 and 1 (SMF)/SP MIDI

* HTC TV Out cable needed.
Swipe to scroll horizontally
| | |
| --- | --- |
| Ratings (4 out of 5)Overall: | ProsGood call qualityVGA screen512 MB flash and 288 MB of RAMG-Sensor can detect phone movementTV output (with cable that is sold separately)ConsGPS lagTouch sensitivity Navigation Control does not scroll, only zoomsNo jog wheelNo button for email, camera, web browser, etc... |
Get the Windows Central Newsletter
All the latest news, reviews, and guides for Windows and Xbox diehards.