Review: Alarm Master for WM Standard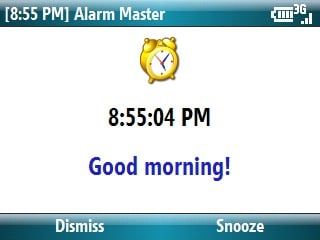 Connective Tools produces a nifty alarm manager fittingly titled, Alarm Master ($14.75) and it is simply what the title infers; an alarm manager. This program allows you to easily set multiple alarms, customize each alarm, and view your alarm history. The current version also places an alarm icon on your home screen when an alarm is set.
While many will prefer to set alarms through Pocket Outlook, I found Alarm Master to be a little easier to set for those occasions where a calendar entry wasn't required. The main menu for Alarm Master will let you review all the alarms you've set to avoid setting the same alarm twice.
Read on for the full review!
The alarm function has your standard features including choosing the alarm notification, frequency of the alarm (one time, daily, certain days of the week, etc.) and it also has drop down menus for preset alarm headers that makes setting an alarm a little quicker. With regards to alarm frequency, Alarm Master allows you to select the day of the month (first Wednesday, last Friday, etc.) for the alarm. Alarm Master even allows you to customize the snooze feature and select individual icons to help identify the nature of the alarm on your home screen. You can also use MP3, MID, and WAV files for the alarm sound. Each alarm has a reminder field so you can enter notes pertaining to the alarm. For example if you have a meeting with an architect, you can remind yourself to bring the blueprints or if you set an alarm to pay monthly bills you can note which bills have priority.
The only downside I can see with this program is that appointments entered into your calendar aren't automatically transferred to Alarm Master. To do so, you'll have to independently enter the alarm. This may not be an issue if you don't need a calendar entry for an alarm (e.g. wake up alarms, cooking timers, etc) Connective Tools reports that upcoming releases of Alarm Master will have the ability to globally turn off/on all the alarms; preview the alarms; include a desktop companion, and the ability to import alarms from the Outlook calendar. Some of these improvements will be seen in the summer update. If you use your phone a lot as an alarm clock, Alarm Master ($14.75) will be a welcomed addition to your phone. It's easy to navigate through and allows you to manage your alarms and reminders in a straight forward fashion.
Swipe to scroll horizontally
| | |
| --- | --- |
| Ratings (out of 5)Installation: 5/5Ease of Use: 5/5Customization/Options: 5/5Overall: | ProsEasy NavigationConsNo transfer of alarms from calendar |
Get the Windows Central Newsletter
All the latest news, reviews, and guides for Windows and Xbox diehards.