Review: Auto Ranger Stix by Cell Ranger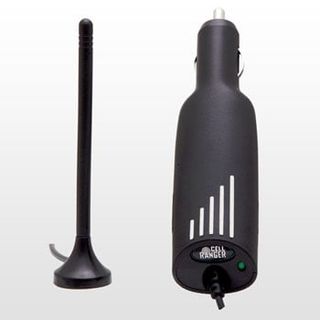 In the last decade or so, one of the biggest advances in technology has been mass availability of mobile connectivity. As the various cellular providers battle for the titles of largest and fastest networks, our dependency on these providers becomes more and more prevalent.
The downside of this mobile revolution is that this strength becomes a glaring weakness when that connectivity suddenly disappears. Very few solutions are available for those of us that spend much of our time in limbo between three bars and zero. One such product that is making a play to "Boost Your Bars" is the Auto Ranger Stix by Cell Ranger. This Intelligent Amplifier system works on all major US carriers with the exception of Sprint/Nextel.
Click on over to get the full look.
Install
Cell Ranger really went out of their way to make the Stix system easy to install. The two main parts are separated by a 15 foot long cable. The magnetic antenna is designed to mount on the rear of your car, while the powered end plugs into your DC power connector.
Several suggestions have been made by Cell Ranger in an attempt to achieve the best case scenario when setting up your Stix. These include keeping the two ends of the device at least 12 feet apart (which cause some issues with my vehicle because the A/C adapter is less than 12 feet away from the furthest point of my car). Also, Cell Ranger recommends that you keep your phone between 1-3 feet of the powered end of the Stix system.
Functionality
I was really hoping that the Stix would offer me a significant boost in performance, particularly as I read some of the reviews linked to from Cell Ranger's site. Unfortunately I couldn't seem to find a scenario where I really got the kind of boost that I was hoping for. Every once in a while I would notice a 1-2 bar increase in my signal strength, but I could never consistently reproduce it. Voice and data connectivity were never enhanced enough that I noticed a difference.
Conclusion
This is another one of those products that I really wanted to love. I had visions of using 3G connectivity in places where I can only dream about it currently, but I was very disappointed. I am willing to admit that I could be experiencing some configuration/positioning problems. If you are desperate for a solution for your connectivity woes this may be worth a try, but I would make sure that you are able to return the product if you are less than satisfied. Check out the Stix in the WMExperts store ($149.95).
Swipe to scroll horizontally
| | |
| --- | --- |
| Ratings (out of 5)Install: 5Functionality: 2Overall: | ProsSimple InstallConsList of "Best Practices" makes it impractical for smaller vehiclesInconsistent performance |
Get the Windows Central Newsletter
All the latest news, reviews, and guides for Windows and Xbox diehards.