Review: BlueAnt V1 voice-control bluetooth headset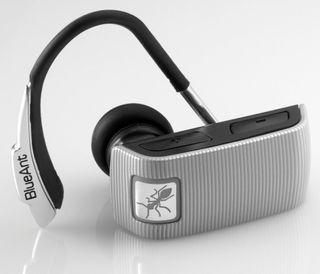 The BlueAnt V1 ($89.95) hails itself as the world's first voice-controlled BT headset and builds upon the already successful Z9/Z9i series. There's no secret around here at WMExperts that we happen to like BlueAnt's stuff and the V1 continues that winning streak. In short, it's one of the best BT headsets we've tried and is a great successor to the Z9i. If you don't have Micorsoft's VoiceCommand on your phone or don't have a BlueAnt already, then the V1 is a perfect choice.
Read on for a bunch of shots and our full review of this fantastic release from BlueAnt.
Last year I reviewed the Z9 and gave it a very positive rating with a few caveats (earpiece comfort was one); later the Z9i was released and it addressed a lot of the Z9's faults and went a bit further with the technology (see George's full review here). The V1 is basically a Z9i but with the addition of voice control/voice recognition and it works like a charm.
Headset Stats
Bluetooth 2.1
5hrs talk time/200hrs standby
0.35 oz
Voice Control Voice Recognition
Dual Microphones
Google – Goog 411
Innovative Tie Clip
Firmware Upgradeable
Voice Isolation Technology™
Echo Suppression
Multiple ear buds
Wind Noise Reduction
Voice control overview
Like all BlueAnt headsets, the V1 included a Quick Start guide, which is perfect for us anxious users who don't want to read the manual. What makes the V1 cool is you just put it on and turn it on—no reading. Why? On the first run, the V1, via audio cues, will walk you through the whole setup including paring and usage. The voice is male (no option to switch) and is clear, concise and well paced. He first tells you that you need to pair the headset in order to use it and then walks you through the necessary steps (hopefully you are aware of how to turn on BT and pair mode on your WM phone). In fact, every time you want to pair with a device, you just tell it "Pair me" and off it goes.
Next, "the voice" offers to walk you through all the basics and even gives you a shot at trying our various commands, which helps familiarize yourself with what to say and getting the system to recognize it. The V1 does not need to be trained; you just need to say the right commands. Downside is you can't add commands either.
From here on, using the voice control is as simple as tapping the BAB (BlueAnt Button). When you tap it, the voice comes on and says "Say a Command." From there you can do all sorts of things like call your speed dial numbers ("Call Speed Dial 6"), call voicemail ("Call Voicemail"), check battery level ("Check Battery"), etc. In case you forgot how it works, simply say "What can I say?" or "Teach Me" and it'll help you out. When you turn it on and connect to your phone, it'll announce that you are connected, which is always important to know. Later, ask it "Am I connected?" to double check.
When a call comes in, it'll announce the number (but unfortunately not the name) and ask if you want to answer it or ignore — now that is really hands-free! You can also configure the device to turn of the announcements to streamline things, turn of the LED (woo!), call back, redial, or even turn off voice control completely. Very robust.
So how is it in action? Very good. Outside of remembering the commands, it worked extremely well and I really liked having "the voice" tell me I was connected or checking my battery life. No more taking off the headset and trying to "read" those mysterious LED blinks. Just ask you shall receive.
Goog-411
Yeah, had no idea about this service. Evidently, Google launched "Goog-411"(800-466-4411) which is a free, voice-controlled 411 service. BlueAnt made a deal with them and boom, "Call Goog 411" is now a default command on the V1.
Now LiveSearch is obviously great for looking up info, but not handsfree when driving. Goog 411 and the V1 work perfectly together — simply say the command and Goog 411 will look up the info and even call the number for you. Don't wanna call but still need that info? Tell it "text" and it will SMS you all that info (name, number, address and link to google maps). Huzzah.
Headset hardware/overall
The V1 comes with two types of ear adapters, neither of which are like the original Z9 (thankfully). One is your standard ear gel type (which I prefer) and the other is "Comply foam tips" (think ear plug material that springs back after you squeeze it). The ear gel is good for everyday use and the Comply Foam is good for those who leave it in for hours or need maximum noise isolation. Those Comply Foams work very well for really lodging the speaker in your ear canal as the headset is much louder. Down side? They wear out after 3 months and you have to buy more, but the V1 comes with 2 so you have roughly 6 months covered. Bottom line is options are good and the V1 is very comfortable.
All the rest is exactly like the Z9i: tie clip, single button for functions, dedicated volume buttons (thankfully), two types of ear loops (clear plastic and shiny metal). You also get a bendy mini-USB cable, AC wall charger and car charger. BlueAnt gets credit for basically including everything you'll need right out the box (which was a huge pain to open, though looked pretty).
Noise cancellation
Once again, I really like BlueAnt's tech here and I find it works very well in noisy environments. If you liked the Z9/Z9i, the V1 continues that tradition. Reception, clarity and volume were all very good and no complaints in this area.
Firmware upgradeable
One of my favorite features that the JawBone series shamefully lacks is the ability to upgrade the firmware. This is so important as it allows BlueAnt to refine the microphones, volume, connectivity and other features of their headsets and they use it too! I've updated my Z9 at least 3 times and even the V1 has at least 3 updates since its release*. This review unit has v5 and v5.3 was out already. A quick 10 minutes later and I was up to date. This is just icing on the cake. *Check under your BT settings to see the version number displayed after you pair.
Conclusion
Look, this is gushing review. No argument. The V1 is a fantastic headset, especially if you don't have VoiceCommand built into your device (or like the Sprint Treo Pro, it has a bug where it doesn't announce incoming calls). The Voice control truly makes this a "hands-free device" and so much easier to use and manage. Audio quality is fantastic, comfort is very good and they include every goody in the box all for a reasonable price ($89.95).
Need a BT headset? Look no further.
Ratings (out of 5) Pros
Design: 5 Very good noise cancellation
Sound Quality: 5 Voice Control is fantastic
Comfort: 5 Easy to learn/use
Features: 5 Great audio
Cons
Little bit expensive
Not as good as MS VoiceCommand
Not programmable/only 1 voice choice
Overall: 5 out of 5
Get the Windows Central Newsletter
All the latest news, reviews, and guides for Windows and Xbox diehards.
George is the Reviews Editor at Windows Central, concentrating on Windows 10 PC and Mobile apps. He's been a supporter of the platform since the days of Windows CE and uses his current Windows 10 Mobile phone daily to keep up with life and enjoy a game during down time.