Review: BlueAnt Z9 Bluetooth Headset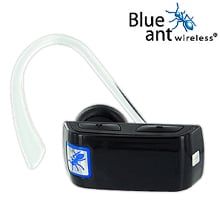 It seems as if nearly every other week a new Bluetooth headset is let loose upon the market, some low-end and some high-end with the latest gizmos embedded in the tiniest shell. The BlueAnt Z9 Bluetooth Headset ($99.95) falls into this latter category, although the price-set it more mid-range in comparison to what is undoubtedly its rival: the Jawbone (Read Jawbone review here).
So how does it hold up? Let's find out, Read on for the full review.
Specifications:
BT 2.0
11 grams
5.5hrs Talk Time, 200 hrs Standby
Dual Microphone for pure speech
Voice Isolation Technology
Switchable Voice Isolation - STANDARD and MAX Frequency Correction
Pairing with up to 3 devices
On-The-Fly Switching between devices
Auto-Connection and Reconnection
Firmware Upgradeable via USB
Innovative Tie Clip
2 year Replacement Warranty
On a whole, not too shabby! The device is quite small and elegant-looking, with a polished black finish -- dork factor here is considerably low. In comparison to the Plantronics 640, it is noticeably shorter in length but also boxier and wider. Weighing in at just 11 grams it is also quite light but not the lightest, which is always important when wearing for extended duration. Speaking of, the Z9 has a removable translucent ear hook that helps stabilize the headset while in use and a built-in "tie clip" for clipping it your shirt, which is certainly a unique and welcomed detail.
Of course, the biggest features here are the dual microphones and noise-cancellation ("Voice Isolation") technology. I'm always impressed by how much "stuff" they can jam into these tiny devices and the Z9 doesn't fail here. Yet, surprisingly, they keep the buttons down to a minimal with just three. I say surprising because they list 20 functions in the guide! Most of these functions are performed with the main button, here called the MFB (Multi-function button) and/or a combo with the volume + and volume - buttons. And like all standard BT headsets the Z9 has blue/red blinking LED indicators for various states of the device, a feature that can also be (thankfully) completely disabled if blue blinking lights aren't your thing. [Editor's note: HOO-FREAKING-RAY! I hate das blinkenlights!]
What's in the Box
The Z9 comes in a tiny box with the headset literally on a pedestal, visible through the clear window-making you feel your unleashing a truly wondrous headset. Inside you get:
The manual
a Quick Start Guide for your wallet
a micro-USB plug for your computer
a wall charger
2 replacement translucent ear hooks.
One could lament the lack of a case but since the Z9 can be clipped to your shirt, tie, or pocket this is really not a problem. The Quick Start Guide is particularly handy and is technically all you need to get it up and running, which I did with in moments, and it is certainly nice as a cheat-sheet for a couple of days as you familiarize yourself to the all the Z9's functions. Since the Z9 can charge over USB, the inclusion of the USB plug is certainly appreciated as is the standalone wall charger, however it uses a propriety adapter (pictured below) instead of a mini-USB.
Here I should point out that the Z9 is one of those new fangled BT headsets that includes updatable firmware. When paired to your device, the Z9 appears with its version number (V1.0 or V2.0) next to it for easy verification. One of the first things I did was navigate to BlueAnt's website and check to see if there was an update, sure enough there was, as I was running V1.0 and 2.0 had been released. They don't list a change-log as to what has been fixed but I went with the update anyways, just in case. The process of updating did involve many steps on the computer, playing around with drivers, Windows Device Manager and loading various installers. Having said that, the directions provided by BlueAnt were very clear, easy to follow and even provided some work-arounds if problems occurred trying to get the Z9 into "update mode". The whole process took about 15 minutes with the actual firmware flashing taking only about 1 minute. Even though somewhat cumbersome, updatable BT firmware is a very cool feature, ensuring that if there are problems with the device, you stand a good chance of actually having it fixed by BlueAnt, as opposed to your phone's manufacturer!
Pairing and Range
As mentioned earlier, pairing the Z9 was simple with no problems incurred. I tested primarily on the Palm Treo 700wx since this has a pretty weak BT stack, so if there are problems, it'll occur here (whereas the Motorola Q has probably one of the best implementations of BT I've seen). The device stayed paired for hours on end with no problems disconnecting. If I leave the range of the phone, the Z9 gives a little beep in the ear and automatically re-connects if the connection is dropped -- a very nice feature that seemed to work quite well. I can't stress that last feature enough: auto-reconnect is a very valuable tool.
Pairing and Range
Wearing the device
I'm torn with ear-hook BT headsets. They tend to much more comfortable to wear, especially for long periods than non-ear hook ones e.g. Plantronics 640, yet they are more tedious to actually put on (at least for me). The Z9 is one of those devices that if you find your comfort-zone, you'll barely notice it there and won't experience "ear fatigue," but if you're off a little bit, it can cause some discomfort, especially since the earpiece is on the large side.
Luckily once you set the ear hook to an appropriate position and find that comfort area, it stays pretty much in that position, requiring very little further adjustment. Comfort is always hard to gauge, so your mileage may vary. Unlike with the H500, the Z9 does not bounce around your ear but stays firmly in place. I can literally run with it and not have it budge, or fall out if I bend down -- once in place, this headset is going nowhere.
Comfort
Sound Quality
Ah, the real heart of any BT headset review! Call quality was better than average with the Z9 and the Voice Isolation technology is quite effective, especially indoors. For my tests, I used the Z9 in one of the noisiest environments around: a 35 mm film projection booth. In use, when you tap the MFB you toggle between Voice Isolation "Standard" and "Max" with the latter being reserved for extremely noisy conditions (a voice literally pops on, with a British accent no less, telling you of your current setting). According to the person I spoke with, they could not hear the projectors at all when I was speaking and, to them, I sounded as if I were in a quiet room. In fact I could put my head near the projector and still converse with the person without them even knowing it, which to me is quite impressive! If I was silent during the conversation, the caller reported that every 5-8 seconds they would hear some brief noise pop through, as if they were hearing the microphones/processor sampling the ambient noise. This was not distracting to them though and it never occurred if I was speaking, only during prolonged silence. It seemed to me that I had to speak a little bit louder than if I were not using BT, but I wasn't anywhere near the level of shouting. Perhaps in the future the microphone sensitivity will be increased with further firmware updates.
Likewise, volume on the Z9 is more than adequate, having the ability to go quite low and high enough to hear the other person with no issues. The quality of the call was also high, sounding not much different to me than the regular phone earpiece. Regarding distance, I was able to put down my Treo and walk about 15 feet away before I noticed some static and degradation, although the other person was still able to hear me with little to no interference.
Sound Quality
Ease of Use
The buttons were also easy to use, as opposed to the H500 where I can't tell what a button is and what is the device, here I had no problem finding the volume and the MFB on the Z9, which made it quite easy to use. The only issue was with the 20 functions the Z9 can do with just 3 buttons, requiring me to think for a second on how to do a redial or conference call, but the little cheat sheet BlueAnt gives you makes this adjustment period easier to handle and within in days, its second nature.
LED indicators were also straightforward with 2 blue flashes every 5 seconds to let you know you are paired/standby, no LED during a call, red for charging, single blue flash every 8 seconds for idle (on, but not paired), etc. and of course you can just turn them off if you are of the no-blinking persuasion.
Ease of Use
Conclusion
Overall the Blueant Z9 Bluetooth Headset is a nice choice for a new BT headset. With the BT 2.0 standard and updatable firmware, the Z9 looks to be relevant for quite some time. BlueAnt seems to be a very good company, listing numerous ways to contact them, keeping the device simple (yet powerful) and including everything you need in the package. Plus, for the price you are getting what I think are some pretty high-end features (dual mics, voice isolation, multiple pairings, auto-reconnect, long talk time) for a mid-range price. The device is quite small, but not obnoxiously small where compromises on function and talk time start to take effect. Those advanced features also worked very well, with the Voice Isolation technology exceeding my expectations.
Swipe to scroll horizontally
| | |
| --- | --- |
| Ratings (out of 5)Pairing and Range: 5Comfort: 5Sound Quality: 5Ease of Use: 5Overall: | ProsConvenient clipComfortableVery good noise cancellationFirmware upgradableConsTrying to cram too many features into too few buttons |
Get the Windows Central Newsletter
All the latest news, reviews, and guides for Windows and Xbox diehards.