Review: Body Glove Satin Case for Lumia 520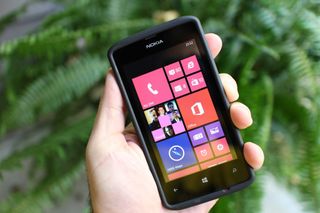 I'll admit it right off the bat. I was wrong about the Body Glove Satin case for the Lumia 520. When I first saw the Body Glove Satin case in its packaging, I immediately thought that it would be a rubbery case that served little purpose, other than to render the sleek, pleasant-to-hold Lumia 520 bulky and difficult to use. What I found instead was an equally sleek case that compliments the form of its companion device.
I initially thought that the Satin case was going to feel more like a rubber glove, but upon opening it, found it to be much more rigid. And rather than being either too tacky or too slippery, it gives you a near-perfect amount of grip without sticking to you, much same way that the Lumia 520 itself feels in the hand.
And being that the Lumia 520 is so nice to hold, I figured that adding a case to it would add too much bulk, which would take away from the in-hand experience. But despite its look, the Body Glove Satin case adds very little size, staying true to the phone's streamlined design. Body Glove created a faux "brushed metal" texture for the sides and back of the case that adds both extra grip and handsome looks.
At the same time, the case is surprisingly rigid, offering substantial protection around the corners. It also has a slight lip that overlaps where the backplate and the screen of the phone meet. It's a well thought out layer of protection for a phone with a detachable back.
That same lip, sadly, also adds a bit of difficulty to removing the case. In the short time that I used the Body Glove Satin, there were several instances where the backplate of the phone detached when I was taking the case off of the phone. It's not a huge deal because most people leave their case on most of the time, but it should be pointed out. Though I would not trade away that added protection for a minute gain in convenience.
Due to its flat buttons and curving of the back, the Lumia 520 seems that it would benefit from a case that covers its buttons and makes them easier to press. But I find that the Satin case's cutouts are deceptively big, lending easy access to the buttons. It didn't happen while I was using it, but I could see these cutouts becoming a haven for dust and dirt after a while.
With its Satin case for the Lumia 520, Body Glove once again lives up to its reputation for making solid cases. It also lives up to their reputation for being a little pricey ($18.95 USD), but in this instance, it is money well spent.
You can pick one up for your Lumia 520 in the Windows Phone Central store. It will also fit your Lumia 525, though if you are searching by device, the store will tell you it will not work. We're working on it!
Get the Windows Central Newsletter
All the latest news, reviews, and guides for Windows and Xbox diehards.