Review: Case-Mate Signature Case-Holster Combo for Treo 750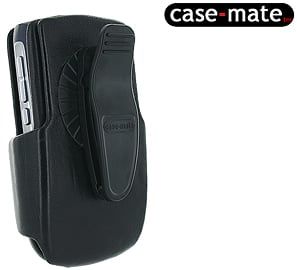 Sometimes you just need the best of both worlds for your Treo 750. You need something that will be on the hip so that you can easily reach for your phone and also in a case to protect it once its out of the holster. In comes the Case-Mate Signature Case-Holster Combo (49.99). If its protection your looking, for then its the Combo Case you need. Blackjack users have already been protected with a similar case and now Treo 750 users can too, read on to find out why.
Appearance
At first look, this case shouts quality. Its premium Italian pebble stone leather is something every Treo owner should be blessed with. The texture is smooth, soft, yet tough enough to protect your 750 in the roughest conditions. The main leather case surrounding the phone has a soft inner sides with diagonal groves giving it a snug fit. The case is cut to precision so that when typing, calling, and everyday use your treo is fully accessible. The case is designed so well that you will find it rather easy to get to the volume, power, and keyboard. The case in which it sits is fully wrapped in leather and is sporting a rotatable belt clip. One downside might be that the clip is not removable. Then again the fact that you can simply take out your Treo and still have a case on it easily makes up for its lack of removable clip. The deep black on black gives the case a very executive look that any professional would love
Usability
When you wear this case on your hip you feel confident that you Treo is protected. Its body is very sturdy and has minimal thickness thanks to its padded outside. . Some combo cases catch snags when getting in and out of the holster but not this one. When on the move its easy to grab your Treo and slid it in and out of the holster. The padded skin-type case provides a nice level of protection for you Treo.
Overall
There's no question when it comes to protection that the case mate combo for your Treo 750 will do the job. The question is are you willing to deal with the bulk. The case adds a small but noticeable amount of bulk to the phone that could prevent some Treo users from getting the double protective case. On the other hand if your looking for the right balance of design, protection and accessibility then you might want to get out your credit card now because this case does the job.
Swipe to scroll horizontally
| | |
| --- | --- |
| Ratings (out of 5)Protection: 4.5/5Look and feel: 5/5Size: 3/5Overall: | ProsGreat protectionNice leather designConsAdds a bit of bulk |
Get the Windows Central Newsletter
All the latest news, reviews, and guides for Windows and Xbox diehards.